Seattle Utility, Housing Groups Launch Bold Experiment in Climate Equity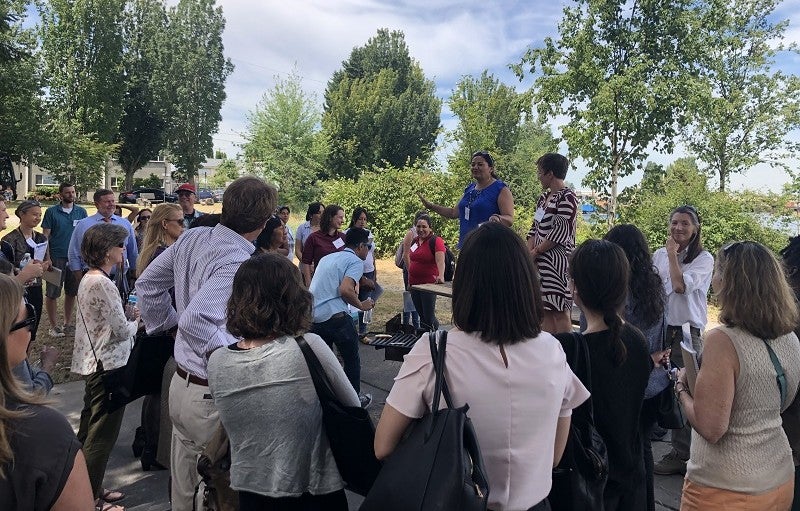 In 2001, the U.S. Environmental Protection Agency (EPA) declared Seattle's lower Duwamish River, a major industrial waterway flowing into Puget Sound, a Superfund Site. Later studies of health outcomes for the adjacent low-income South Park and Georgetown neighborhoods confirmed what residents had known for years — in a city known for its commitment to sustainability, industrial pollutants and other social and environmental factors are reducing both life expectancy and quality of life.
The city has taken an aggressive approach to cleanup, especially in the last few years, investing in projects to remove toxic waste from the river and help reduce pollution in the future. Most recently, Seattle Public Utilities (SPU) announced plans to invest upwards of $100 million in stormwater management and water quality infrastructure in South Park in the next decade to address sea level rise. But as Seattle contends with an unprecedented housing crunch brought on by an influx of tech-industry companies and their employees, new tensions are arising.
Recognizing that South Park is one of the last remaining affordable enclaves in the country's fastest-growing city and that the planned infrastructure could increase its desirability and put long-term residents at risk of displacement, SPU has taken on an uncommon agenda for a public utility. With the help of Connect Capital, an initiative of the Lincoln Institute of Land Policy's Center for Community Investment, representatives from SPU have formed an unlikely partnership with the Duwamish River Cleanup Coalition (DRCC), local housing coalitions, the city's office of economic development and sustainability, and the Seattle Foundation. These groups are prioritizing and coordinating investments in order to preserve and produce affordable housing, build climate resilience in the area, and debunk the notion that environmental improvements inevitably lead to displacement.
The South Park community is one of six teams, grappling with issues from affordable housing to job creation, selected for Connect Capital, a national program to help communities attract and invest money with an emphasis on equity. A team in Milwaukee is also looking at new ways to leverage utility investments in flood management to benefit disinvested neighborhoods; the other teams are in central Appalachia; Coachella Valley, California; Miami, Florida; and Richmond, Virginia. Over the course of two years, cross-sector groups are receiving coaching, facilitated peer learning, and a $200,000 grant from the Robert Wood Johnson Foundation to fund a local staff position.
"The Connect Capital work marks the first time that we're working with housing groups at the nexus of water, health, equity, and climate," said Ann Grodnik-Nagle, the project lead on SPU's South Park investments. "It is very common for drainage and wastewater utilities to consider green infrastructure, but the next frontier is aligning drainage infrastructure with affordable housing solutions and open space. I think it is unique to have a utility leadership thinking about affordable housing in concert with planning for our capital projects." 
Resilience in South Park
South Park is the city's most diverse neighborhood — 37 percent of the 4,000 residents identify as Hispanic and almost half are foreign-born. It's also unique for its mix of residential (predominantly single-family homes), commercial (450 businesses), and industrial tenants. Though most industrial activity takes place on the outskirts, some streets feature industrial buildings and housing side by side.
This square-mile neighborhood sits five miles south of Seattle's downtown and hovers over the city limits, a position that has combined with other factors to leave residents historically ignored. Since South Park was settled in the mid-1850s, activism has become central to the neighborhood's character, highlighted by a successful effort in the early 1900s to briefly become its own town. Over the years, local organizers have addressed environmental justice catastrophes, public safety issues, and the lack of basic services even with no audience to hear their concerns. Only in recent years have residents started to see attention from the city.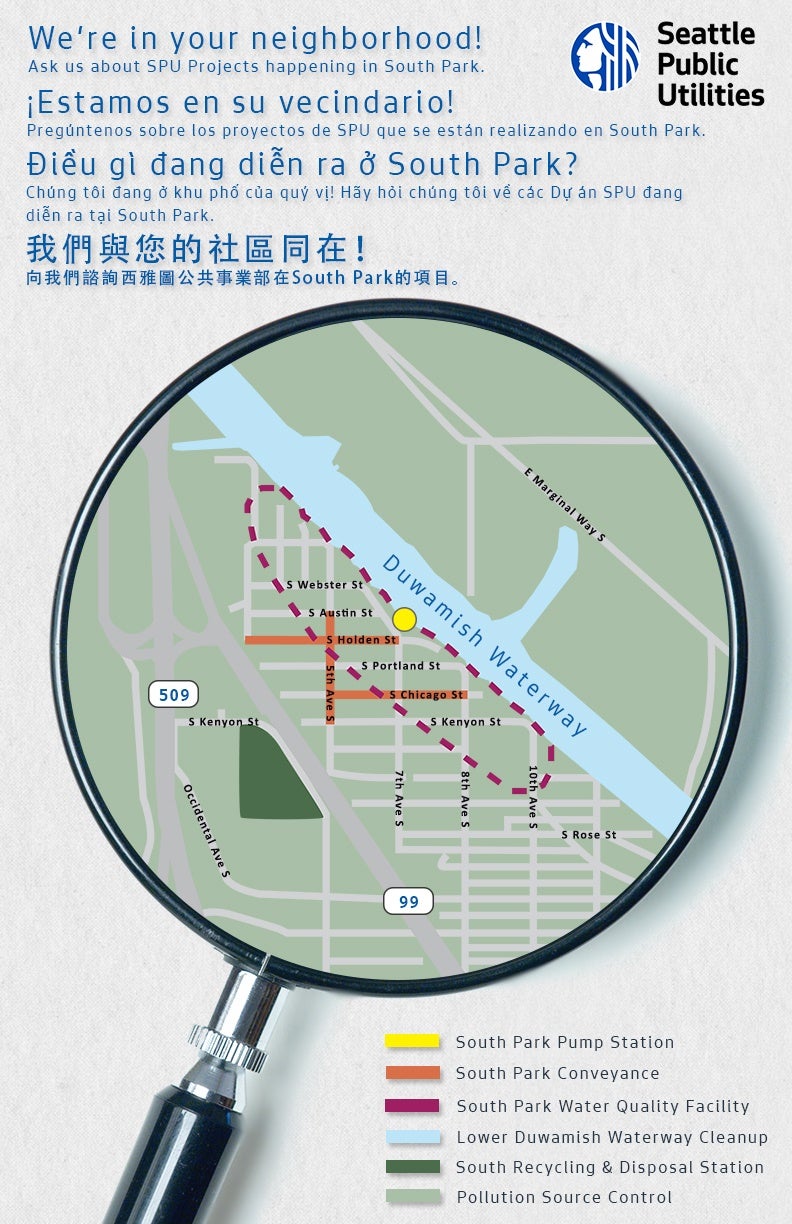 SPU's water infrastructure work is one such effort — scheduled for construction from 2019 to 2024, the updates will confront sea level rise in Seattle's only riverside neighborhood which is expected to experience daily flooding by 2104. "It is like a bath tub," Grodnik-Nagle said. "Currently, [on some streets] there is no formal drainage infrastructure. It is surprising that this can be found in the city of Seattle."
The pump station and water quality facility, which will treat polluted stormwater from the drainage system, will work in concert to treat stormwater from the drainage system before it flows into the Duwamish. A stormwater collection and conveyance system in South Park's neighborhoods will run through streets without formal drainage. SPU is also working on a series of smaller initiatives. A GSI project at one of the neighborhood's main intersections will treat dirty runoff from a major arterial and fix a flooding problem that impacts local businesses. SPU recently received funding from King County to improve the central riverside park, the Duwamish Waterway Park, to increase access to the water, improve a critical public gathering space, and build opportunities for salmon habitat and flooding mitigation.
Coupled with the EPA's ongoing $342 million river cleanup plan, SPU's investments will dramatically improve the resilience of the neighborhood—and amplify concerns about displacement: "You start to see that there is a lot of cleanup and basic infrastructure being put in here that will lift up the basic health standards of the neighborhood and the attractiveness of the area as a place that people want to live," Robin Schwartz, communications manager at the DRCC, said.
This fear of "green gentrification" is not unfounded: New York City's High Line has become the poster child for this phenomenon, though many smaller scale examples have led to similar outcomes. And as sea levels have risen, so have the stakes—neighborhoods on higher ground and those designed with the infrastructure to manage flooding are increasingly in demand.
In recent years, recognizing South Park's status as one of the Seattle's last affordable outposts, the city has begun to test anti-displacement approaches there. In 2016, the City's Office of Sustainability and Environment convened an interdepartmental team comprised of 18 city departments, the Duwamish River Valley Action Team, to work closely with the community to outline a roadmap (the Duwamish Valley Action Plan) for the region. 
To address housing, the Latina-led Duwamish Valley Affordable Housing Coalition developed a short- and long-term plan to preserve existing affordable stock and produce new affordable housing and community spaces. According to Schwartz, who sits on the coalition, the group is looking for funding to buy existing properties to keep them affordable and to eventually create a multi-use community space.
However, in a hot-market region, the city's interventions are not as straightforward as they seem, especially when multiple ideas for equitable improvements are seemingly at odds.
Housing or Parks?
Only two years since the publication of the Duwamish Valley Action Plan, housing pressures have intensified. While the community expressed interest in the conversion of the South Park Plaza, which most recently served as a staging area for the construction of the new South Park bridge, into open green space at the time of the Plan's writing, today, many residents are more interested in using the land for affordable housing.
"The community cares so much about staying in their neighborhood that they are willing to cannibalize a park to achieve that," Grodnik-Nagle said. "This is a wake-up call for the city."
As part of an Urban Land Institute Resilience Panel focused on South Park in 2015, a panelist emphasized that while flooding is on residents' minds, food, transportation, pollution, and housing were higher priorities. "It was the observation of the group that they should absolutely be planning for eventualities, but they shouldn't forget the day-to-day resilience."
Through the Connect Capital discussions, partners like SPU have become more aware of the reality of this balancing act. "We have a very short runway to get the housing question right," Grodnik-Nagle said. "We need to deliver wins on affordable housing soon and then we can start looking to things like climate adaptation."
And, community members, familiar with the ins and outs of South Park, have had a chance to publicly share their priorities, with an emphasis on housing, and the improvements they have already made. At the Grantmakers in Health Conference in June, Paulina Lopez, executive director of DRCC, coled a tour of her neighborhood for funders dealing with similar challenges: "Most of them were impressed with the capacity the community has now," she said. 
So far, in Seattle, the Connect Capital discussions have resulted in a proposal for a resilience district, a community-run governance structure that would build community capacity and ownership of initiatives related to equitable development and environmental justice. While the structure hasn't yet been fleshed out, as currently envisioned, the body would provide a pathway to local land ownership and serve as an intermediary for various funding sources, including federal, state, and local governments and foundations, which would be allocated to community-based sustainability activities.
Finding Common Solutions in A Resilience District
One of the more well-known examples of such a district can be found in New Orleans' diverse, middle-class Gentilly neighborhood. Using the $141 million it received through HUD's National Disaster Resilience Competition, New Orleans is concentrating proven water and land management practices in one area with the idea that this colocation will create greater community benefits, though the city has been the subject of some criticism for insufficient community outreach.
In Portland's Cully neighborhood, Living Cully, a coalition of area nonprofits spearheaded by local nonprofit Verde, rejects the idea that the goals of sustainability and anti-displacement are at odds, and "re-interprets sustainability as an anti-poverty strategy." An ongoing affordable housing project shows how this idea is possible — after buying a former strip club for conversion into affordable housing, the coalition trained and hired residents to build green roofs and walls, install solar panels and water reuse systems, and develop stormwater infrastructure and sustainable landscaping.
"We are at a place now, where — as a nation — we can no longer make an environmental investment without social and environmental justice outcomes," Tony DeFalco, Verde's executive director said. "What we've been able to do here at a smaller scale is basically to demonstrate how you do that."
Connect Capital participants are still learning from these examples and working out the details of a district or coalition that would fit the specific needs of South Park. Questions on the table include: How can Seattle and the city flip the resilience district concept into community ownership? How does Seattle support capacity building in the community so there is an entity that can acquire and develop land in the neighborhood, so that assets are ultimately held by the community, not by the city? Will this district make land-use policy?
South Park's already strong leadership lays a promising groundwork for such a model — for instance, a version of Living Cully's environmental stewardship model already exists in Lopez's Duwamish Valley Youth Corps Program. Youth learn about the health impacts of the river cleanup and other social and environmental justice issues and engage in projects such as building rain gardens. The proposed district may also include a workforce development program.
While the group fleshes out the details of the plan and waits for city leaders to approve it, participants are already benefiting from an emphasis on community involvement and a better understanding of cross-sector perspectives in their own work.
SPU has taken steps to involve the community in its visioning process for the pump station, inviting input at an open design forum. And in all of its projects, it's thinking through a more holistic lens. "The climate resilience piece is a big long-term challenge in the Duwamish Valley that is unlike any other neighborhood in the city, and it's forcing us to think strategically about where we develop housing, and how we might pair it with green space that could also serve to mitigate sea level rise flooding," said Grodnik-Nagle.
"Team members have come to understand the importance of thinking at a systems level rather than at a project level," Omar Carrillo Tinajero, assistant director of programs, Connect Capital, said. "That is, rather than starting with a particular project in mind, the team has shifted its energy to bring to fruition a community-level result. This has required a shift in approach that includes a pipeline of projects and a series of policies and practices that will enable them to achieve their result."
---
Emma Zehner is communications and publications editor at the Lincoln Institute.
Photographs in order of appearance: 
Paulina Lopez, executive director of the Duwamish River Cleanup Coalition, talks to funders as part of a tour of the South Park neighborhood during the Grantmakers in Health conference in June. Credit: Omar Carrillo Tinajero.
A Seattle Public Utilities sign shows where the planned stormwater management infrastructure will be located. Credit: Seattle Public Utilities.
Environmental Planning
,
Housing
,
Infrastructure
,
Public Utilities
,
Resilience