Asequibilidad de viviendas en Brooklyn, Nueva York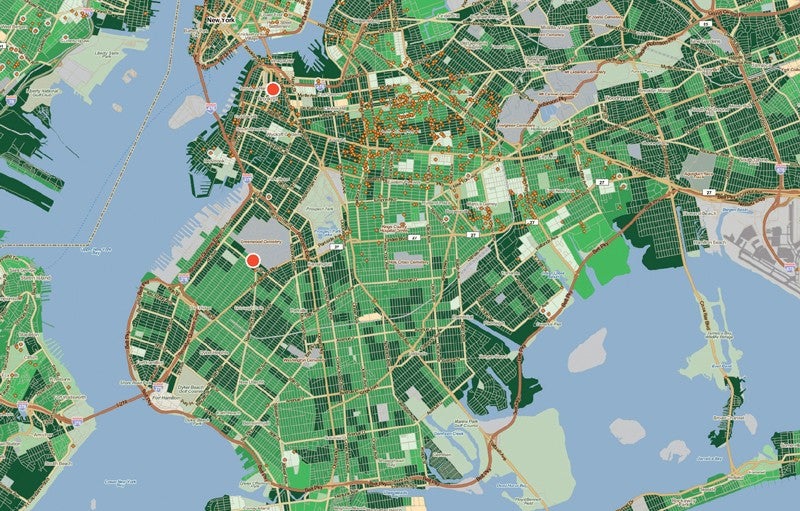 Según Bloomberg, la mediana de alquileres en Brooklyn aumentó entre un dos y un seis por ciento al mes en la primera mitad de 2019, y llegó a US$ 2.914 en julio (Price 2019). Según se indica en el mapa, los créditos fiscales estatales (LIHTC, por su sigla en inglés) tienden a concentrarse en la sección noreste del distrito. Las viviendas asequibles escasean en los vecindarios más occidentales, cuyos proyectos de uso mixto con biblioteca y viviendas se describen en este número: Brooklyn Heights, donde el alquiler promedio aumentó un 53 por ciento entre 1990 y 2010 a 2014, y Sunset Park, donde el alquiler promedio aumentó un 24 por ciento durante el mismo período (NYU 2016).
Ver la versión PDF de este mapa para obtener más detalles y una clave.
Referencias:
Centro Furman de la NYU. 2016. "State of New York City's Housing and Neighborhoods in 2015." Nueva York: Universidad de Nueva York. https://furmancenter.org/files/sotc/NYUFurmanCenter_SOCin2015_9JUNE2016.pdf.
Price, Sydney. 2019. "Brooklyn Beats Manhattan for NYC Apartment Rent Increases." Bloomberg. 11 de julio. https://www.bloomberg.com/news/articles/2019-07-11/brooklyn-beats-manhattan-for-new-york-apartment-rent-increases.
GIS
,
Housing
,
Mapping