Fellows in Focus: Neha Gupta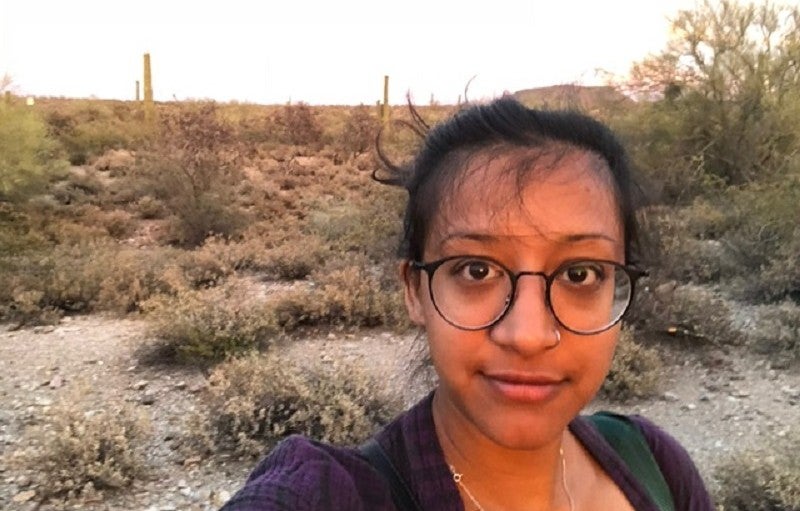 The Lincoln Institute provides a variety of early- and mid-career fellowship opportunities for researchers. In this series, we follow up with our fellows to learn more about their work.
While pursuing her doctorate at the University of Arizona, Neha Gupta participated in the Babbitt Center's Dissertation Fellowship Program, which assists PhD students whose research focuses on integrating land and water policy to advance water sustainability and resilience. Gupta is now a joint assistant research professor of hydrology and atmospheric sciences at the University of Arizona. We caught up with her to talk about climate change, urban stormwater innovations, and her favorite cli-fi novels; this interview has been edited for length and clarity.
JON GOREY: What is the focus of your work, and how did your fellowship help advance that research?
NEHA GUPTA: A lot of my work is focused on urban hydrology, the use of stormwater as a resource, especially in arid regions, and collaborative approaches to water resource planning. I received the fellowship at the beginning of 2020—as we know, a very chaotic time in global history—so not only did it help me get across the finish line with my dissertation, but it gave me some stability in that time as well. Since then, I've engaged with people at the Babbitt Center and am working a little more closely with them; I got involved with being a small-group facilitator for some of the exploratory scenario planning work that they're doing with workshops in Cochise County, and I point to the center as a place the students I'm working with and mentoring might want to partner with or eventually work for.
JG: What are you working on now, and what are you interested in working on next?
NG: I'm especially focused on green stormwater infrastructure. I'm involved in a lot of collaborative projects with the City of Tucson, the Pima County Flood Control District, and other water managers across the state. I'm also working on a statewide water reliability planning effort with the Department of Water Resources. So I'm helping manage that project at a high level, and also specifically looking at opportunities to use stormwater to recharge groundwater and support water resource needs in Arizona as things start to look a bit tighter across the Colorado River Basin.
In Tucson, we have a program called Storm to Shade that's focused on maximizing green infrastructure, with a community outreach component and a maintenance and monitoring component. That program involves a couple of different agencies, and I work a lot with them. So it's not just myself working in urban hydrology, but we have other people in the university thinking about it from a social, community-based perspective with an equity lens, we have landscape architects, and we all try to knit our work together . . . because stormwater really sits at the intersection of landscape architecture, urban planning, hydrology, soil health, equity, and more socially based components and perspectives.
JG: A tropical storm just dropped months' worth of rain on Southern California in a few hours. Is that the kind of situation where some of that extreme rainfall could be collected, or is that more of a disaster than an opportunity?
NG: We're trying to make it both. That's exactly the kind of work that we're trying to focus on. When we do get these bigger storms, a lot of that water is considered a threat to property. But that's excess water that can be harnessed and used to support plants, which can then help address the urban heat island effect, and can create microclimate benefits in different areas of the state. They call it urban enhanced runoff, and that can be used for groundwater recharge projects. It's really about treating water in a more holistic sense. And thinking about equity across an urban region, the wealthier areas tend to have more canopy and lower temperatures. So capturing urban stormwater is a resources benefit, but it can address a whole other slew of issues.
JG: When it comes to your work, what keeps you up at night? And what gives you hope?
NG: There isn't a lot that keeps me up at night. We know that we live in a water-stressed region. It's been this way for a long time, and it's really about having creative ways to move water around to meet various water demands. We know that we live in an area that's getting hotter. We know that we live in an area that's going to be experiencing more unpredictable precipitation, whether it's record-breaking dry years or record-breaking wet years. So I think to stay in this space in the long run, you can't let those things keep you up at night. Otherwise you won't get any sleep to show up the next day.
I think the hardest part, or maybe the thing that does keep me up at night, is the heat and the temperatures. Those probably cause the most immediate threat to life. But that's why we're focusing on ways to increase and support the urban canopy.
I'm very much a solutions-focused person, and we know these problems are not new. They're just getting bigger and more pressing and unpredictable. But there are a lot of things we can do to address them. It really requires us working collaboratively.
JG: What's the best book you've read lately?
NG: I am a pretty big fan of the "cli-fi" or climate fiction genre. On the more hopeful end, The Ministry for the Future by Kim Stanley Robinson is a great exercise in thinking about not only some of the terrible things that might happen as a result of climate change—and while this book came out a few years ago, we see some of these things showing up in the news now; the first chapter starts out with a heat wave in India that's above the wet bulb temperature that humans can survive in—but also a lot of different environmental strategies. A book I recently finished that is on the more concerning end, but that I really enjoyed—it read like a movie—was called The Displacements by Bruce Holsinger. In that book, a Category 6 hurricane hits Miami, and essentially wipes it off the map. He really links together a lot of our existing societal struggles, but in the context of natural disasters that are amplified by climate change. So they're kind of two sides of the genre—one's a little more hopeful, the other a little more concerning—but I think they help seed the imagination and help us look a few steps out and wrap our heads around an overall slow-moving crisis that shows its face most visibly in natural disasters. I really appreciate a good story—but a story that can also help me with my own work and wrapping my head around the bigger picture.
---
Jon Gorey is a staff writer at the Lincoln Institute of Land Policy.
Image: University of Arizona Assistant Research Professor and former Babbitt Fellow Neha Gupta. Credit: Courtesy photo.
Adaptation
,
Environment
,
Infrastructure
,
Intermountain West
,
Natural Resources
,
Public Policy
,
Public Utilities
,
Resilience
,
Scenario Planning
,
Water