As Cities Consider Turning Offices into Apartments, Calgary Has Some Advice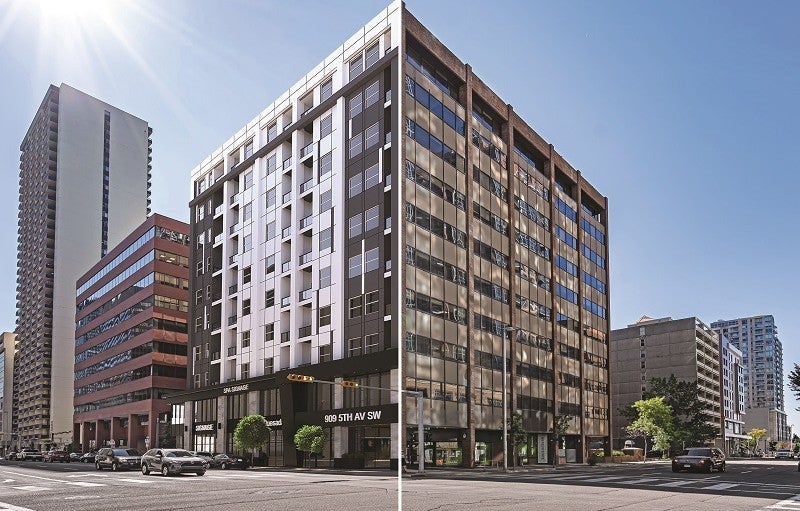 As remote and hybrid work evolves from exception to rule, draining downtowns of office workers and money, cities around the world are asking some version of the same question: Can we convert half-empty cubicles and conference rooms into housing?   
For better or worse, Calgary, Alberta, started grappling with that question years ago—and may offer some lessons for cities just now exploring office conversions. 
A city of 1.3 million, Calgary has seen its share of booms and busts as the corporate capital of Canada's oil and gas industry. But when crude oil prices started sinking in 2014, they took the city's commercial property market down with them. Office buildings in downtown Calgary have lost about $16 billion in property value since 2015, resulting in a loss of tax revenue that impacts the entire city.  
"The conversations around our office vacancy issue started around 2015," says Natalie Marchut, program manager for Calgary's downtown strategy team. "Office vacancy had started climbing, we weren't seeing any reabsorption, and it started to become quite alarming." By the time COVID closures hit in 2020, there weren't a whole lot of downtown office workers left to send home.  
So city officials worked with developers, businesses, and other partners to come up with a plan. With about a third of the office space downtown sitting vacant—some 14 million square feet—the city set a goal of removing 6 million square feet of office inventory over the next 10 years, ideally through residential conversions. With that process now well underway, Calgary's experience offers some lessons for other cities looking to encourage adaptive reuse.
Offer financial incentives. As Isaac Newton would say, an object at rest tends to stay at rest, unless acted upon by an outside force. Even though converting a half-vacant office building to homes typically costs less than demolishing it and rebuilding from scratch, many property owners don't have the capacity or desire to take on such a big project, and instead succumb to inertia, letting buildings sit idle. "A big thing we realized was that most building owners weren't taking the initiative on their own to repurpose those vacant office towers," Marchut says. So Calgary decided to offer financial incentives to kickstart the process.
The city council approved an initial $100 million in municipal funding in 2021—and another $53 million in November 2022—to support adaptive reuse projects downtown, allowing the city to reimburse developers at $75 per square foot of office space converted. 
Even at that generous rate, which was calculated to cover about a third of the estimated $225-per-square-foot cost of such conversions at the program's outset, some developers find it hard to make the numbers square, Marchut says, given rising interest rates and inflation. But the first two rounds of the program garnered far more project proposals than there was funding.  
So far, eight conversions have been approved. The first five projects will subtract over 660,000 square feet of office space from the downtown commercial market by converting it into some 700 new homes; the remaining three have yet to be officially announced, as the city first assists with relocating any remaining tenants.
Recalibrate revenue expectations. One concern that came up often in early discussions is that commercial properties are typically taxed at a higher rate than residential ones. "That was a big one that we had to get our heads around, but also help our council get their heads around: When you convert these to residential, they're going to be taxed at a lower rate, so we're not going to be getting what we could if they were fully occupied commercial spaces," Marchut says. "Yes. But we will not see the absorption of 14 million square feet of office space. We just will never get there."  
The situation is so dire right now that some downtown buildings are assessed for their land value only, she adds. "Of course you need commercial property downtown, and of course they will always pay more to the city in tax revenue—but not if they're all empty," Marchut says. Meanwhile, removing excess inventory should reduce the vacancy rate, helping to stabilize and even restore the value of the remaining office space. (Another strategy that can address escalating vacancies in an equitable way, according to researchers, is to implement a split-rate property tax, which taxes lots at a higher rate than the structures on them, thus encouraging landowners to invest in languishing properties.)
Pursuing adaptive reuse has the potential to revive struggling downtowns and sustain them in a new way, says Amy Cotter, director of climate strategies at the Lincoln Institute of Land Policy, where she relates urban land policy and planning to climate resilience, sustainability, and spatial equity. Converting excess workspace to housing offers the prospect of a 24/7 population keeping a city vibrant and economically healthy, "just differently than when we had central business districts with a 9-to-5 daytime population and suburbanites commuting in," she explains.
"A significant part of the economy in any city is made up of small business owners who are dependent on people being there and eating in their restaurants, buying their flowers, stopping by the bodega, or what have you," Cotter says. "So the financial benefit of having residents in those units isn't necessarily explained or quantified in its entirety by municipal revenue."   
Prioritize flexibility and simplicity. Beyond offering financial incentives, Calgary is taking other steps to encourage conversions. Most properties downtown, for example, are exempt from change-of-use permitting requirements. "That saves, on average, six months," Marchut notes, and removes the risk that projects could be bogged down or blocked altogether.
Since developers need to invest an enormous amount of time and money in a project even before proposing it to the city, simply indicating general support for conversions provides an important boost in confidence, Marchut said. "Obviously, you can't guarantee an approval until you have a plan set in front of you that you can review against the rules. But a notional, 'Yes, the city is supportive of what you're trying to achieve on this site,' goes a long way in giving comfort to developers."  
To accelerate conversions and attract as many applicants as possible, the city intentionally kept the program simple, without specific affordable housing requirements, for example. Marchut says that has allowed the city to prioritize projects that best align with its equity, climate, and planning goals.  
"Every project that is coming online through this program is doing more than just converting office to residential," Marchut says. "We've got a few that are going to be doing affordable housing . . . we have others that are doing additional public realm improvements—and this is all optional. We don't require it, but applicants are coming to the table with really solid proposals, because they know the program is so competitive, and so they're kind of bringing their A game."  
The program's first conversion project, The Cornerstone by Peoplefirst Developments, is slated for completion later this year and will create 112 family-oriented apartments; 40 percent of them will be rented below market rate. Another project, the 176-unit Palliser One by Aspen, will include a public park and skating rink at ground level. "We're going to see a finished product really soon," Marchut says. "I'm super excited to finally see one open their doors and invite new residents in." 
---
Jon Gorey is a staff writer for the Lincoln Institute of Land Policy. 
Image: The Cornerstone by Peoplefirst Developments, an adaptive reuse project in Calgary, Alberta, will create a family-oriented residence (left) out of a commercial office building (right). Credit: Courtesy of Peoplefirst Developments.
---
Related Content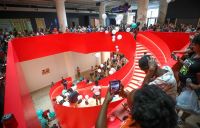 President's Message: Make Way for Mixed Use
Housing
,
Municipal Fiscal Health