Peking University–Lincoln Institute Center Celebrates 15th Anniversary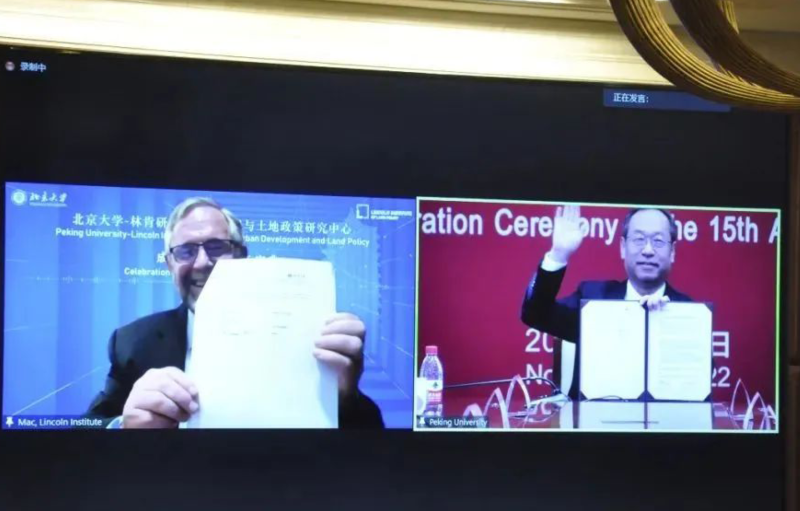 This fall marked the 15th anniversary of the Peking University–Lincoln Institute Center for Urban Development and Land Policy (PLC). Established in 2007, the center has become a leading authority on land policy issues in China, including the property tax, municipal finance, land and housing policies, and land conservation. To celebrate this milestone, the PLC held an event on November 4 that included commemorative remarks, a formal recommitment to the partnership between the two institutions, and several academic presentations on urban development and climate change. 
"The Lincoln Institute works globally on topics largely relating to land policy, and the joint center is an exceptional platform for our China program," said Katie Lincoln, chief investment officer and board chair of the Lincoln Institute, who delivered congratulatory remarks by video. "During the past 15 years, the center has held numerous conferences, undertaken research and demonstration projects, shared in scholarly exchanges, and happily gained recognition both in and out of China." 
In addition to Lincoln, several current and former leaders from the two institutions joined the celebration virtually or in person, including Jin Zhang, vice president of Peking University; Jianhua Lin, former president of Peking University; Yansong Li, former vice president of Peking University; George W. McCarthy, president of the Lincoln Institute; Gregory Ingram, former president of the Lincoln Institute; and Joyce Man, former director of the PLC. 
"We are now at a difficult time of Sino-U.S. relations," said former PKU President Lin. "But I believe that the mutual trust between our two institutions and the confidence about the value of what we do will continue to be a foundation for us to cooperate and move forward."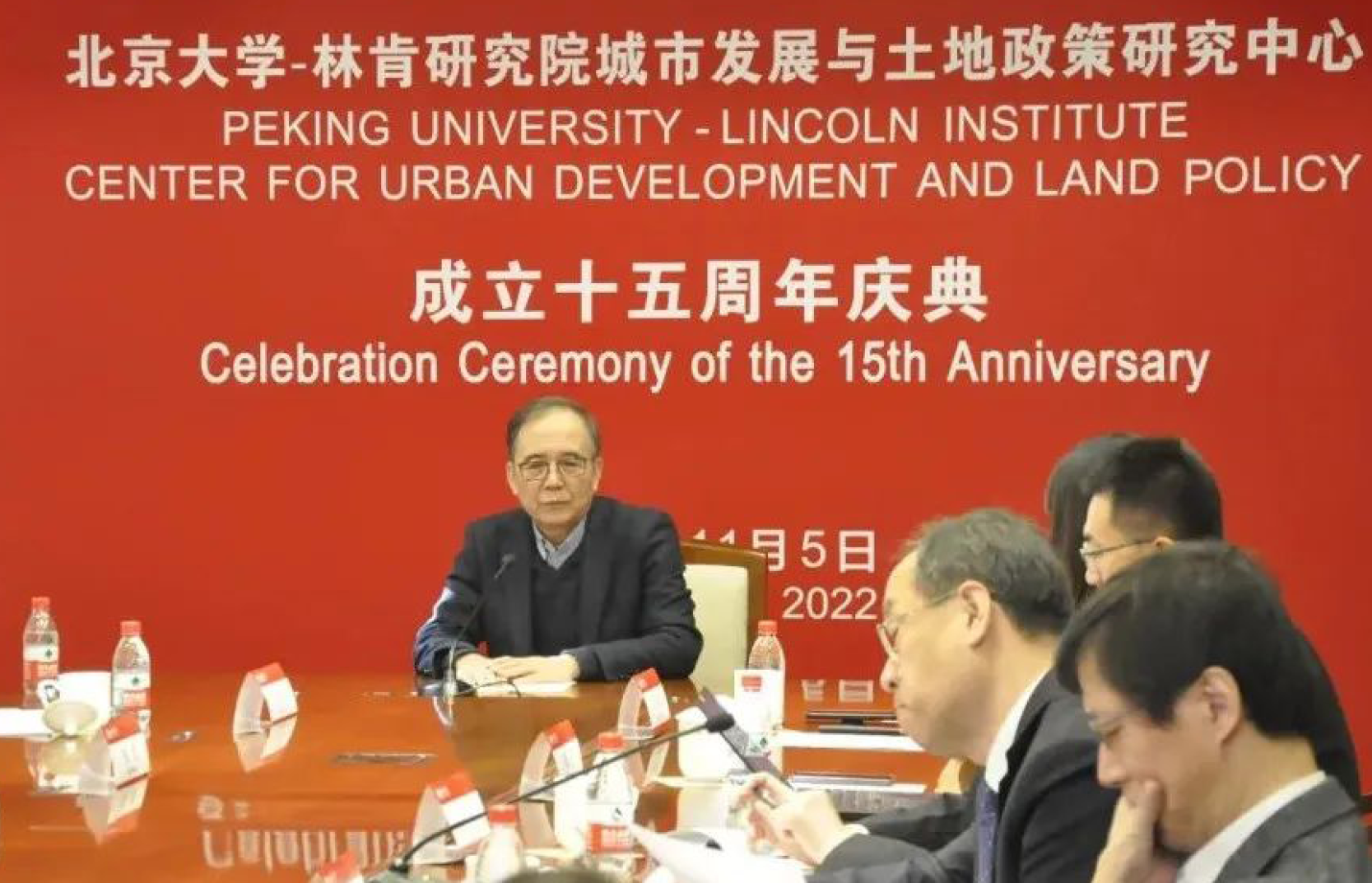 During the event, Zhang and McCarthy signed an agreement for continued collaboration between the two organizations. "In the next few years, the PLC will add a new focus on land use and climate change, in support of China's ambitious goal of achieving net-zero carbon goals by 2060," noted McCarthy. "The PLC also will help the Lincoln Institute in its global efforts to address the climate crisis. The unique cooperation between the Lincoln Institute and PKU over the last 15 years has been fruitful for China, the United States, and the world in [finding land-based solutions to] economic, social, and environmental challenges. We are excited to embark on another five-year journey together." 
The center, which conducts research, training, policy analysis, academic exchanges, advisory services, and demonstration projects throughout China, also invited several scholars, fellowship recipients, and others who have been involved with its work over the years to share reflections.  
"I worked with PLC for more than ten years, from winning the Peking University–Lincoln Center scholarship, to guiding students to participate in the center's fund application, to becoming a partner of the center's work and research," said De Tong, associate professor at Peking University Shenzhen Graduate School. "Scholars at the center have become my inspiring mentors and friends, and colleagues at the center have also become comrades-in-arms at work and friends in life."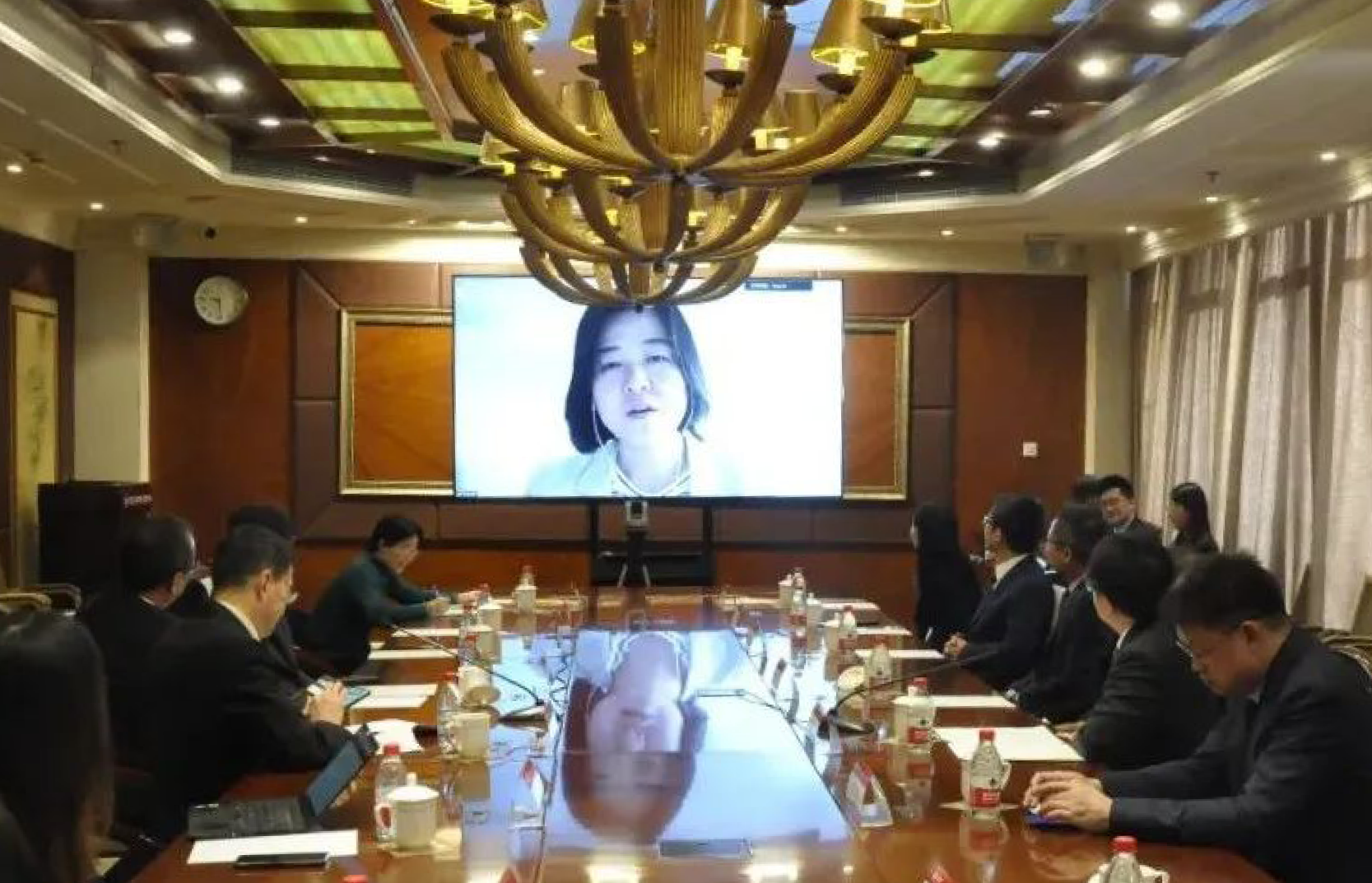 The center has launched an essay contest open to those who have been involved with the PLC over the years, from scholarship recipients to business collaborators to conference participants. Five winning essays, selected in January, will receive a small monetary prize; a copy of the Lincoln Institute book Infrastructure Economics and Policy: International Perspectives, coedited by José A. Gómez-Ibáñez and Zhi Liu, who leads the PLC as director of the Lincoln Institute's China program; a copy of Advanced Economic Geography by Canfei He, dean of the College of Urban and Environmental Sciences at PKU and associate director of the PLC; and publication on the PLC website. 
The second half of the day's events was structured as an online forum on climate change and urbanization in the context of China's dual-carbon goal, which seeks to reach peak carbon by 2030 and achieve carbon neutrality by 2060. Leading policy makers and scholars from China, Hong Kong, and the United States shared their latest thoughts and studies on topics including green building, urban equity, and urban-rural integration, drawing an audience of more than 600 researchers, planners, and others.  
"The dual-carbon goal is a major challenge for China, but also presents new opportunities for China's continuing urbanization," said PLC Director Liu. "Urbanization and carbon net-zero has been a hot topic in China's policy debates, which have been getting more substantive and concrete over the last two years. I found myself learning a lot from these presentations, which deepened my understanding about the challenges and opportunities that the goal of carbon net-zero will bring to our urbanization for the next few decades." 
Forum topics and presenters included: 
the evolution and future of green building, by Dr. Baoxing Qiu, former Deputy Minister of the Ministry of Housing and Urban-Rural Development; 
carbon reduction models for commercial real estate, by Professor Siqi Zheng of the Department of Urban Studies and Planning of MIT; 
equity and governance under China's dual-carbon goal, by Professor Shenjing He from the Department of Urban Planning and Design of the University of Hong Kong; 
carbon reduction through urban agglomeration, by Professor Ming Lu from Antai School of Economics and Management, Shanghai Jiao Tong University; and  
urban-rural integration and rural revitalization, by Professor Shouying Liu from the School of Economics of Renmin University. 
Visit the "Our Work" section of our website to learn more about the PLC and to find information about how to connect with the center on WeChat. 
---
Lead image: Lincoln Institute President and CEO George W. McCarthy and Peking University Vice President Jin Zhang celebrate the renewal of the collaborative agreement that established the Peking University-Lincoln Institute Center for Urban Development and Land Policy. Credit: Courtesy of PKU.
Conservation
,
Land Use
,
Municipal Fiscal Health
,
Property Taxation
,
Urban Universities