Ebonie Alexander Receives Kingsbury Browne Award and Fellowship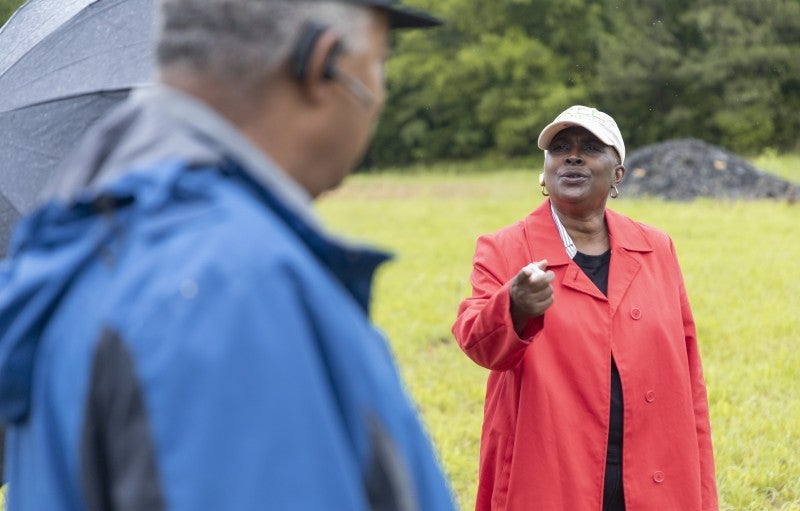 Ebonie Alexander, executive director of the Black Family Land Trust, has been named the 2022–2023 Kingsbury Browne Fellow at the Lincoln Institute of Land Policy and the recipient of the Kingsbury Browne Conservation Leadership Award from the Land Trust Alliance. Working at the intersection of equity and conservation, Alexander is committed to promoting and ensuring rightful ownership and stewardship of inherited family land for African American landowners and other historically underserved populations in Virginia, North Carolina, South Carolina, and other states. 
"Ebonie is a leader in a space where she had to be a true pioneer and innovator," said Andrew Bowman, president and CEO of the Land Trust Alliance. "Those qualities have allowed her to be the driving force behind innovative programs and state policy changes in support of landowners who have historically been overlooked. She has moved land conservation beyond its traditional boundaries. And with this award and fellowship, Ebonie will continue to inspire us." 
Alexander received the award at Rally 2022: The National Land Conservation Conference, sponsored by the Land Trust Alliance. The Kingsbury Browne award and fellowship, given annually since 2006, honor people who have enriched the conservation community with their outstanding leadership, innovation, and creativity in land conservation. They are named for a Boston tax lawyer and conservationist who served as a Lincoln Institute fellow in 1980 and inspired the founding of the Land Trust Alliance in 1982.  
At the Black Family Land Trust, which is based in Durham, North Carolina, Alexander designed the Wealth Retention and Asset Protection (WRAP) program and African American Land Ethic, two initiatives that have helped landowners retain family ownership and control of more than $12.5 million of their land assets and secured more than $500,000 of federal funding to support farmland conservation.  
During her year as a Kingsbury Browne fellow, Alexander will engage in research, writing, and mentoring, and facilitate a project that builds upon and shares her experience with the broader community. "Ebonie Alexander is a remarkable and passionate leader in the vanguard of efforts to protect open space, working farms, and diverse cultural heritage for generations to come," said Jim Levitt, director of the International Land Conservation Network at the Lincoln Institute. "We are very excited to get to know her, to work with her, and to share her insights with land trust colleagues from coastal Virginia to the Pacific highlands, and beyond." 
---
Image: Ebonie Alexander speaks with a landowner as part of her work with the Black Family Land Trust. Credit: DJ Glisson II, Firefly Imageworks.
Conservation
,
Environment
,
Inequality
,
Land Trusts