In Ohio, a New Tool Maps the Equity and Sustainability of Potential Business Locations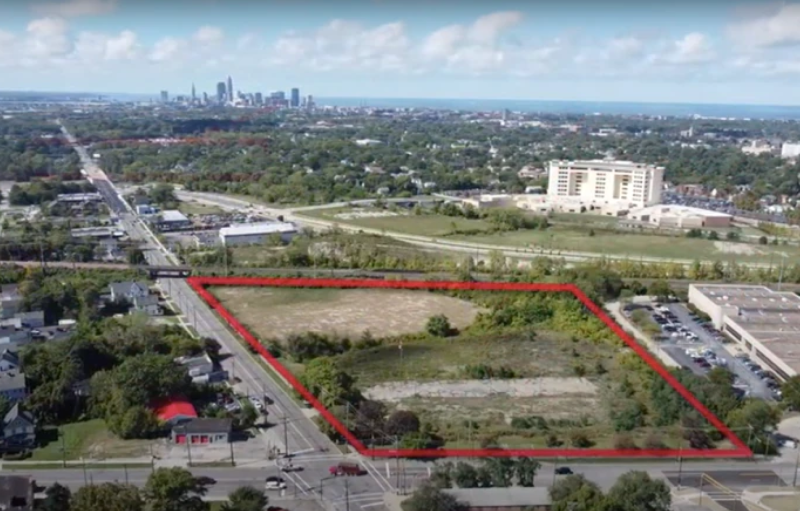 When companies evaluate potential locations for starting or expanding their operations, they typically consider factors including the costs to build or relocate in the area; risks associated with the site, such as regulatory or infrastructure issues; and the time required for acquisition and construction. But in a growing number of U.S. cities and regions, from Orlando to Indianapolis, policy makers are encouraging businesses to incorporate additional considerations into their decisions, including racial equity and climate change. 
In northeast Ohio, a region that includes the legacy cities of Cleveland and Akron, two organizations have unveiled a mapping tool that allows companies to compare several potential locations based on equity and sustainability factors. With a premise similar to the Walk Score and Transit Score tools that assess neighborhood walkability and transit opportunities, the ESG to the Power of Place (ESGP) tool scores up to five locations across the northeast Ohio region on the total number of potential workers within a 30-minute car commute, total number of Black or Latinx workers within that same car commute, and emissions impact of the average commute to a potential site location. 
The tool, created by the Fund for Our Economic Future and Team NEO with support from the Center for Neighborhood Technology and the Lincoln Institute, is part of an effort to tie regional economic development more closely to equity and sustainability. 
"For years, the Fund has said how much place matters for equitable economic growth," said Bethia Burke, president of the Fund for Our Economic Future, a network of philanthropic funders and civic leaders working to advance equitable economic growth in the region. "This tool will help businesses and site selectors compare location options in ways that can have meaningful implications for both individual corporate strategies and broader regional outcomes."  
The tool also provides an overlay of designated job hubs, which are defined areas of concentrated economic activity and development. When used with existing site selection tools such as Zoom Prospector, the tool's creators say, ESGP can provide a more complete set of data for return on investment analysis.  
"Reducing racial inequities and mitigating our impact on the climate are two of the Lincoln Institute's most fundamental goals, and they tie directly to economic development," said Jessie Grogan, associate director of reduced poverty and spatial inequality at the Lincoln Institute. "That's what's so exciting about this tool – it makes it easier than ever for economic development professionals to integrate equity and climate impacts into their considerations." 
The tool comes on the heels of the Fund for Our Economic Future's 2021 Where Matters report, which analyzed the equity and sustainability impacts of different types of locations, from a rural area to an urban neighborhood. The report showed, for example, a tenfold increase in the potential number of workers within a 30-minute car commute in urban neighborhoods compared to rural areas, and an urban talent pool that included nearly 65 times more Black and Latinx workers. These findings are especially significant in today's tight labor market, according to the Fund.  
"With more companies prioritizing climate and diversity, equity, and inclusion in their values, strategies, and performance goals, they need better information and accessible tools like this to inform their site selection decisions," said Bill Koehler, chief executive officer of Team NEO, a business and economic development organization focused on accelerating economic growth and job creation throughout the region. "Using this tool and its data, businesses have the opportunity to determine their accessibility to diverse talent pools and better understand how location decisions play into their overall environmental, social, and governance objectives, while also addressing their broader corporate return on investment objectives in specific regions." 
Ultimately, the groups say, emphasizing equity and sustainability is a long-term strategy that can benefit businesses, the people who work for them, and the places those people call home. Burke hopes the new initiative will have a broad impact as the region continues to recover from decades of industrial losses and population decline: "We hope this tool will help to start and guide conversations within the business community that will lead to positive economic development for the region." 
Grogan says the tool holds promise for other regions as well. "While this tool is based in Northeast Ohio, now that the methodology has been established, we hope it will be replicated widely," she notes. "This could help practitioners around the country make more informed site selection decisions that consider equity and climate impacts more fully than ever before." 
---
Image: A site at Woodland Avenue and Woodhill Road in Cleveland scored highest among five sites compared by a new online tool measuring factors such as racial equity in job locations.
Credit: Team NEO/Fund for Our Economic Future via Cleveland.com.
Economic Development
,
Land Use Planning
,
Mapping
,
Municipal Fiscal Health
,
Urban Development