Season 2, Episode 3: Lincoln Institute Leaders Reflect on a Remarkable Journey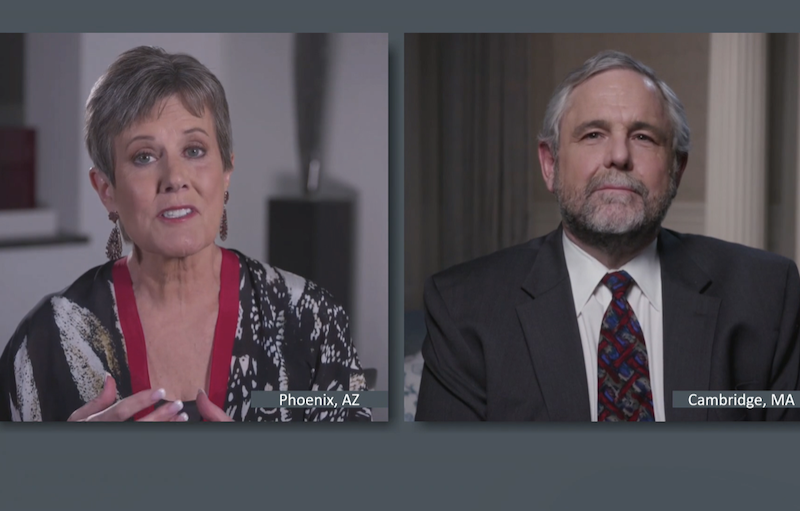 As the Lincoln Institute of Land Policy marks its 75th anniversary, Chair Kathryn J. Lincoln and President George W. "Mac" McCarthy reflect on the past, present, and future of an organization that recognizes the central role of land in solving some of the world's greatest challenges, from confronting climate change to making global cities better places for all.
"It's nice to take a moment to look back and to gain a really great sense of excitement about the fact that we have this wonderful springboard, to look … to the next 75 years," says Lincoln, who is also chief investment officer, in this special anniversary edition of the Land Matters podcast.
Her grandfather, inventor and entrepreneur John C. Lincoln, established the Lincoln Foundation in 1946, inspired by the writings of 19th century political economist Henry George. Her father, David C. Lincoln, founded the Lincoln Institute of Land Policy in 1974, and the two entities merged in 2006 to form a single private operating foundation.
Along the way, the organization evolved into a global think tank working with major partners like the United Nations and the World Bank, emphasizing the pivotal role of land and land policy in municipal finance, affordable housing, and climate resilience.
McCarthy, who led the Metropolitan Opportunity program at the Ford Foundation before being named president of the Lincoln Institute in 2014, describes the critical mission of the Lincoln Institute as "[using] land policy to get other things right . . . whether it's addressing climate change or finding ways to make sure that cities and municipalities are fiscally sound, or whether it's conserving land and water resources at scale."
You can listen to the show and subscribe to Land Matters on Apple Podcasts, Google Play, Spotify, Stitcher, or wherever you listen to podcasts.
---
Anthony Flint is senior fellow at the Lincoln Institute of Land Policy and a contributing editor of Land Lines.
---
Further Reading
The Life of an Idea: The Story of the Lincoln Institute of Land Policy (short film)
Land Lines January 2021, Special Anniversary Edition
The Origins and Impact of the Lincoln Institute of Land Policy
The Life of an Idea: A Lincoln Institute Timeline
Lincoln Institute of Land Policy Annual Report 2019-2020