Who Owns America: The Geospatial Mapping Technology That Could Help Cities Beat Predatory Investors at Their Own Game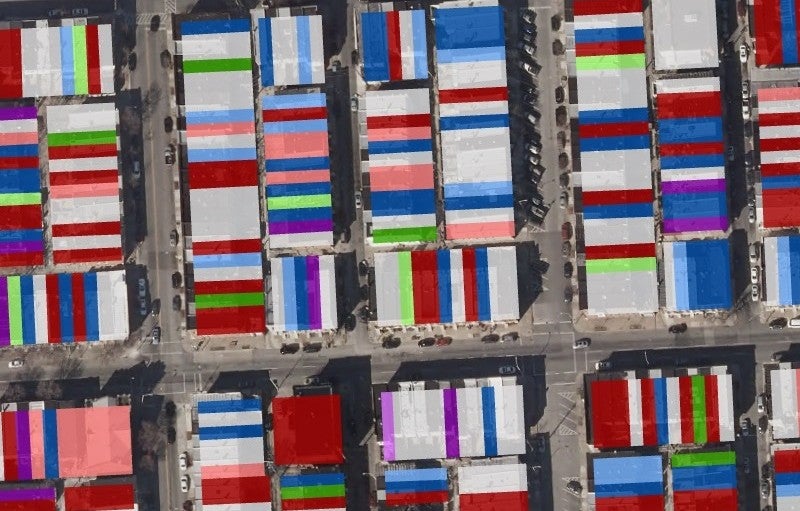 With sophisticated market research powered by prodigious profits, corporate real estate investors have long had the upper hand over vulnerable homeowners and the groups trying to protect them.  
Investors can identify distressed homes in otherwise gentrifying neighborhoods, snap them up at a discount, and leave them empty for years waiting for nearby home values to rise. They can target longtime, elderly homeowners who may need to sell at a discount. And with plenty of cash on hand—and a new playbook that includes renting out houses rather than just flipping them—they can outbid individual homebuyers as they turn bedrooms into balance sheet items.  
Now, a new data mapping tool from the Lincoln Institute's Center for Geospatial Solutions (CGS) can help equip nonprofits, advocates, and local governments with similarly powerful technology to help identify and defend affordable housing stock threatened by real estate speculators and absentee landlords.  
"It's a very uneven playing field between private investors, who have the capital and are willing to invest the capital to get this market intelligence, and nonprofits that are struggling to keep the doors open, let alone invest in platforms like this," says Jeff Allenby, CGS director of Geospatial Technology. "What you see is governments and nonprofits continuously trying to play catch up." 
Down-to-the-Parcel Data
In the wake of the Great Recession, corporations increasingly started purchasing and then renting out not just apartment buildings, but also single-family homes—especially in Sun Belt metro areas and postindustrial legacy cities, where rents remained stable despite lower property prices. Often, that's had a cascade of negative impacts on low-income communities.  
For one thing, it leaves more renters dealing with absentee corporate landlords, who can be quick to force an eviction and raise rents, but slow to fix a leaky roof or resolve code violations. It also reduces the supply of affordable housing stock available to would-be homebuyers, robbing local renters of opportunity.  
In Baltimore's Harlem Park neighborhood, for example, just 53 of the 464 homes sold since 2017—12 percent—were purchased by owner occupants. In 2022, one of every five homes sold in the neighborhood (19.2 percent) was purchased by an out-of-state business, and nearly half were bought by in-state corporations with multiple-property portfolios.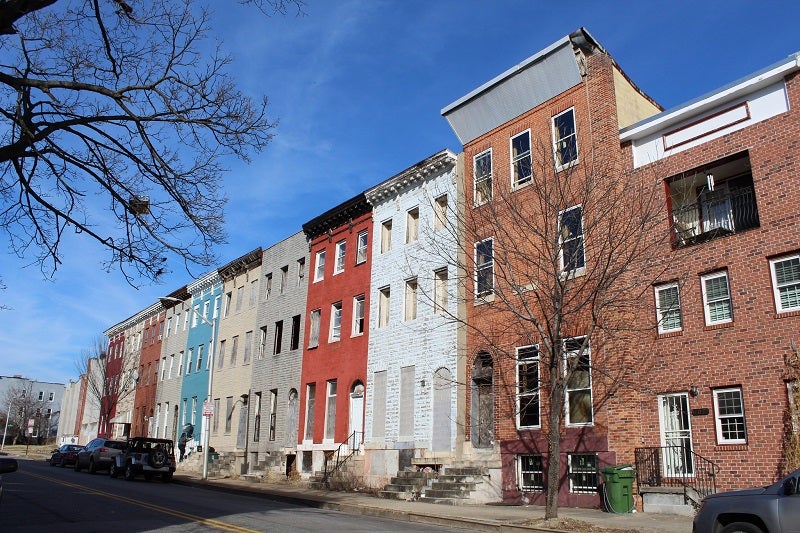 "You just saw this backfill of corporate ownership come into this neighborhood, and it's going to take years to come back from that," Allenby says. Where real estate investors once focused on flipping houses for a quick buck, they now see rental properties as a long-term moneymaker. "These houses are just gone, likely in perpetuity, from a homeownership perspective."  
This grim, granular data is courtesy of a CGS initiative called "Who Owns America?" Starting with Baltimore, CGS used a variety of public data sources to map every parcel in the city by its ownership characteristics, cross-checking postal information with deeds and other records to distinguish owner-occupied properties from those owned by private landlords and large or out-of-state businesses.  
After coding city-owned residential parcels, Allenby explains, CGS filters for all properties where the owner's mailing address doesn't match the physical address—meaning it isn't owner-occupied. After that, CGS can differentiate between private, off-site owners—local "mom-and-pop" landlords who may own one or two properties, for example—and more formal corporations, checking the names against a series of business-related keywords and acronyms, such as LLC, LLP, incorporated, and so on. Further filtering reveals whether a business is based in or out of state, and whether it owns multiple properties in the city.   
The resulting color-coded maps make it clear where owner occupancy is more prevalent and where corporate landlords are most active. Empowered with this intuitive, down-to-the-parcel data, communities can identify housing stock likely to be targeted by speculators. Then they can take steps to defend (or even reclaim) affordable housing before it's lost to corporate ownership.   
The Right to Fight Back 
One policy cities can employ to thwart predatory investors is a right of first refusal rule, which gives tenants the option to purchase their home before it's sold to a corporation. Knowing where such investors are active can help community leaders support the rollout of such a program with more targeted public outreach, says Senior Research Fellow Robert "R.J." McGrail, director of the Lincoln Institute's Accelerating Community Investment initiative.  
"That's the neighborhood you do flyers in, where you have some community organization go knock on doors to tell people, 'Just so you know, if the out-of-state company that you write your rent check to ever sells your house, you have the first chance to buy it,'" McGrail says. "The 'just-so-you-know' conversation can be incredibly agency building and empowering for an individual, in a way that I think is another downstream potential benefit from this tool."  
Allenby is quick to point out that the formalization of property ownership isn't in itself a bad thing. For example, if a local landlord dies and his children inherit his three rental properties and put them all into an LLC, that doesn't fundamentally alter the local real estate landscape. And true investment—companies that buy vacant, dilapidated buildings, restore them to good condition, and get them back into the housing market—is almost always welcome.  
"Investor owner doesn't necessarily mean bad owner," McGrail agrees. But by overlapping additional layers of parcel-level datasets, CGS can provide more context and reveal bad actors. For example, mapping where corporate ownership coincides with code violations—reports of broken deck railings, lack of heat, leaky toilets, and so on—"tells a dramatically more nuanced, useful story around what is happening and what to do about it," he says.  
In that case, McGrail notes, mapping might offer chronically understaffed inspectional departments a better way to prioritize their code enforcement. Similarly, layering vacancy data over out-of-state ownership maps can inform discussions around land use policies such as a split-rate tax.  
"So many times, policy discussions happen in a vacuum of data," Allenby says. "You're talking about theoreticals, abstract numbers, abstract concepts, and you don't really have a good handle on the scale of the issue that you're talking about. And these tools allow you to frame that conversation very specifically."   
Beyond Baltimore 
CGS can provide a granular data map customized to an organization's or community's needs in just a couple of weeks, Allenby says. And it's not just a tool for cities. CGS has also mapped the entire state of Massachusetts for a housing nonprofit, and is currently documenting timberland ownership across Alabama.  
CGS also partnered with the International Land Conservation Network to combine the research of multiple conservation organizations in search of "Consensus Landscapes"—areas that meet not just one conservation priority, such as biodiversity, habitat connectivity, or carbon storage potential, but many such goals, all at once. The goal of this collaborative mapping framework, according to CGS, is to identify "places that everyone can agree are important, and should be the immediate focus of collective conservation efforts" as the United States works to protect 30 percent of its land by 2030.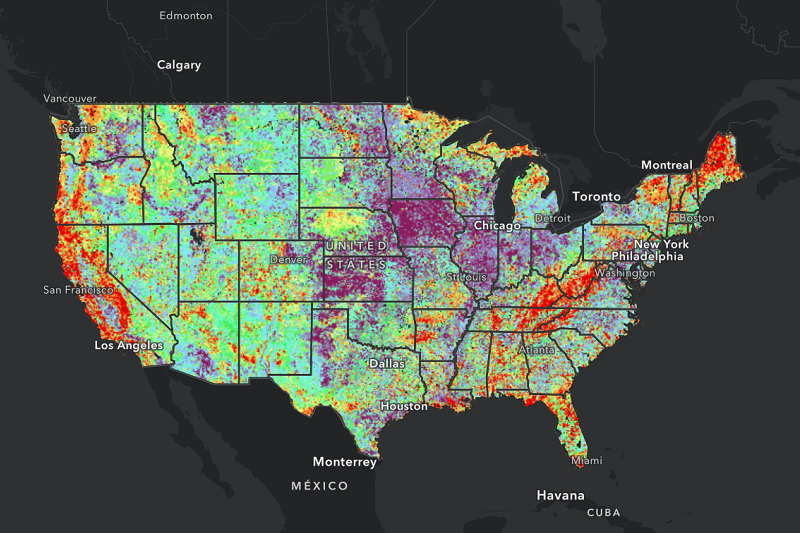 Jim Gray, senior fellow at the Lincoln Institute, is now working with CGS to study ownership trends among manufactured housing communities, which have also garnered the attention of real estate investors in recent years for their relatively low costs and reliable rents. Gray calls CGS's work "invaluable" for its ability to transform a largely anecdotal challenge into real data.  
"Knowing the extent of the problem, who is responsible, and where the problem is most acute will help inform and target which communities need to prioritize preserving this affordable housing stock, and how to go about that," he says.  
To learn more or to work with the Center for Geospatial Solutions, visit the CGS website or contact cgs@lincolninst.edu.
---
Jon Gorey is a staff writer at the Lincoln Institute of Land Policy.
Lead image: This Center for Geospatial Solutions image combines spatial analysis with land parcel data to illustrate different types of property ownership, part of a project intended to help communities better understand how institutional investors are affecting local land markets. Credit: Center for Geospatial Solutions.
GIS
,
Housing
,
Land Speculation
,
Local Government
,
Manufactured Housing
,
Mapping