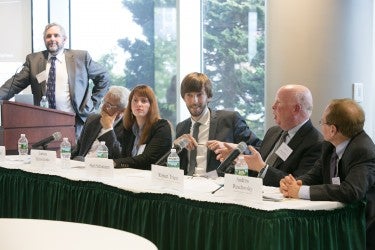 The Governance of Land Use Symposium
May 2, 2017
|
3:00PM - 5:00PM
The Lincoln Institute of Land Policy is hosting a symposium and evening reception to launch the new policy report of the Organisation for Economic Co-operation and Development (OECD) - The Governance of Land Use in OECD Countries: Policy Analysis and Recommendations.
Speakers Include:
Rudiger Ahrend, Head of Urban Policy Program, OECD
Abel Schumann, Economist and Policy Analyst, OECD
Tamara Krawchenko, Economist and Policy Analyst, OECD
George W. "Mac" McCarthy, President and CEO, Lincoln Institute
Lourdes German, Director, International & Institute-wide Initiatives, Lincoln Institute
Andrew Reschovsky, Research Fellow, Lincoln Institute
Robert Triest, Director, New England Public Policy Center; Vice President, The Federal Reserve Bank of Boston
Event Details:
Date and Time: May 2, 2017, 3 p.m. to 5 p.m., followed by a cocktail reception
Format: Presentations followed by Q&A
Location: The Federal Reserve Bank of Boston, 600 Atlantic Ave., Boston, MA
Registration: The event is free, but registration is required because space is limited. Please register by April 26, 2017.
About the Report:
The OECD's new report on the Governance of Land Use offers practitioners and scholars in the private, public, and academic sectors policy analysis and recommendations supported by statistical analysis. It covers a wide-range of themes that include but are not limited to the following:
The impact of fiscal policies on land use
The integration of fiscal policy, land use planning, and zoning instruments
A discussion of the incentives that local governments face to pursue certain planning policies
Country fact sheets on land use planning systems and land use trends in OECD countries
The authors will discuss the key messages of the report, followed by a facilitated roundtable with expert commentary on the report and audience questions.
Please be advised, a government-issued ID is required for entry into the Federal Reserve Bank of Boston. Arrive early to allow for time needed to go through security.
Open for registration:
April 12, 2017 9:00 AM – April 26, 2017 5:00 PM