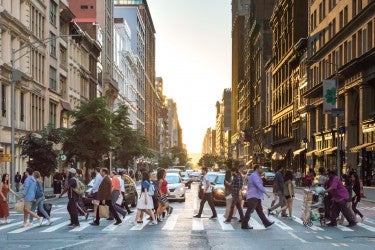 Building and Dwelling: A Conversation with Richard Sennett
May 9, 2017
|
12:00PM - 1:30PM
Cambridge, MA, United States
In his new book Building and Dwelling: Ethics for the City, sociologist Richard Sennett traces the troubled relationship between how cities are built and how people actually live in them, from ancient Athens to twenty-first-century Shanghai. He demonstrates how Paris, Barcelona, and New York City assumed their modern forms; rethinks the reputations of Jane Jacobs, Lewis Mumford, and others; and takes us on a tour of emblematic contemporary locations, from the backstreets of Medellín, Colombia, to the Google headquarters in Manhattan. His lament is directed at the "closed city"—segregated, regimented, and controlled— which he says has spread from the global North to the exploding urban agglomerations of the global South. As an alternative, he argues for the "open city," where citizens actively hash out their differences and planners experiment with urban forms that make it easier for residents to cope. At a time when more people live in urban spaces than ever before, Building and Dwelling is a "summation of a life lived in cities and … ultimately, a paean to their unpredictability, a call for tolerance and a celebration of difference," in the words of Edwin Heathcote, architecture critic for The Financial Times.
Speaker:
Over the course of the last five decades, Richard Sennett has written about social life in cities, changes in labor, and social theory. He is the author of The Craftsman, The Fall of Public Man, The Corrosion of Character, The Culture of the New Capitalism and most recently Building and Dwelling: Ethics for the City. He teaches urban studies at the London School of Economics and at Harvard University, and is a senior fellow in Columbia University's Center for Capitalism and Society.
He grew up in the Cabrini Green housing project in Chicago, and at an early age he became engaged with music, particularly the cello, attending the Juilliard School in New York, where he worked with Claus Adam, cellist of the Juilliard Quartet. A hand injury put an end to his musical career. He briefly attended the University of Chicago, then entered Harvard, studying history with Oscar Handlin, sociology with David Riesman, and philosophy with John Rawls.
He was a founder of the New York Institute for the Humanities, president of the American Council on Work, and has served for many years as a consultant to various bodies within the United Nations; most recently, he helped write the mission statement for Habitat III, the United Nations global cities summit. He also created Theatrum Mundi, a research foundation for urban culture, whose board of trustees he now chairs. 
Among other awards, he has received the Hegel Prize, the Spinoza Prize, an honorary doctorate from the University of Cambridge, and the Centennial Medal from Harvard University. In private life he is married to the sociologist Saskia Sassen. He gardens and cooks, as well as continues to play the cello.
Open for registration:
April 24, 2018 6:00 AM – May 8, 2018 12:00 PM
Event Location:
Lincoln Institute of Land Policy
United States