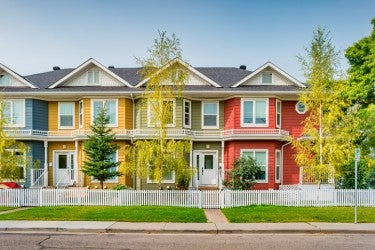 Housing Solutions Workshop
October 25, 2021 – November 18, 2021
The lack of affordable, quality housing is a major threat to the quality of life and economic competitiveness of many of the nation's small and midsize cities. The Housing Solutions Workshop is designed to help localities develop comprehensive and balanced housing strategies to better address affordability and other housing challenges.
Overview 
Four cities or counties with populations between 50,000 and 500,000 will be selected to attend the Housing Solutions Workshop, which has been developed by the NYU Furman Center's Housing Solutions Lab, Abt Associates, and the Lincoln Institute of Land Policy. Each delegation will consist of 5–6 members, including senior leaders from different departments and agencies in local government and external partners that are essential to the city's housing strategy.  
The workshop is intended for cities or counties that are in the early stages of developing a comprehensive and balanced local housing strategy. Participants will: 
Share their local housing challenges and policies with other participating localities and Housing Solutions Lab facilitators to obtain feedback 
Participate in small group discussions with peers from other localities to share ideas for how to optimize each agency's policy toolkit 
Identify options for strengthening local housing strategies and improving coordination across departments and agencies 
Learn about ways to use data to assess housing needs and track progress 
Learn ways to engage the community to address housing challenges and advance equity 
There is no cost to cities or counties for participation in the Workshop.  
Course Format 
The Housing Solutions Workshop will include eight 90-to-120-minute virtual training sessions and be held from October 25 to November 18, 2021. Live online sessions will include a combination of group discussions and workshops designed to facilitate sharing among participating localities and to refine localities' housing strategies. Outside of these sessions, participants are expected to complete assigned readings and watch short videos. In addition, individual sessions will be held with each locality with Housing Solutions Lab facilitators on topic(s) specific to each locality's housing goals.
More Information 
The call for applications provides additional details about the workshop. For more information, contact HSW@abtassoc.com. 
---
Photo by benedek/iStock via Getty Images Plus
Open for application/registration:
August 9, 2021 – September 10, 2021 11:59 PM
Selection notification date:
Application/registration fee: