Consortium for Scenario Planning 2021 Conference
January 13, 2021 – January 15, 2021 11:59 PM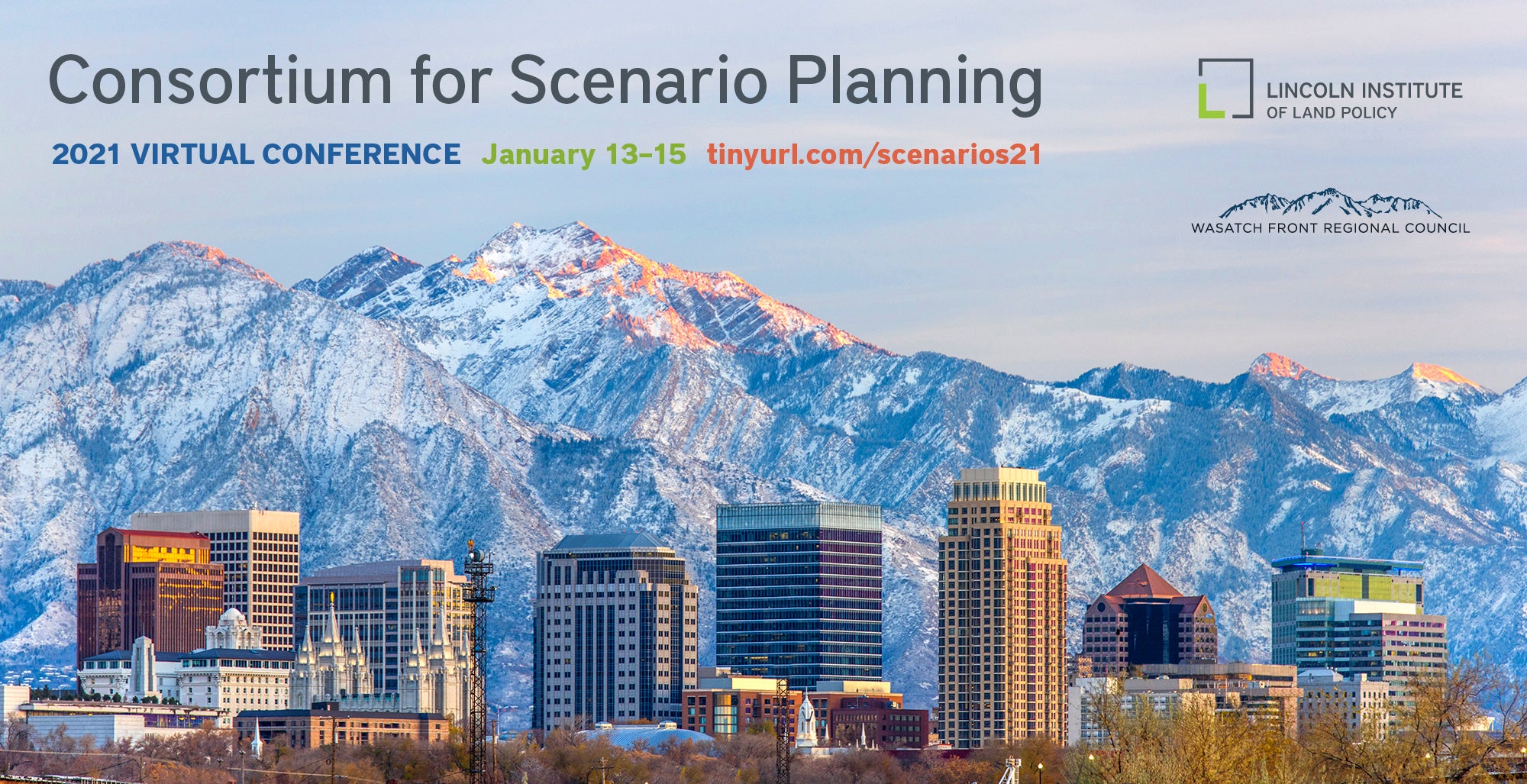 The fourth annual Consortium for Scenario Planning Conference goes digital in January 2021! This cutting-edge event will feature interactive presentations by the Wasatch Front Regional Council and dozens of practitioners, consultants, and academics who use scenarios to develop more equitable and inclusive places, address economic and environmental challenges, respond to infrastructural needs, and more.  
Registration is now open! The call for session proposals is closed. 
Program highlights will include: 
learning about the evolution of scenario planning in Salt Lake City, including a virtual tour of the region from WFRC; 
virtual networking opportunities; 
facilitated interactive group sessions; 
panel discussions on equity and low-growth issues in scenario planning with top researchers; and 
"unconference" programming developed by conference attendees. 
Please share this announcement with your colleagues and contact Heather Hannon, Scenario Planning Manager, at hhannon@lincolninst.edu with questions or to learn more about sponsorship opportunities. 
Initial Conference Agenda: Wednesday-Friday 11am-5pm EST 
Day 1: Wednesday 
Keynote by Rebecca Ryan, futurist 
Wasatch Front Regional Council: Scenario Planning Past, Present, and Future including virtual tours of local projects 
Networking 
Day 2: Thursday 
Equity and Scenario Planning RFP Projects Panel Discussion  
Sessions:  

Using CommunityViz for Policies after Kilauea Volcano Eruption 
From Scenario Planning to Transit Implementation 
Rebuilding for a Resilient Recovery: Planning for Wildfires in California 
Decline, Growth, or Both: Uncertainty in Legacy Cities 
WaterSim: Teaching Future Decision Makers Using Exploratory Scenarios 
Future Scenarios for Transportation, Housing, and the Economy 
Introduction to Exploratory Scenario Planning 

Networking 
Day 3: Friday 
Scenario Planning for Slow Grow or Decline RFP Projects Panel Discussion  
Sessions: 

Measuring Equity Outcomes in GHG Mitigation using Scenario Planning 
Dispatches from the Future 
Scenario Planning as Public Education and Engagement 
Scenario Planning Toolkit for Shrinking Cities 
Scenario Planning for CAVs: Equity Outcomes and Neighborhood Scale 
Driving Sustainable Policy with Scenario Planning 

Unconference sessions 
Watch the video on the Consortium for Scenario Planning Conference