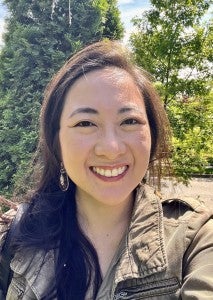 Associate Director, Center for Geospatial Solutions
Reina Chano Murray is an associate director at the Center for Geospatial Solutions. Reina brings a decade of experience in administering geospatial systems, as well as background in workflow automation, urban planning, and cultural heritage management. At the Center, she manages client relationships, oversees projects, and contributes to business and technology development. 
Reina was previously the senior geospatial systems administrator for Johns Hopkins University (JHU), where she managed the institution's geospatial systems, consulted with affiliates on geospatial research projects and courses, curated geospatial data, and taught workshops in GIS and programming. Notably, she served as the lead GIS administrator for the university's global and US COVID-19 dashboards.  
Reina has also worked as a consultant for nonprofits, helping to develop their geospatial capabilities through strategic planning and technical support. Prior to JHU, she served as the GIS project manager at the National Trust for Historic Preservation.  
Reina holds an MS from the University of Pennsylvania's School of Design and a BA with high honors from Swarthmore College.