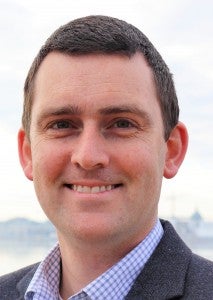 Director of Geospatial Innovation, Center for Geospatial Solutions
Jeff Allenby is the director of geospatial innovation for the Center for Geospatial Solutions at the Lincoln Institute. He brings a wealth of experience developing systems-focused solutions at the intersection of technology and the natural world. Jeff is leading the Center's efforts to empower decision makers with access to the highest quality geospatial data and analytic tools needed to conserve, protect, manage, and restore land and water resources and ensure that the natural world is resilient to the effects of development, climate change, and other shocks. 
Prior to joining the Lincoln Institute, Jeff was the director of conservation technology at the Chesapeake Conservancy and cofounder of the Conservancy's Conservation Innovation Center, building it from scratch into a globally recognized pioneer in the application of technology to improve environmental decision making in the Chesapeake Bay and across the world. Jeff also worked with the University of Maryland Center for Environmental Science and the Maryland Department of Natural Resources to manage a competitive grant program that provided technical and financial support to local communities to proactively adapt to climate change and coastal hazards. Jeff has a M.E.M. and a certificate in geospatial analysis from Duke University and a B.S. from the University of Richmond. Jeff also serves as a member of the advisory board for the Internet of Water.