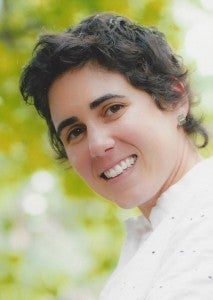 Associate Director of Practice & Partnerships, Babbitt Center for Land and Water Policy
Faith Sternlieb is the Associate Director of Practice & Partnerships at the Babbitt Center for Land and Water Policy, where she fosters partnerships on water data sharing, conducts research on agricultural water resilience, and manages the Growing Water Smart (GWS) program. GWS centers around helping communities across the Colorado River Basin integrate their land and water planning and management through sustainable policies, practices, and plans.
Faith received a bachelor's degree in anthropology and Latin American languages from the University of Maryland, a master's degree in agriculture through the Peace Corps Masters International Program, and a Ph.D. in earth sciences with a watershed specialty, both from Colorado State University. Her post-doctoral work through the U.S. Department of State, Office of the Geographer, was on the Secondary Cities project, where she facilitated teams from under-served, rapidly growing cities across the globe to collect and curate geospatial data for participatory mapping to help them better prepare for uncertain futures. Additional international experience includes community-based natural resource management in Palau, Micronesia, transboundary watershed governance in the Mara River Basin, Kenya and the Kidron-Nar River Basin in the Middle East, as well as water quality projects with indigenous communities in the Ucayali River Basin, Peru.
She continues to work with diverse communities to address environmental justice, water sustainability, and climate resilience through appropriate technology, intelligent design, collaboration, sound science, and political resolve.