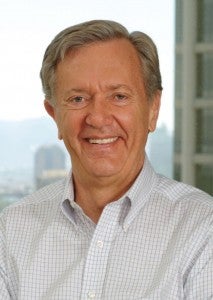 Senior Adviser, Babbitt Center for Land and Water Policy
Bruce Babbitt served as governor of Arizona from 1978 to 1987 and as secretary of the interior from 1993 to 2001.  He received a B.A. in geology from the University of Notre Dame, a M.Sc. in geophysics from the University of Newcastle upon Tyne, and a J.D. from Harvard Law School.
As governor of Arizona, he led enactment of the Arizona Groundwater Management Act of 1980, which remains the most comprehensive water regulatory system in the United States, and he established the Department of Water Resources and the Department of Environmental Quality.
As secretary of the interior he oversaw regulatory reforms in the Bureau of Reclamation, the nation's largest water provider, and he initiated water management programs in the Florida Everglades, the Platte River Basin and the Lower Colorado River Basin. He led negotiations for the California Bay Delta accord of 1994 and is presently working with California Governor Jerry Brown to manage statewide negotiations to revise stream flow standards in the Sacramento and San Joaquin river basins.