Inclusive Business Accelerator Program
Developing early-stage small businesses and nonprofits with entrepreneurs who strengthen and diversify the city's economy.
Geography
Lowell, Massachusetts (open to entrepreneurs from nearby communities who are able to participate in person)
Sponsoring Institution
Entrepreneurship for All (sometimes known as EforAll)
Key Milestones
UMass Lowell launches the Merrimack Valley Sandbox with initial funding from the Deshpande Foundation.
Merrimack Valley Sandbox rebrands to become Entrepreneurship for All, incorporates as an official 501(c)(3) organization, and launches Emprendimiento para Todos, the nation's first Spanish-language accelerator program.
Entrepreneurship for All expands to Fall River, New Bedford, Lynn, Hyannis, and Holyoke, Massachusetts.
Financial Implications
Raised $300,000 to run annual programming in both Lowell and Lawrence
Awarded $51,000 in prizes to entrepreneurs through two accelerators and four pitch contests
Earned an additional $12,000 in annual revenue from coworking space rented to non-participants
Select Models Goals
Grow and diversify the local economy by strengthening the small-business environment
Expand access to the education, financing, and network resources needed to start a business
Build an inclusive ecosystem to serve entrepreneurs that reflects Lowell's diversity and that builds upon existing initiatives at Middlesex Community College and at the University of Massachusetts, Lowell
Implementation: Model Design
Participants receive three months of intensive accelerator programming (six and a half hours per week), followed by nine additional months of support, structured mentorship, workspace access, and the chance to compete for $20,000 in prize money. The program is tailored to applicants in the early stages of business development who have not raised more than $25,000.
Like traditional business accelerator programs, Entrepreneurship for All offers an intensive, fast-paced, and time-intensive model to support business development. Expectations are high for Entrepreneurship for All entrepreneurs (as participants are called), who compete for prize money while learning the basics of starting and growing their idea.
Unlike traditional accelerators, Entrepreneurship for All takes a highly intentional and strategic approach to outreach among what the organization describes as "under-connected communities," which frequently lack access to wealth, finance, networks, and formal business education. Staff recruit heavily from farmers' markets, bodegas, barbershops, churches, and synagogues. Staff work closely with applicants throughout the application process. These efforts have resulted in a diverse participating group: More than 70 percent of participants are female, 50 percent identify as a member of a minority group, and 50 percent are immigrants.
With five hours of class each week, participants cover topics ranging from how to get started without professional capital to how to connect with their customers without spending much money. Participants also take tailored courses on business plan development, lean startup methodology, pricing, accounting, and other core small business topics.
Entrepreneurs are assigned to a team of three volunteer mentors, who meet in person for one and a half hours each week throughout the three-month accelerator. Entrepreneurs and mentors are matched using in-house preference software.
Entrepreneurship for All recently partnered with the Lowell Development Financial Corporation, which has lent $25,000 to each of three program alumni to start businesses in Lowell.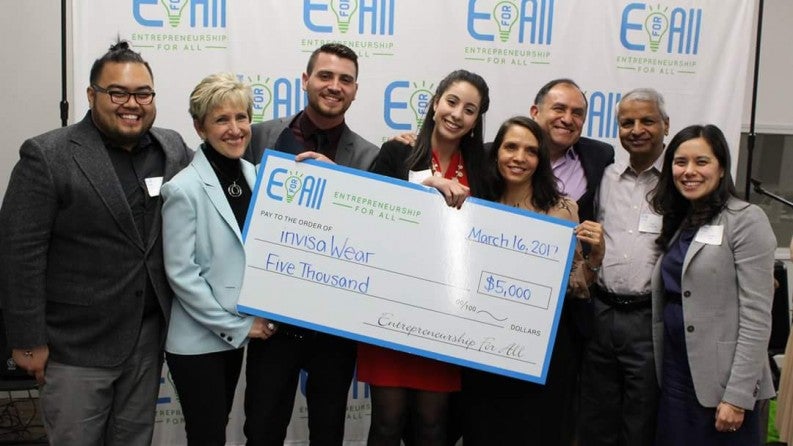 Key Innovations
The team mentorship model is frequently cited by program alumni as the most significant element of their engagement with Entrepreneurship for All. Alumni report that this is often the first time they have been treated as business owners and have had their thinking challenged as seriously as a board member might challenge them.
Staff also work to connect entrepreneurs to resources, knowledge, and capital. The program has launched 188 companies and created over 400 jobs in six years. Of these, the majority were launched through crowdfunding, friends-and-family fundraising, and bootstrapping. Only two businesses launched with a loan from a bank or credit union, and another ten launched with an equity investment. 
Mentors are tasked with helping to develop revenue-producing business models with the smallest capital investments possible.  Many applicants aspire to own a brick-and-mortar business; however, instead of jumping straight to this model, many graduates incrementally progress, for instance from a stand at a farmers market tent, to a pop-up, and then to a food truck. This progression allows them to both develop a customer base and test their business idea before deciding if building out a permanent storefront is an appropriate next step. 
While most participants in Lowell are small businesses (70 percent), Entrepreneurship for All intentionally builds each cohort to represent entrepreneurs from all walks of life, subscribing to the belief that a diverse cohort model—including participants with Ph.D.s and others without high school diplomas—offers the best shared opportunity. About 20 percent are high-growth tech startups, and each Entrepreneurship for All cohort typically has one or two entrepreneurs that come up from Boston. 
The program's diverse cohorts—which are more than 70 percent female, 50 percent minority, and 50 percent immigrant—are notable in a national context in which only 2 percent of $100 billion of annual venture capital investments go to female-owned enterprises, and only 0.0006 percent go to enterprises owned by African-American women. The program is also recognized for changing perceptions of who can be an entrepreneur in the community.
Staffing and/or Capacity

Each site is run by an executive director and a program manager, who together oversee programs in up to two cities. Hiring residents or individuals with a strong connection to the city is a high priority. In 2013, Entrepreneurship for All established Emprendimiento para Todos (EparaTodos), the nation's first Spanish-language accelerator program, to serve Spanish-speaking communities in Lowell and Lawrence. Entrepreneurship for All's national headquarters office provides organizational leadership, administrative support, marketing, and assistance with software development.
Strategies Utilized
See also
Lawrence, MA
Supporting emerging food service businesses with yearlong business support services and a prominent downtown food service storefront
Detroit, MI
Connecting immigrant entrepreneurs to opportunities for business grants and incentives through inclusive community outreach
Pittsburgh, PA
Establishing and maintaining affordable manufacturing space for growing small business in one of Pittsburgh's most distressed communities