Immigrant Entrepreneur Professional Connector Program
Connecting immigrant entrepreneurs to opportunities for business grants and incentives through inclusive community outreach
Geography
Five Detroit neighborhoods: Southwest Detroit, Brightmoor, Warrendale, and the West Warren Avenue Corridor.
Key Milestones
Global Detroit partners with Southwest Economic Solutions to launch ProsperUs Detroit and help the city's residents gain access to business development and entrepreneurship resources.
Global Detroit launches a multilingual connector program to establish a more inclusive ecosystem to support entrepreneurs.
The initial wave of outreach is conducted for two business expansion grant programs (NEIdeas and Motor City Match), administered by the Detroit Economic Growth Corporation, in Southwest Detroit, and help increase minority applications by 350 percent in targeted ZIP codes.
The second round of NEIdeas and Motor City Match outreach is conducted in Southwest Detroit and Banglatown, with a focus on reaching residents who speak Bengali and Arabic.
Global Detroit becomes the fiscal agent for all community outreach in the final round of the NEIdeas challenge and expands its efforts to the Brightmoor, Warrendale, and West Warren Corridor neighborhoods, resulting in 136 NEIdeas grant applications (22 percent of total applications), 29 finalists (21 percent of total finalists), and six $10,000 grant winners (20 percent of total grant winners).
Financial Implications
Awarded approximately $5,000 by the Detroit Economic Growth Corporation to conduct initial outreach
Awarded an additional $60,000 by the Detroit Economic Growth Corporation in 2018 to manage outreach across all target neighborhoods and provide translation services
Paid six community outreach specialists each $15 hourly to conduct door-to-door outreach and encourage business owners to apply for business expansion grants
Select Models Goals
Increase awareness and expand the use of programs for business grants and incentives among immigrant and minority business owners
Support immigrant entrepreneurs as they grow small businesses and create jobs
Expand the pool of entrepreneurs revitalizing Detroit's neighborhoods
Help organizations and grant programs that support entrepreneurship to reach underserved neighborhoods and local businesses, with a focus on immigrant business owners.
Implementation: Model Design
Global Detroit, an immigrant economic development organization, was retained by the Detroit Economic Growth Corporation (DEGC) to market and support applications for two grant programs for business expansion.
Bilingual engagement specialists with strong neighborhood roots were hired to canvas local businesses within the targeted communities to encourage them to apply to the NEIdeas and Motor City Match programs. Specialists went door-to-door among businesses several times over a two-month period.
Staff translated the NEIdeas application into Spanish, provided direct support to Spanish-speaking applicants, and translated their completed applications into English prior to submission.
The program evolved out of conversations around the need for bilingual programs to support entrepreneurs while Global Detroit was incubating ProsperUs Detroit. Now a program of Southwest Economic Solutions, ProsperUs Detroit offers business support services (including accounting, real estate, and human resources), entrepreneurship training, and microlending in support of neighborhood-based entrepreneurs as they build strong businesses, which help stabilize local economies and revitalize neighborhoods.
Global Detroit staff recognized that while ProsperUs Detroit was excellent at serving micro-enterprises for low-income communities, serving first-generation immigrants would require more dedicated language and cultural competency.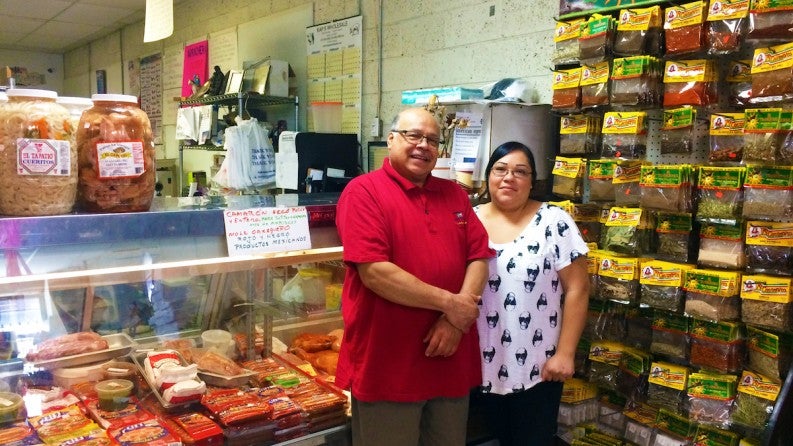 Key Innovations
The program's design builds on a growing body of evidence that shows how immigrant business owners are central to job creation, the expansion of economic opportunity, and regional revitalization of legacy cities. Global Detroit itself spearheaded the launch of the Welcoming Economies (WE) Global Network, an alliance of more than 20 local initiatives, from Syracuse to St. Louis, that seek to foster economic development by attracting immigrants.
The program relies on bilingual community engagement staff members that live in the targeted neighborhoods, are completely fluent in the relevant languages, and hold strong cultural competency skills. The program serves as proof-of-concept for the efficacy of the "trusted connector" approach—in this case, a bilingual community-engagement strategy implemented by established and trusted community-based organizations and staff. The 350 percent increase in minority applications within the initial target neighborhood has helped the entire sector see the value of bilingual programming.
Six community-based organizations have since launched similar programs and begun coordinating their efforts through the Asesorías para Negocios Pequeños initiative.  Similarly, the Detroit Economic Growth Corporation now has seven neighborhood business liaisons, each corresponding to a city council district. As the community development field has shifted its focus to physical development and affordable housing, the program model serves as a template for programming delivering quantifiable social and economic outcomes.
Staffing and/or Capacity

Bilingual community-engagement specialists were hired and trained in each neighborhood to work there on a contract basis for $15 per hour (about $5 per hour more than Michigan's minimum wage). Each neighborhood engagement specialist was mentored and supervised by the Global Detroit program staff person assigned to their neighborhood.
Strategies Utilized
See also
Lawrence, MA
Supporting emerging food service businesses with yearlong business support services and a prominent downtown food service storefront
Lowell, MA
Developing early-stage small businesses and nonprofits with entrepreneurs who strengthen and diversify the city's economy.