Establishing and maintaining affordable manufacturing space for growing small business in one of Pittsburgh's most distressed communities
Geography
Homewood neighborhood of Pittsburgh, Pennsylvania
Key Milestones
Bridgeway Capital purchases the 7800 Susquehanna Street site.
Bridgeway Capital leases the building to 20 tenants, who take up about two-thirds of the building's total capacity.
The University of Pittsburgh Manufacturing Assistance Center relocates to the facility.
Financial Implications
Granted nearly $12 million for purchasing, renovation, and redevelopment from sources including Richard King Mellon Foundation, PNC Bank, the Pennsylvania Redevelopment Assistance Capital Program, Pennsylvania First, the Federal Office of Community Services, and Bridgeway Capital's own assets
Purchase of adjoining parcel was led by Heinz Endowments through a separate process
Select Models Goals
Create affordable rental space for small industrial manufacturers and other job-creating businesses
Establish a strong neighborhood economic core and increase access to living wages and job training in a distressed community
Implementation: Model Design
Bridgeway Capital, a community development financial institution (CDFI), redeveloped what had been a local symbol of disinvestment into a space for entrepreneurship, manufacturing, and job training with support from the Richard King Mellon Foundation.
The facility offers long-term leases to existing small businesses with a trade or craftsmanship component to help them grow steadily over the long term.
In addition to covering acquisition and initial redevelopment costs, the foundation convened other supporters and encouraged Bridgeway to think creatively about how it could use its resources to further the mission.
Workforce development programs are intentionally co-located with private enterprise in the facility. The University of Pittsburgh moved its advanced manufacturing job training center (Manufacturing Assistance Center) to the facility, and it is now an anchor tenant that leases about 10 percent of the building. The Trade Institute of Pittsburgh, which trains at-risk individuals in masonry and other skilled trades, is also based in the building. Other tenants include Rebuilding Together Pittsburgh (a nonprofit housing organization supporting senior homeowners) and the Sarah B. Campbell Enterprise Center (an event space, gallery, and resource center for local business owners).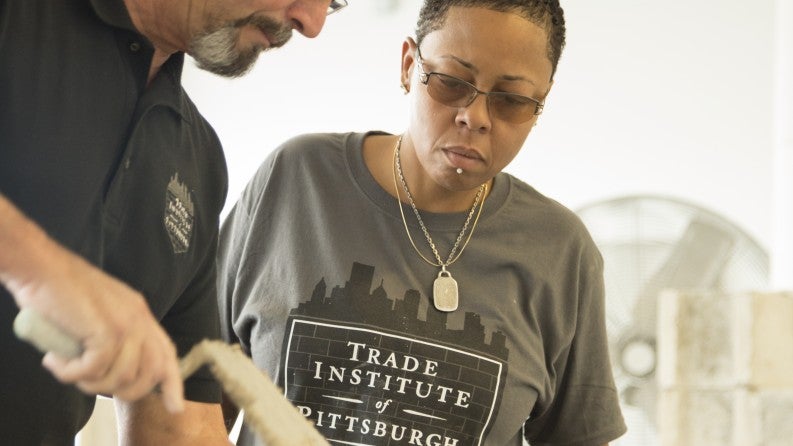 Key Innovations
Bridgeway Capital, a CDFI focused on small-business expansion, entered the real estate development business to address key barriers to business expansion for small manufacturers. By assuming the risk, cost, and time required to build out appropriate physical spaces, Bridgeway Capital greatly expanded the number of small industrial companies and jobs paying a living wage in the Homewood neighborhood of Pittsburgh.
Bridgeway achieved an 85-percent minority ownership rate among companies performing the interior renovations by seeking out smaller contractors. The mayor's office and the Urban Redevelopment Authority of Pittsburgh helped Bridgeway to navigate obstacles to permitting and other administrative challenges of overseeing numerous small contracts.
Staffing and/or Capacity

Property management and leasing are handled by an external private contractor. A building superintendent is employed by Bridgeway, while finances and fundraising are handled by existing Bridgeway staff. The Richard King Mellon Foundation and Heinz Endowments provided essential support for convening and program design at early stages of the project.
Strategies Utilized
See also
Akron, OH
Promoting economic and urban development in neighborhood business districts through comprehensive corridor planning, incentive programs, and public management reforms
Lowell, MA
Developing early-stage small businesses and nonprofits with entrepreneurs who strengthen and diversify the city's economy.
Lawrence, MA
Supporting emerging food service businesses with yearlong business support services and a prominent downtown food service storefront