Supporting emerging food service businesses with yearlong business support services and a prominent downtown food service storefront
Geography
The Revolving Test Kitchen venue is located in downtown Lawrence and tailored to local entrepreneurs
Key Milestones
Lawrence Partnership is established.
Lawrence Partnership launches its Venture Loan Fund.
Lawrence Partnership develops the Revolving Test Kitchen program.
The Revolving Test Kitchen program is launched.
The third round of the Revolving Test Kitchen program begins.
Financial Implications
Provided $8,000 for annual operations, including a public event announcing the selection of the business and $4,000 for signage from organizational funding.
Very low direct program costs are supported by significant pro-bono and in-kind contributions from multiple partners.
Received pro-bono and in-kind services from Northern Essex Community College, local food and real estate entrepreneur Sal Lupoli, and other project partners for the café venue, food service buildout equipment, utilities, and maintenance services.
Select Models Goals
Serve as an incubator for food entrepreneurs with limited access to capital and business management knowledge
Support broader economic growth by hiring employees and purchasing from local supply chains
Revitalize neighborhoods by supporting program graduates in the process of building successful main street businesses
Implementation: Model Design
The Revolving Test Kitchen supports emerging food service businesses with a one-year program that helps proprietors refine their business models in an industry with very high startup costs in a community with limited access to capital. Assistance consists of business support services, mentorship, and the free use of a prominent downtown food service storefront. Participants also enroll in, or are alumni of, the Lawrence EforAll or EparaTodos programs. Further, participants benefit from technical assistance related to marketing, payroll, inventory management, and bookkeeping.
Applications have multiple rounds, including a pitch judged by the mayor, the president of Northern Essex Community College, and local food and real estate entrepreneur Sal Lupoli. In 2018, Lawrence Partnership added a public event and competition. The four finalist applicants are awarded a $2,000 stipend to prepare samples for 450 visitors who rank preferences that judges may take into consideration in the selection of the participating business.
During the program, participants work with the city and the Lawrence Partnership to identify permanent space for the business, and prepare to participate in one of the Partnership's larger programs, the Venture Loan Fund. The $2.5 Million fund, comprised of contributions from 10 local financial institutions and backed by the city, offers loans up to $100,000 to help businesses open and grow in Lawrence. Like other pooled funds, these loans can be used much more creatively than standard financial products, and are available to individuals with lower credit scores.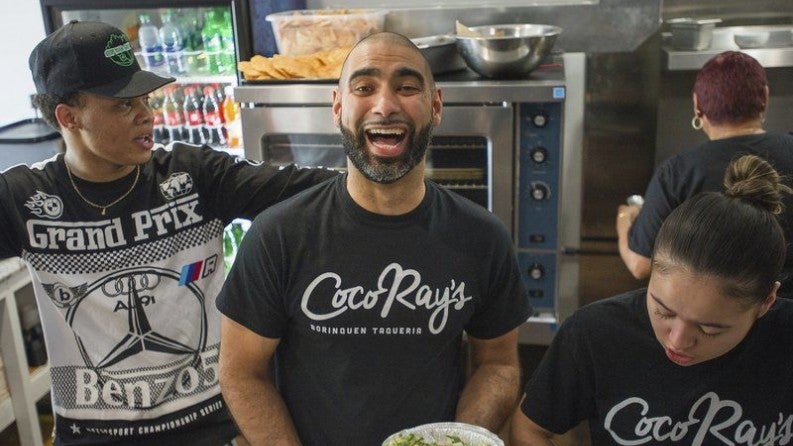 Key Innovations
The Revolving Test Kitchen was born opportunistically, and without significant outside investment. When a tenant left a prominent food service location on the Northern Essex Community College extension campus in downtown Lawrence, the Lawrence Partnership convened stakeholders to use the space as an incubator. Program staff credit the trusting relationships developed through the Lawrence Partnership model with fostering the type of collaboration and solutions-oriented thinking that made the project possible. 
The Lawrence Partnership's mission is to revitalize a city that is 77 percent Hispanic through inclusive entrepreneurial support, recognizing that for many immigrants, owning a business frequently offers a better chance at earning a living income than available service jobs. Yet starting a business is difficult for those who can't count on family savings for early-stage capital. Nationally, the average wealth of Hispanic households is between one-fifth and one-tenth that of white households. The Revolving Test Kitchen and the Venture Loan Fund help to remove barriers to entry for entrepreneurs by covering startup costs and providing the capital needed to grow a business.
Staffing and/or Capacity

Lawrence Partnership provides program management from existing staff. The Revolving Test Kitchen cafe venue and maintenance is provided in-kind by Northern Essex Community College. Food service buildout, equipment, and mentorship are provided in-kind by local food and real estate entrepreneur Sal Lupoli. The City of Lawrence and EparaTodos are also important partners.
Strategies Utilized
See also
Detroit, MI
Connecting immigrant entrepreneurs to opportunities for business grants and incentives through inclusive community outreach
Lowell, MA
Developing early-stage small businesses and nonprofits with entrepreneurs who strengthen and diversify the city's economy.
Akron, OH
Promoting economic and urban development in neighborhood business districts through comprehensive corridor planning, incentive programs, and public management reforms