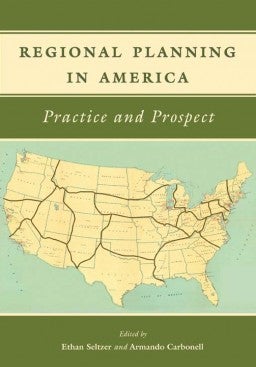 Regional Planning in America
Lincoln Institute of Land Policy
We live in regions—territories defined primarily by function and only rarely by jurisdiction. The places where we work, live, shop, recreate, and socialize constitute a territory that seldom corresponds to a single town or city. Regional planning is concerned less with the exercise of jurisdiction and more with the search for new forms of habitation based on a clear commitment to advancing sustainability. The state of our world and the realities of contemporary daily life make the case for robust regional planning. With regional planning practice in the United States settling into a new century, challenges communities and institutions face require boundary-crossing collaboration.
For future sustainability, regional planning in America will need to make "region ethic" a tool for planners, communities and institutions to address issues affecting their shared geographic territories. The primary objective for future planners will be to first, define the region by analyzing the common set of physical attributes and economic concerns. Then organize the region, as specialized community organizers acting through many levels of governance to affect sustainable development of mega-regions.
The contributors suggest that planners in the twenty-first century will need to understand local issues in a regional and global context. They must be adept at defining planning regions based on functional planning problems; capable of reaching across boundaries to assess, identify, and act on common cause; and able to navigate the currents of power to create the lasting relationships and institutions needed to implement plans. Regional planning practices can address challenges urban and rural communities face achieving sustainability through green regionalism.
The editors call for a "region ethic" that will advance the sustainability of the regions on which our existence will depend. The region ethic is a call to recognize the central interdependencies that make our inhabitation of cities and landscapes possible. This book seeks to assist a new generation of practitioners in understanding the roots, underpinnings, and applications of regional planning in America today, and the prospects for its practice in the future.
Community Development
,
Development
,
Ecology
,
Environment
,
Environmental Management
,
Environmental Planning
,
Growth Management
,
Land Market Monitoring
,
Land Use
,
Land Use Planning
,
Local Government
,
Planning
,
Regionalism
,
Smart Growth
,
Suburban
,
Sustainable Development
,
Urban
,
Urban Design
,
Urban Development
,
Urban Sprawl
,
Urban Upgrading and Regularization
,
Urbanism