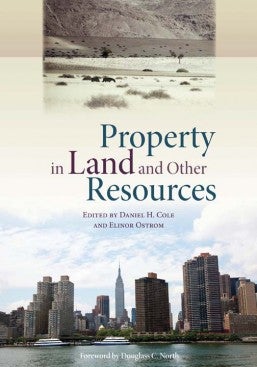 Property in Land and Other Resources
Edited by Daniel H. Cole and Elinor Ostrom, with a foreword by Douglass C. North
Lincoln Institute of Land Policy
Over the past several years, much has been written about property rights in land and natural resources by scholars in many disciplines including economics, political science, history, and law. This book, based on a 2010 Lincoln Institute conference, addresses the tendency in social science literature to oversimplify the concept of property rights by assuming that only two or three forms of property rights are appropriate for the effective use and conservation of resources. Instead it focuses on recent developments in our understanding of how various property systems are applied to and affect the use of scarce natural resources.
The chapters explore the multiple aspects of diverse resources in the design and implementation of property rights systems. The volume also includes a foreword by Douglass C. North and a keynote chapter by Thráinn Eggertsson, who discusses issues related to property rights institutions and the environment using six case studies from his native Iceland, where relatively simple and transparent institutions are ideal for identifying social regularities with general applicability.
The topics addressed in the other chapters and accompanying commentaries include: the nature and variety of existing property systems; new thinking about the California gold rush; the role of psychological entitlement in property allocation; evolving property regimes governing fisheries; the evolution of zoning; attributes of property regimes governing water resources; the nature of property rights in tradable pollution permits; how regulations sometimes create property; and mechanisms for ameliorating property conflicts that arise from the presence of endangered species on privately owned lands.