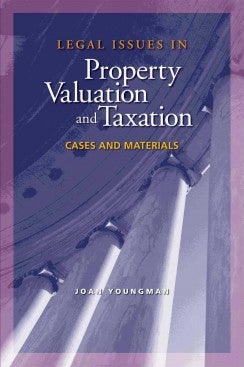 Legal Issues in Property Valuation and Taxation
Lincoln Institute of Land Policy
This collection of legal cases and related materials on valuation and tax policy provides an overview of the structure and function of real property taxation in the United States. It is intended to be useful to lawyers and law students, as well as to policy makers, practitioners, and others with a special interest in the property tax. Originally published by the International Association of Assessing Officers (IAAO) in 1994, this book was reissued by the Lincoln Institute to continue its availability and expand its reach still further.
In his foreword to this book David Brunori writes, "The property tax in the United States has never been more important. Despite numerous attempts to limit its use, the property tax remains the most significant source of tax revenue for local governments. In 2005 cities and counties raised well over $300 billion—more than half of all local government own-source revenue—from this tax alone. This money pays for vital services such as education, public safety, and transportation."
The property tax poses many interpretive challenges in defining such basic concepts as property, ownership, and value. The ordinary complexities of everyday life, which include divisions of rights between landlords and tenants, distinctions between business profits and property rents, and disputes over the current use of property, require that courts provide operational definitions for these abstract terms.
In such situations, legal opinions can do more than settle individual disagreements between taxpayers and assessors. Ideally, they clarify the reasoning by which a solution is drawn from statutory language or general legal principles, and help the reader understand how this result might change in a different factual setting. An opinion can also address counterarguments, whether in reasoning considered and rejected in the decision itself, or in an explicit dissent by other judges hearing the same case. The most significant "dissents" are sometimes found in contrary decisions on the same point by two tribunals, whether they are courts in different states, courts of different jurisdictions in the same state, or even the same court at different times.
This volume presents alternate approaches to fundamental legal issues rather than snapshots of the evolving positions of courts in various jurisdictions. These cases have been edited to minimize procedural and technical details and to enhance their accessibility to readers outside the legal profession. The questions following the cases are generally intended for discussion, and often will not have one correct answer. The new Appendix provides updated statistical information that demonstrates the continuing importance of the tax to local governments.
The property tax is uniquely suited to serve as an autonomous source of local government revenue. Immovable property does not shift location in response to taxation; its value provides a relatively stable tax base. Local administration and control permit decentralized budget decisions and enhanced accountability and responsiveness. However, the decentralized nature of the tax can also disguise its cumulative importance. Today the property tax raises almost twice as much revenue as the federal corporate income tax, and more than ten times as much revenue as state corporate income taxes.
"This book will continue to assist anyone searching for a better understanding of how the property tax system works", Brunori writes in the foreword. Its reissue is proof of the enduring value of this volume, and its continued availability will help students and practitioners to understand concepts such as current use, comparable sales, and the income and cost approaches to valuation. Readers are introduced to the problems of taxation of long-term leases, subsidized housing, and fractional valuation. Like any good casebook, this one tells a story, and in the process it makes clear the complex legal issues involved in property valuation and taxation.