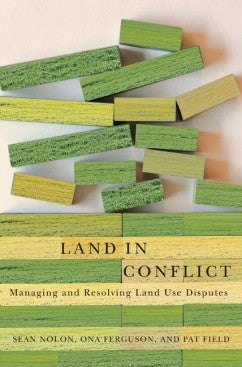 Managing and Resolving Land Use Disputes
Sean Nolon, Ona Ferguson, and Pat Field
Lincoln Institute of Land Policy
More than 25,000 local and regional governments in the United States play a role in making land use decisions that have become increasingly complicated and combative as diverse stakeholders voice their interests and concerns. Every day, public officials must make challenging decisions involving land that impact open space, economic development, transportation, and countless other issues. These decisions may affect the built environment, the landscape, the quality of life, and the economy for decades or even centuries. How officials make these decisions influences the way community members interact with one another and whether they work as a cohesive or a divided group.
Over the last one hundred years of land use management by local governments, a common four-stage approval process for decision making has developed: applicants are required to file proposals with a local board or department; these plans are reviewed and sometimes modified; the plans often come before a body such as the planning board or zoning board of appeals, which asks questions, may request further modifications, and hears public comment; and then the public body either makes a decision or refers its recommendation to a final decision-making body such as a town or city council.
This standard required process works well for the majority of noncontroversial land use decisions, which can be made quickly by various land use boards using this process. The relatively small number of decisions that are controversial can end up taking most of the board's time and effort. When faced with complex decisions, communities often become embroiled in battles that tear at the civic fabric, pit neighbor against neighbor, demonize the applicant, and wear down local officials. Volunteer board members, neighbors, and applicants are often disheartened by what seems to be an insufficient process for solving these difficult, heated land use disputes.
With years of professional experience and more than a decade of research sponsored by the Lincoln Institute of Land Policy, the authors, all associated with the Consensus Building Institute, have found that the mutual gains approach is a better way to manage the most challenging situations. This approach is guided by core principles, follows a set of clear action steps, and is useful at different stages of land use decision making. It is different from, though not incompatible with, the required land use procedures. In short, the mutual gains approach:
is based on all stakeholder interests as well as the necessary technical information;
involves stakeholders along with appointed and elected decision makers;
generates information relevant and salient to stakeholders such as abutters, community leaders, and others;
requires strong community and public engagement skills along with strong technical planning skills; and
engages the public above and beyond sharing information and views.
The mutual gains approach to preventing and resolving land use disputes is not a single process or technique. It draws from the fields of negotiation, consensus building, collaborative problem solving, alternative dispute resolution, public participation, and public administration. The result is a more public, collaborative process designed to tease out the range of interests and criteria, compare various alternatives, and determine which alternatives meet the most interests. Case studies from across the United States and Canada illustrate the principles and steps in the mutual gains approach.
About the Authors
Sean Nolon is associate professor of law and the director of the Dispute Resolution Program at Vermont Law School. He has extensive experience in consensus building, mediation, and litigation in commercial, land use, and environmental law.
Ona Ferguson is senior associate at Consensus Building Institute (CBI), where she designs and facilitates meetings on environmental and public policy, and on organizational and strategic planning.
Patrick Field is managing director at CBI, associate director of the MIT-Harvard Public Disputes Program, and senior fellow at the University of Montana Center for Natural Resources and Environmental Policy.