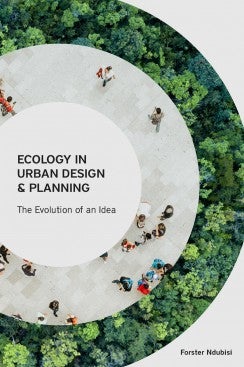 Ecology in Urban Design and Planning
Lincoln Institute of Land Policy
Note: This publication is now available for pre-order and is tentatively scheduled to be published in June 2022.
"This unusually comprehensive overview is very relevant as we grapple with climate change, resource depletion, sprawling cities, and loss of nature and biodiversity. The vision and model of place-based ecological urbanism is a well-suited antidote or response to these global circumstances."
— Tim Beatley, Teresa Heinz Professor of Sustainable Communities, University of Virginia School of Architecture
This lavishly illustrated book surveys connections between ecology and urban planning and design from theoretical, literary, and historic perspectives. Academics, students, and practitioners of urban planning and design will see how ecological thinking has evolved since the fifth century BCE and how it can be used to create sustainable, resilient, and beautiful places today. Succinct chapter summaries help readers track this progression.
Ecology in Urban Design and Planning: The Evolution of an Idea demonstrates the increasingly urgent need to balance human use with ecological concerns in our built environments. Places that support life systems for people and other organisms, rural and urban landscapes are degrading in the face of extreme climate change, rising sea levels, resource depletion, species extinction, accelerated consumption, and increased urbanization. This decline persists despite worldwide laws protecting the environment and natural resources, and progress in scientific knowledge and technology. Human impacts on landscapes are now more profound and complex, making solutions increasingly difficult to achieve.
About the Author
Forster Ndubisi is a professor and former head of the department of landscape architecture and urban planning at Texas A & M University. He is also a senior fellow with the Hazard Reduction and Recovery Center.