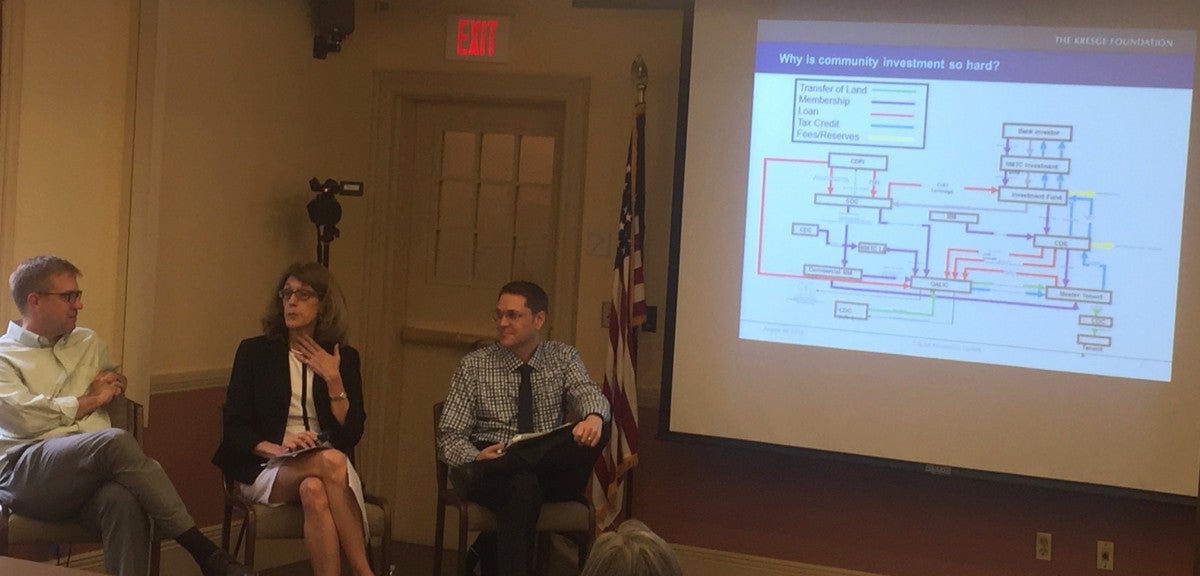 For decades, philanthropists have sought to reverse the damage from redlining, a discriminatory practice that cut off investment in entire neighborhoods based on race, and hollowed out the core of many U.S. cities. Redlining has long been banned, and Congress has passed laws to encourage investment in underserved communities, but would-be investors still face a major obstacle: even when they can amass large sums of money to invest, they lack a mechanism for putting the funds to work where they are most needed.
Enter Robin Hacke, Senior Fellow at the Kresge Foundation and David Wood of Harvard's Initiative for Responsible Investment. For the past few years, they have been working to understand and improve what they call the "capital absorption capacity of places," a community's ability to harness investment to address local priorities (click here to read their working paper on the subject). In a recent panel discussion at the Lincoln Institute of Land Policy, they described pilot projects in Los Angeles, the San Francisco Bay Area, and Denver to make communities more investable. They were joined by Christopher Goett of the California Community Foundation, who oversees the work in Los Angeles.
Whether the goal is economic development, affordable housing, environmental sustainability, or healthier places, investing meaningfully in communities requires a mix of public, philanthropic, and for-profit investment. But many communities lack the environment and the institutions that can help channel funding to the right places, Hacke said.
"In ecosystem terms, if you're looking at the forest and there's a critter missing, it might be that there's nothing for it to eat, or no place for it to nest," Hacke said.
The same is true for community investment systems in cities; places that lack robust community development financial institutions or community development corporations may not have the types of supportive philanthropic and policy environments that would allow such organizations to thrive.   
In the absence of robust investment systems, investors may default to the most safe, traditional projects without consideration for a community's most urgent needs. Individuals sometimes succeed in advancing good projects, but only by navigating byzantine processes and cobbling together numerous sources of funding in ways that can't be replicated on a large scale. It shouldn't be that hard, and Hacke hopes to make it easier.
The project has shown some promising signs in Los Angeles, where a coalition of community organizations is working to direct transportation funding toward affordable housing near transit stations. If successful, the initiative could help tackle several of the city's social, economic and environmental challenges at once. The goal is to align public, private and philanthropic capital, and match it up with the priorities of communities, Hacke said.
To learn more about the initiative, click here to watch a video of the discussion.