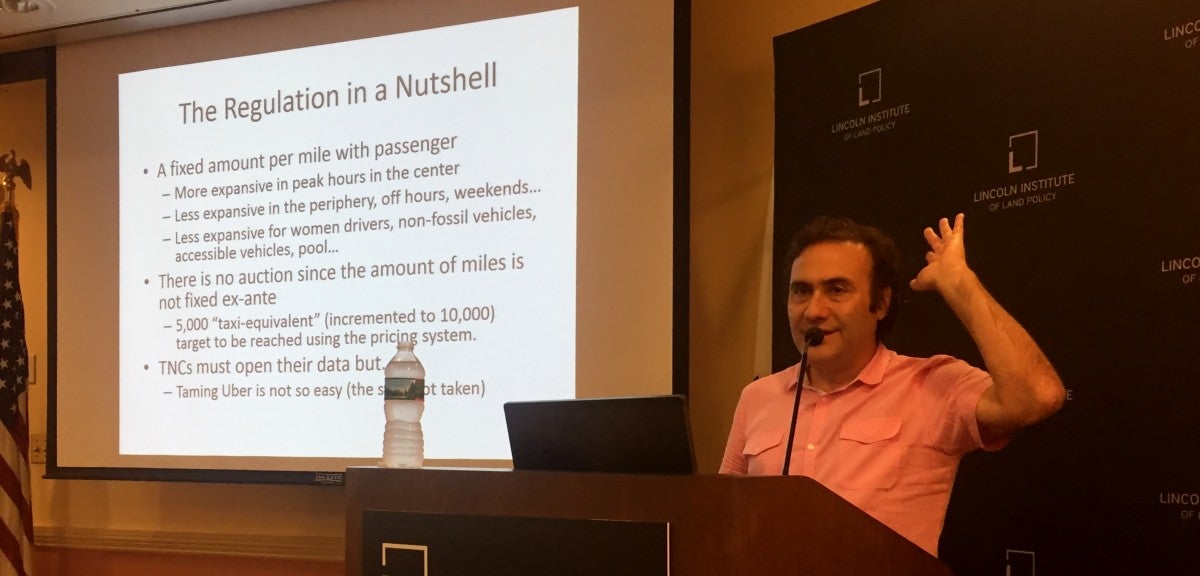 It's gratifying to see that big thinkers from the past, including many with ties to the Lincoln Institute, are helping policymakers confront the challenges of 21st century cities. One clear example is in the realm of the technology-enabled sharing economy.
As visiting scholar and long time-collaborator Ciro Biderman pointed out at a presentation this summer at the Lincoln Institute, the challenge of managing ride-hailing services such as Uber raises interesting questions about how cities can charge for the use of their assets. Biderman, who as chief of staff for the São Paulo Transit Company led the design and rollout of that city's policies on transportation network companies, cited economist and Nobel Laureate William Vickrey's foundational work. Vickrey (1914-1996), a board member at the Lincoln Institute – and heavily influenced by Henry George, who inspired the founder of the Lincoln Institute, John C. Lincoln – noted that "no other area where pricing practices are so irrational and out of date and wasteful than transportation."
São Paulo's innovative approach to Uber and other ride-hailing services is to charge companies for the use of city streets on a per-mile basis – and on a sliding scale depending on travel during peak travel times, number of passengers, inside or outside the city center, and other factors. The charges, an estimated $50 million per year, recover the profits that private companies are making by using public assets – the streets.
The Brazilian city has not confined its innovation to transportation in this regard. São Paulo has also been a leader in land value capture, or value recovery – a mechanism for collecting revenue for infrastructure and amenities from landowners and developers, based on how much those public works enhance real-estate values.
Biderman's presentation, made at the invitation of the Program on Latin America and the Caribbean, was the basis for an essay published by The Atlantic's CityLab, Uber and Lyft Should Pay for the Streets, last month.