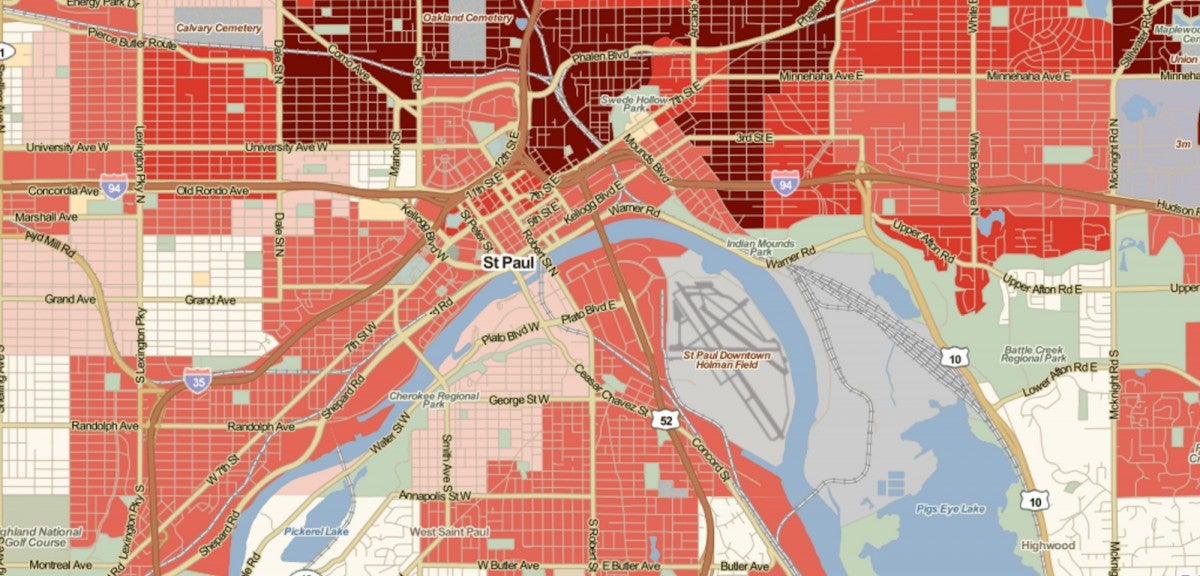 Updated 11/1/2017
A new interactive database created by the Lincoln Institute of Land Policy and PolicyMap allows users to visualize a broad array of indicators – housing prices, incomes, open space, or zoning and land use regulations, to name a few – revealing surprising new insights on the makeup of states, cities, towns, and neighborhoods throughout the United States.
The Place Database, unveiled at Meeting of the Minds, the annual conference spotlighting urban sustainability and connected technology, taps data from a variety of sources, such as the Environmental Protection Agency, Census Bureau, Internal Revenue Service, and National Conservation Easement Database, and assembles them for the first time all in one place.
"We've never had more access to data. The challenge is keeping track of all the indicators now available, and organizing them for meaningful analysis – to make sense of place," said George W. "Mac" McCarthy, president of the Lincoln Institute of Land Policy.  "This tool will help researchers, journalists, and policy-makers gain a clearer understanding of all the critical elements that make up communities."
The Place Database allows for mapping at the national level, and users can zoom in for more detail, with data as granular as a parcel. It stores several years' worth of data, allowing analysis of change over time. The highly visual interactivity invites the creation of graphically rich maps that show quantitative information in new ways.
The data sets are grouped by category, allowing for deep dives within a topic. For example, users can map housing by value, type, age, ownership status, affordability, or location affordability.
Environmental data include open space, conservation easements, protected areas,  brownfields, and indicators associated with climate change.
The Place Database invites analysis of average household incomes, government spending levels, and school district finances; various contours of the landscape, from vacant lots to structurally deficient bridges; and for the first time, zoning maps for 105 different cities.
The Place Database is free to use, and the visualizations can be easily shared with a unique link via email or on social media. The tool is one among many databases the Lincoln Institute offers, including the Atlas of Urban Expansion, Fiscally Standardized Cities, the State-by-State Property Tax at a Glance Visualization Tool, and Land and Property Values in the U.S., among others. They are found in the Research and Data section of the Lincoln Institute website.
A video tutorial for users of the database is available on the Lincoln Institute website.