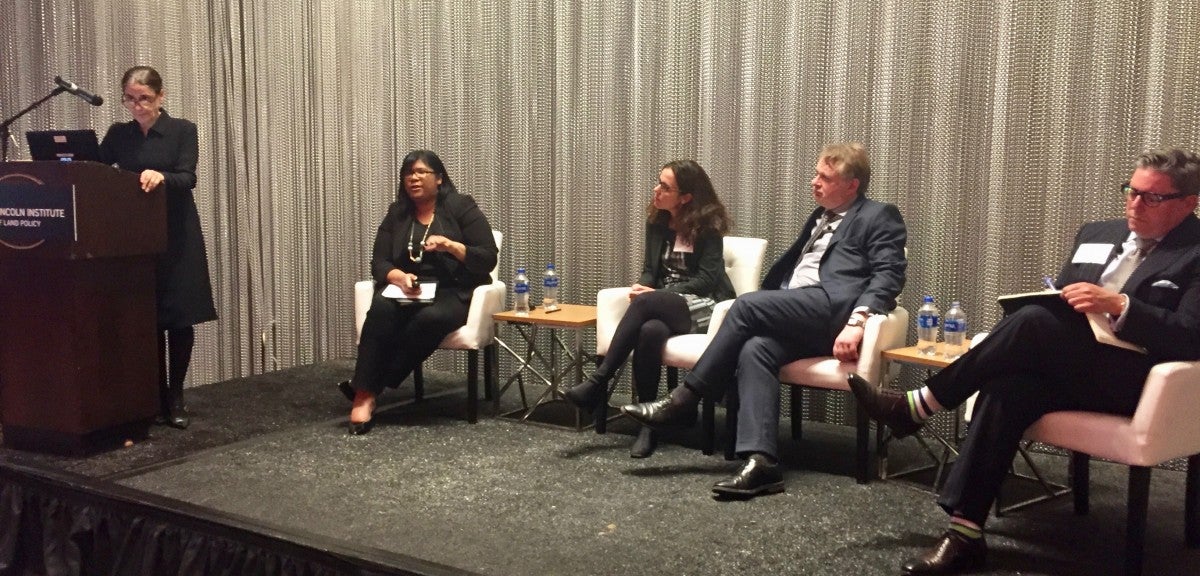 Nearly 45 leading writers and editors came to Cambridge last month to consider the central role of land in addressing an array of socio-economic and environmental challenges at the 2018 Lincoln Institute Journalists Forum. Land and property rights, land-based financing mechanisms such as value capture, the role of land markets in the affordable housing crisis, and the management of land to adapt to the impacts of climate change were among the conversations over the course of two days.
Lincoln Institute President George W. "Mac" McCarthy described land policy as the "rules of the game" reconciling often emotional individual connections to land with long-term sustainability for all. "We don't make more land. It's a commodity in fixed supply. We have to do our best to mediate human needs and stewardship responsibilities."
In welcoming the journalists on behalf of Boston Mayor Martin J. "Marty" Walsh, Boston Housing Chief and Director of Neighborhood Development Sheila Dillon noted that the limited amount of developable land – in a hot-market city of 48 square miles – has made it challenging to increase housing supply. "There are no cornfields to develop," she said. "We have to use land more wisely," she said, acknowledging a "love-hate relationship with density." The city has a multi-pronged approach, collecting $120 million – $340,000 for every luxury home built – for affordable housing through linkage fees; an inclusionary housing policy making new residential development minimally 15 percent affordable; encouraging accessory dwelling units and compact living; increasing density at transit-oriented development sites; increasing use of public land; and density bonuses for more affordable housing – a form of value capture. "We're harnessing the boom."

Land use regulations and permitting need to be streamlined to encourage the construction of more housing to accommodate a range of incomes and welcome migrating workers,like cities such as Chicago used to do, Harvard professor Edward Glaeser said in a keynote presentation. "Every time we say no to building we say no to a family that could move in. Our talent as a species is to learn from people around us, and we only get that in a town. (Yet) we have land use policies that say no." Increasing housing supply means more height and density, more judicious designations of historic preservation, and more creative approaches such as value capture, user fees, and land value taxation to foster good urban development. "It's why Henry George was so right," he said. "Land is intrinsic to solving this problem."
Other highlights:
The Journalists Forum is an annual event bringing together leading journalists covering urban affairs and writing in some way about cities. The two-day, by-invitation event is designed as a short fellowship to allow reporters and editors to step back from daily deadlines to consider new perspectives, innovations, and research related to cities and land policy.