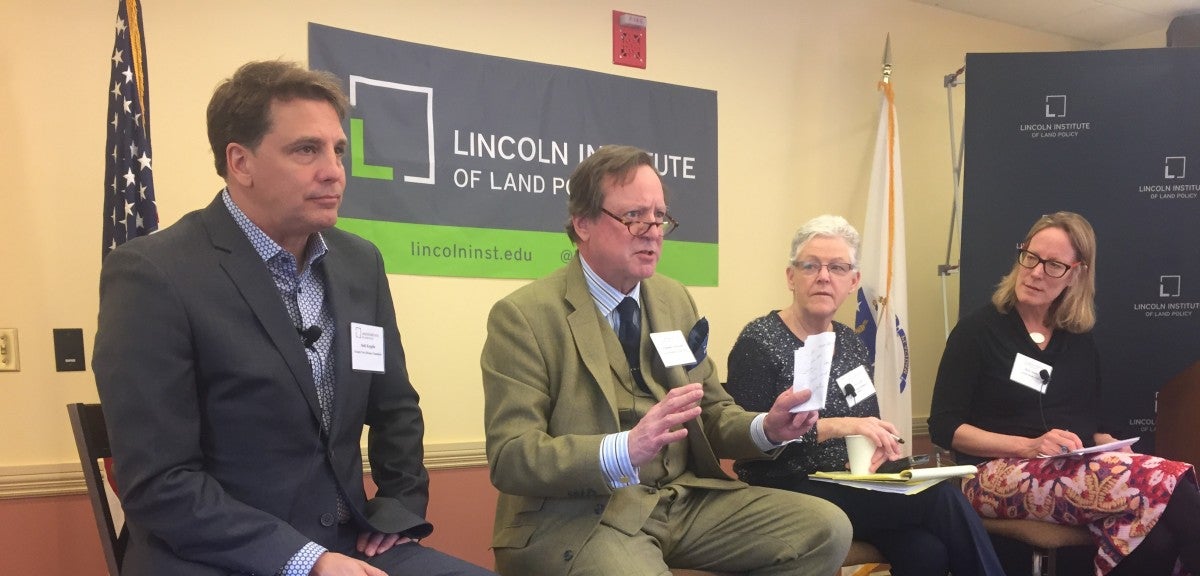 American cities should be prepared to go it alone – and will continue to fight the federal government on immigration policy and other conflicting standards – but can hold out hope that proposed infrastructure investments will provide a boost. Those were some of the takeaways from the 2017 Journalists Forum, held April 6-8 in Cambridge, in partnership with the Ford Foundation and the Nieman Foundation for Journalism at Harvard University. More than 60 leading writers and editors gathered for the annual forum, joining thought leaders from across the public, private, academic and nonprofit sectors.
This year's theme centered on cities in the era of the Trump presidency, as well as Brexit and similar retrenchment by national governments worldwide. The forum began with a call for more inclusive urban economies by Richard Florida, author of a new book, The New Urban Crisis: How Our Cities Are Increasing Inequality, Deepening Segregation, and Failing the Middle Class—and What We Can Do About It.
The next morning, after a welcome by Daniel Koh, chief of staff for the City of Boston, and remarks by Lincoln Institute president George W. "Mac" McCarthy, who noted that cities have long demonstrated entrepreneurial spirit but still need help from national governments, Julián Castro, former secretary of Housing and Urban Development, said cities balance their budgets, use "kitchen sink creativity," and have a closer connection to citizens – and so will serve as foils to the new administration. "Trump is a sub-par president. He would make an even worse mayor. Washington is a place that thrives on words, often posturing; City Halls thrive on action. It's hard to sell alternative facts when someone can look out their front door and determine the truth for themselves."
Taking a look at economic anxiety in the many post-industrial cities where President Trump found support, Politico writer Michael Grunwald asked what could possibly restore the engines of manufacturing that appear to be gone for good. Elisabeth B. Reynolds, from MIT's Industrial Performance Center, said future jobs will be in technology and automation, which are far bigger disruptors than immigration or global trade deals. Technology economies and "innovation districts" in places like St. Louis have been a boost, but the "U-shaped distribution of work, that's a huge problem for communities," said  Mark Muro, senior fellow at the Brookings Institution. Amy Cotter, part of the Lincoln Institute's Legacy Cities initiative, previewed a report to be published this summer on how small- to medium-sized post-industrial cities can leverage their assets – like the good bones of downtowns. She added that cities like Scranton should plan to be part of a larger metropolitan region including New York City.
The relationship between cities and the federal government has been strained for a long time, but with the Trump administration cutting programs such as Community Development Block Grants and TIGER grants, and threatening to punish cities on immigration and other policies, any remaining sense of partnership has dissipated. In a session led by Bill Lucia from Route Fifty, Gary, Indiana Mayor Karen Freeman-Wilson, a vice president at the National League of Cities, said conversations to date with the Trump administration "have been very general and one-sided." She added, "As mayor, I'm part firefighter and part planner … We're just running from emergency to emergency, not being able to do the work to rebuild, build ladders out of poverty, and re-invent a … city that depended on industry that no longer exists." Hartford Mayor Luke Bronin said he is similarly focused on fiscal challenges. "If the skinny budget goes through, I don't see any prospect for making up for that." Nestor M. Davidson, part of a task force on home rule and legal strategies to fight state pre-emption at Fordham's Urban Law Center, noted that "if cities are going to be a gap-filler, and keep innovating, we have to have a strong understanding of the authority that cities have." There are many lessons to be learned from the battles with the Reagan administration over apartheid divestment, said Madeline Janis from Jobs to Move America.
Immigration warranted a closer look, as an example of open conflict between cities and the federal government – particularly given that so much of what has made cities prosperous is the diversity of immigrants, as moderator Renée Loth of Architecture Boston and the Boston Globe pointed out. "We're confident we have the law on our side," said Alejandra St. Guillen from the Mayor's Office for Immigrant Advancement in Boston, which has declared itself a "sanctuary city" and thus is threatened with the cutoff of federal funds. "This is a narrative challenge," said Glenn Harris from the Center for Social Inclusion, countering the perception that immigrants are stealing jobs from Americans and pose crime and security threats. Aaron Renn from the Manhattan Institute for Policy Research countered that the current system for H-1B visas actually does crowd out job opportunities and lowers wages.
Cities are heartened by the promise of a $1 trillion investment in infrastructure, but worry that projects won't be equitable or include transit or climate resilience. "Let's find out what the country needs," by asking mayors and posing the question on a regional basis, said Marcia Hale, president of Building America's Future, in a session moderated by the San Francisco Chronicle's John King. Local communities should set priorities, and be the first in line for training and job opportunities, said Dortheá Thomas of the Detroit Environmental and Water Justice Alliance, who has been active in the Flint water crisis. Los Angeles has had success agreeing on local specifications for transit infrastructure, and voting for expenditures through ballot measures, said Denny Zane, executive director of Move LA.
The U.S. should become the "united cities of America," said former Philadelphia Mayor Michael Nutter, at the evening event at the Nieman Foundation's Walter Lippmann House. In his view, the administration "has no plan and no strategy" regarding cities.
On the final day, picking up on the discussion of infrastructure, Reuters reporter Luciana Lopez facilitated a conversation on the critical question of financing and implementation. While early administration proposals rely heavily on the private sector and tax credits, Lourdes Germán, director of Institute-wide Initiatives at the Lincoln Institute, noted that most infrastructure is financed and executed at the local level, accessing capital through the $3.7 trillion municipal bond market. She also surveyed the landscape of public-private partnerships, exchanges, infrastructure banks, and innovations in financing, including green bonds and value capture. "The buzz is out there that we can't do infrastructure in this country," said Robert Yaro, president emeritus of the Regional Plan Association, citing the United Kingdom as an example of "bold national investment." Streamlining environmental review, doing "design-build," agreeing to best-value versus low-bid procurement, and creating special purpose entities for delivery can all make big projects on-time and within budget, he said, exemplified by the new Tappan Zee Bridge spanning the Hudson River in New York. Donald Cohen, founder of In the Public Interest, pointed out the "fuzzy talk" and dangers of public-private partnerships, citing private highway-building and Chicago's sale of parking meters as examples. There are often costly provisions in the fine print of such agreements, he said.
As cities try to take charge on pressing issues, and with the national government in some ways making their jobs harder, climate change has emerged as a clear example of state and local governments forging their own path. In a session moderated by Beth Daley of InsideClimate News, Gina McCarthy, former administrator of the Environmental Protection Agency, said there have been other times when the EPA has been "in the climate closet," but nothing like the current "across the board attack on the agency as an institution." It's now up to cities and states, who are slowly but surely recognizing how clean energy generates jobs and lifts the economy, she said. State leaders, the private sector, mayors, the insurance industry, and the nation's defense department all recognize the need to prepare for the impacts of climate change, including sea level rise, said Lincoln Institute senior fellow Armando Carbonell. The key is not to invest in infrastructure "that isn't going to work in 30 years," he said. "If the local plan is thoughtful, we'll be able to sell it," said Andrew D. Kopplin, president of the Greater New Orleans Foundation. Communities. Resilience and adaptation is all about assessing future risks and ensuring the safety of communities, he said.
In keeping with the tradition of reserving time to discuss practicing the craft of journalism, former Denver Post editor Greg Moore, CityLab's Brentin Mock, and Indira Lakshmanan, Washington columnist for The Boston Globe and Newmark Chair in Journalism Ethics at the Poynter Institute for Media Studies, took stock of the extraordinary circumstances facing the media, including a redefined role in fact-checking and objectivity, the phenomenon of fake news and alternative facts, and the role of social media in the dissemination and consumption of news. "We have a profoundly compromised information distribution system," said Loeb Fellow Greta Byrum, who also joined the panel. As director of New America Resilient Communities, she studied the power of hyper-local media outlets including radio stations, which have established credibility with the public.
In a closing roundtable discussion, journalists acknowledged the difficulty of covering urban issues in the absence of traditional policy directives, or knowing much about the administration's plans or rationale. In an essay at Planetizen, Josh Stephens wrote that he wished he could have heard from administration officials or allies, who were invited but did not attend the forum. For now, the inescapable conclusion is that "cities are going it alone" in the absence of a clearly articulated national urban policy, wrote Roger Showley from the San Diego Union-Tribune.