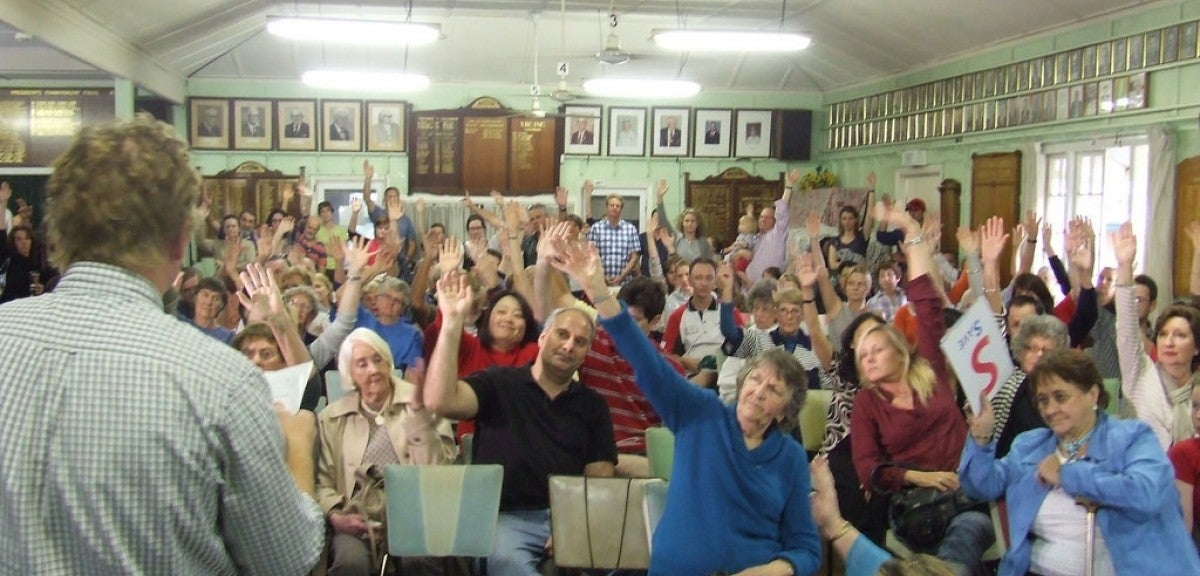 As planners focus more on equity and inclusive economies, the pressure is on to conduct meaningful civic engagement in the communities most impacted by change. At "Evolution of Inclusivity in Planning Projects," a popular session at the American Planning Association's National Planning Conference last month in New Orleans, Peter Pollock , manager of Western Programs at the Lincoln Institute, helped lead a discussion with practitioners searching for better ways to interact with the public – beyond attendance at a fluorescent-lit hearing.
Hearings and development reviews can sometimes seem like "scheduled train wrecks," Pollock said, as typically a small number of people respond to a notice and approach the microphone with skepticism if not anger. "The thinking has been, if you just keep people informed, they may not like it, but they will consent if they feel they've been fairly dealt with. That is all out the window." Increased polarization, defense of turf, and a broadening diversity of perspectives make it harder to reach understanding about how government, planning, and development works, said Pollock, who was city planner in Boulder, Colorado for several years.
Citing the International Association for Public Participation , Pollock said a good public engagement spectrum calls on planners to inform, consult, involve, collaborate, and empower. Further complexity is marbled into the process because planners can't "over promise" on the public's capacity for making final decisions that elected and appointed officials are still responsible for.
"We're trying to change the process from just talking at people with PowerPoints. We can no longer ask people to come to hearings; we need to go out to where people are," said Amalia Leighton Cody, Seattle office director for Toole Design Group. That means intercepting people at fairs and festivals, with pop-up stands, spot surveys, activities for kids, and live demonstrations – of how a street redesign accommodating bicyclists and pedestrians looks and feels, for example.
She touted the concept of a mobile engagement, fashioned by one organization as the Meeting in a Box , which includes worksheets, feedback questionnaires, and other tools to gauge public sentiment on development and planning initiatives.
The session was aligned with many other conversations led by members of the Lincoln Institute delegation, from scenario planning to preparing for the impacts of climate change . Communicating effectively with the public was also a common theme in discussions about linking land use planning and water management, and using land value capture to finance infrastructure or affordable housing.
The 2018 APA National Planning Conference also featured a workshop based on the annual gathering of the Big City Planning Directors Institute last fall. That convening, drawing in planners from the roughly 30 largest cities in the US, is a partnership of the Lincoln Institute, APA, and the Harvard University Graduate School of Design.
Photo by David Jackmanson / Flickr