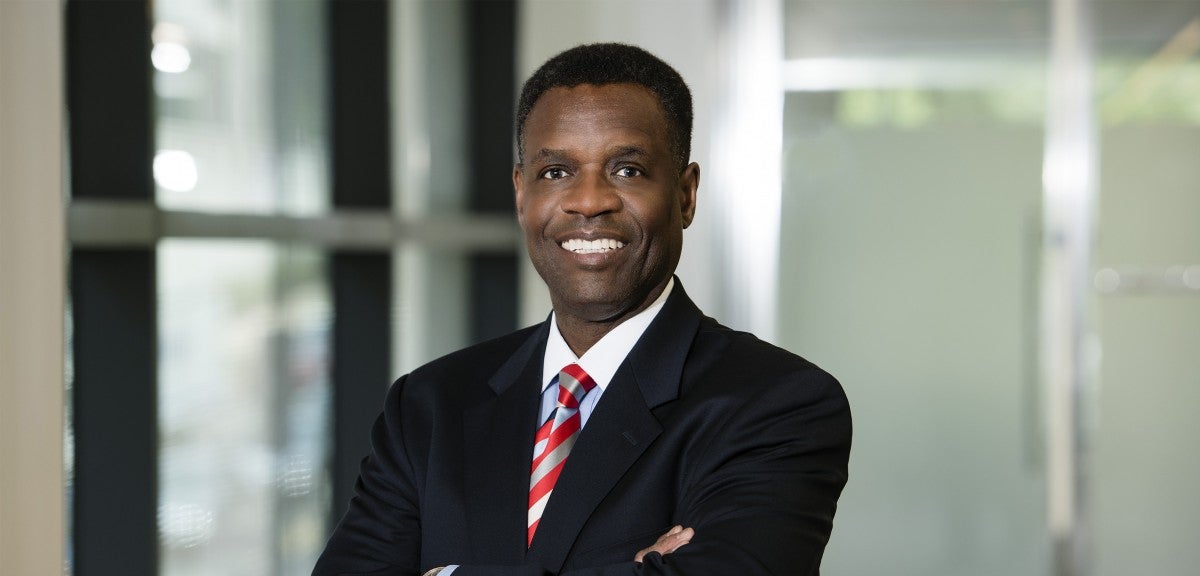 Kevyn Orr, a legal expert who oversaw the largest and most complicated municipal bankruptcy in U.S. history as emergency manager for the city of Detroit, has joined the board of directors of the Lincoln Institute of Land Policy.
A partner with Jones Day in Washington, DC, and an expert in business restructuring, financial regulation, and commercial litigation, Orr was appointed by Michigan Governor Rick Snyder in 2013 to manage Detroit's historic bankruptcy. Under Orr's leadership, the city restructured $18 billion in debt and implemented a $1.7 billion revitalization plan that streamlined key city operations, helped improve public safety, put the city's art in a perpetual public trust, and avoided drastic cuts to pension and related retiree benefits.
"Kevyn Orr is not only one of the foremost legal minds in the country, but he is a gifted leader who understands the gravity of how public decisions impact people's lives on the ground," said Kathryn J. Lincoln, chair and chief investment officer for the Lincoln Institute. "He will be an asset to the Lincoln Institute as we work to address municipal fiscal health and other challenges through better land policy."
Orr joined Jones Day in 2001. His experience includes advising Chrysler and National Century Financial on major bankruptcies and advising Laidlaw Corporation in its defense of a $1 billion claim by the purchaser of its environmental cleanup division. He has also served as special counsel for the emergency manager of Atlantic City; director of the Executive Office for United States Trustees, a division of the U.S. Department of Justice that monitors the nation's bankruptcy system; assistant general counsel for Resolution Trust Corporation; and counsel for Federal Deposit Insurance Corporation. He holds bachelor's and law degrees from the University of Michigan.
The other members of the Lincoln Institute board include Carolina Barco, former ambassador of Colombia to the United States; Thomas M. Becker, retired president of the Chautauqua Institution; Raphael Bostic, president and CEO of the Federal Reserve Bank of Atlanta; Mimi Brown, former commissioner of Rating and Valuation for the Government of Hong Kong; Jane Campbell, director of the Washington office for the National Development Council; Anthony Coyne, president of Mansour, Gavin, LPA in Cleveland; Bruce Lincoln, president of Innervizion Surf Company in Chandler, Arizona; John G. Lincoln III, former senior engineer at CH2M-Hill in Boise, Idaho; Johannes F. Linn, a resident senior scholar at the Emerging Markets Forum in Washington, DC; George W. McCarthy, president and CEO of the Lincoln Institute of Land Policy; Constance Mitchell Ford, visiting professor at the Philip Merrill College of Journalism at the University of Maryland; Michael Nutter, former mayor of Philadelphia and the David N. Dinkins Professor of Professional Practice in Urban and Public Policy at Columbia University's School of International and Public Affairs; Timothy Renjilian, senior managing director for FTI Consulting Inc.; Jill Schurtz, executive director, St. Paul Teachers' Retirement Fund Association, in St. Paul, Minnesota; and Scott Smith, former mayor of Mesa, Arizona, and CEO of Valley Metro.