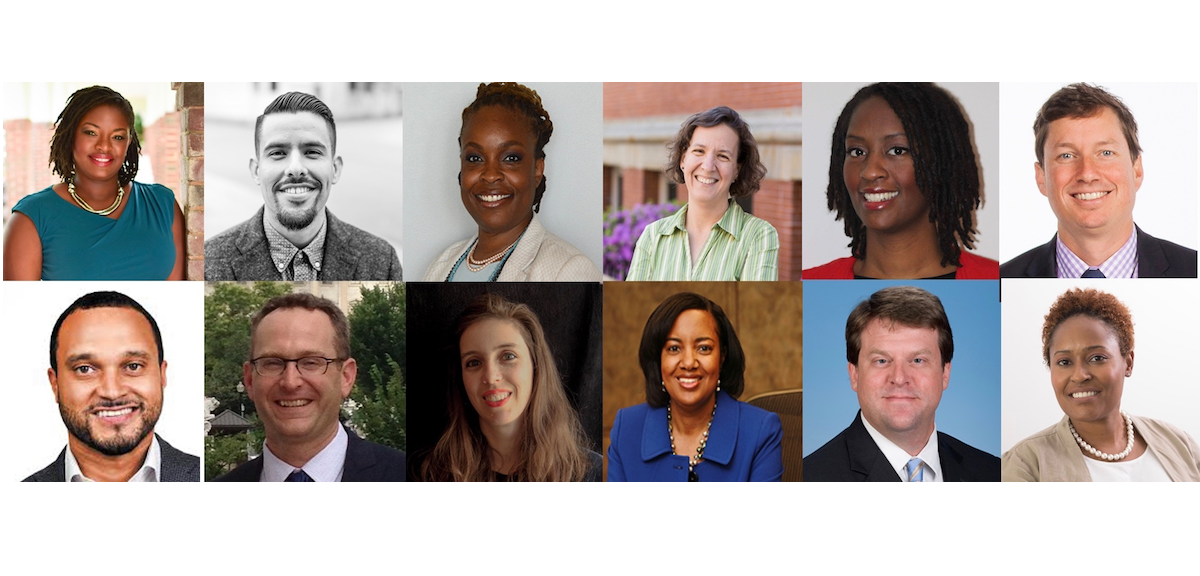 The Center for Community Investment (CCI) at the Lincoln Institute of Land Policy today announced the selection of the initial class of Fulcrum Fellows, rising executives in the fields of population health, community development, urban planning, climate resilience and community investment, who will receive coaching, technical assistance and peer support to help them address a significant strategic challenge facing their organization or community.    
During the 15-month program, Fellows will build skills in leadership and collaboration, broaden their vision, strengthen their networks, and sharpen their ability to advance strategies that overcome barriers to investment to help make communities healthier and more sustainable. The leaders will participate in five in-person, multi-day seminars as well as activities between the seminars.
"Our first cohort of Fulcrum Fellows is a dynamic group of leaders ready to scale efforts that make positive differences in the lives of people in their communities," said Robin Hacke, Executive Director of the Center for Community Investment.  "The challenges and proposed solutions they shared with us during the competitive application process were very impressive. We look forward to seeing how these Fellows progress as they strive to improve equity, health, and well-being in their communities."  
Fulcrum Fellows
Allison Allbee (Oakland, CA)
Allison Allbee is a Senior Planner at ChangeLab Solutions where she guides a team of public health analysts, planners, and lawyers focused on expanding access to safe, stable, affordable housing and healthy neighborhoods. Allison will be focused on developing a series of projects that help local governments and institutions understand policies that expand access to housing, specifically focused on supporting people and communities who face housing discrimination or exclusion.
Ain Bailey (San Francisco, CA)
Ain Bailey is the Associate Initiative Officer of the Great Communities Collaborative, an initiative of the San Francisco Foundation and the Silicon Valley Community Foundation. She focuses on the nexus of affordable housing, transportation, and climate resilience through a community-driven development lens. Ain will focus on advancing solutions to the 9-county Bay Area affordable housing crisis, specifically on centering and amplifying community-driven strategies for low-income and communities of color.
Nora Bloch (Boston, MA)
Nora is a Senior Loan Officer at Boston Community Capital. She develops and implements loan products to meet evolving community needs, including community facilities, commercial economic development projects, healthy food financing, and affordable housing. Nora will focus on developing strategies to add a racial equity lens to the implementation of BCC's five-year plan to double both the size of the Boston Community Loan Fund portfolio and its impact.
Damon Burns (New Orleans, LA)
Damon Burns is the Executive Director of The Finance Authority of New Orleans, a housing and economic development finance agency that has financed more than $600 million of affordable housing and economic development projects in New Orleans. Damon will be focused on the development of a homebuilding program designed to produce affordable homes built with historic New Orleans architecture while also being energy efficient and environmentally resilient.
Ja'Net Defell (Detroit, MI)
Ja'Net Defell is Lead Developer for IFF's Michigan office, responsible for managing all major real estate development initiatives in the Michigan market, including the critical initiative to develop early care and education (ECE) centers in underserved areas of Detroit. Ja'Net will continue and deepen IFF's work to improve the ECE facilities landscape in Detroit, including developing shared priorities among ECE providers and stakeholders, and facilitating access to capital for and development of new ECE facilities.
Rudy Espinoza (Los Angeles, CA)
Rudy Espinoza is the Executive Director of Leadership for Urban Renewal Network (LURN), a community development organization designing innovations to responsibly revitalize low-income, urban areas, where he leads advocacy efforts in support of the working poor and microfinance programs that support microentrepreneurs. Rudy will focus on developing a large-scale microfinance initiative that will support business owners at the "bottom of our economic pyramid," like street vendors and home-based entrepreneurs.
Adriane Harris (Nashville, TN)
Adriane Bond Harris is the Director of the Mayor's Office of Housing, which is focused on Nashville's efforts to fund, build, and preserve affordable and workforce housing units. Adriane will focus on creating an action plan for mixed-income housing and an economic opportunity plan for existing residents aimed at preventing displacement in an area of Nashville that is experiencing tremendous growth and redevelopment.
William Lambe (Atlanta, GA)
Will Lambe is a senior community and economic development advisor at the Federal Reserve Bank of Atlanta, where he specializes in development finance. Will will focus on developing a framework and narrative around community investment that aligns with the Southeast's political culture, test it with new audiences, and attract new champions to ultimately unlock more resources for community investment in the region.
Monica Mitchell (Cincinnati, OH)
Dr. Monica Mitchell is the Senior Director of Community Relations and a Professor of Pediatrics in the Division of Behavioral Medicine at Cincinnati Children's Hospital Medical Center, where she leads efforts to advance community engagement, outreach, and employee volunteerism. Monica will focus on advancing community investment efforts and outcomes, increasing leverage and collaborative funding for Cincinnati Children's $11.5 million Community Partnership and Investment Initiative.
Ethan Nelson (Eugene, OR)
Ethan Nelson is the Intergovernmental Relations Manager for the City of Eugene, OR, managing local, state, and federal relationships with governmental and non-governmental entities, and working on policy development, lobbying, and implementation for the city's priorities. Ethan will focus on developing strategies to increase the effectiveness and social equity impacts of Eugene's Community Climate and Energy Action Plan update.
Stephanie Smith (Baltimore, MD)
Stephanie Smith is an Assistant Director for Equity, Engagement and Communications in the City of Baltimore's Department of Planning, where she leads the implementation of the agency's Equity in Planning Action Plan and its overall communications program. Stephanie will focus on her new position's charge to operationalize the Equity Action Plan and enlist the support of other Baltimore agency leadership to establish an action-oriented, interagency work group on equity.
Chris Story (Spartanburg, SC)
Chris Story has served as Assistant City Manager for Spartanburg, SC, since 2009, providing leadership on the city's efforts in economic development, planning, development services, budget, finance, human resources, technology, and strategic communications. Chris will focus on implementation of Hello Family, Spartanburg's new continuum of support model that aims to improve outcomes for young children and their families by providing services to all children born in the City of Spartanburg, from prenatal care through age five.
The next cohort of Fulcrum Fellows will be selected in fall 2018. Applications will open in early summer and will be available at www.centerforcommunityinvestment.org.