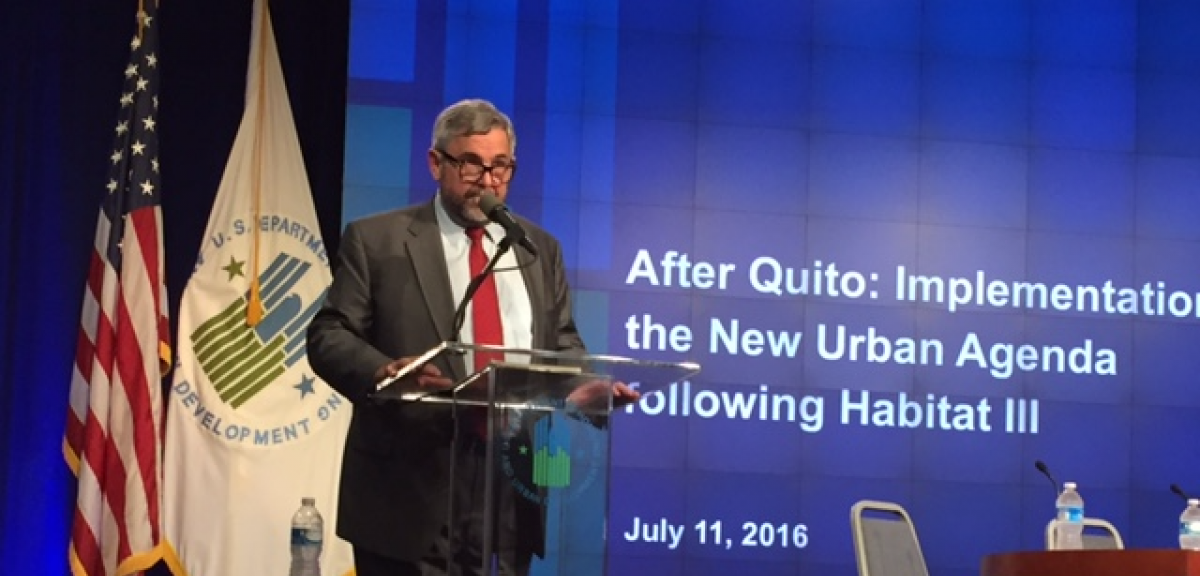 For the billions of people who will add to the ranks of cities worldwide in the coming decades, a good quality of life will require dramatic changes to the current pattern and character of urbanization. With that challenge in mind, representatives from nearly 200 nations will gather at Habitat III, a United Nations summit in Quito, Ecuador, to adopt a framework for sustainable urbanization – the New Urban Agenda.
But the world's urban future will depend on what happens next. Some of the nation's top urban experts dug into the nitty-gritty of how to monitor progress on the ground this week at a roundtable discussion entitled, After Quito: Implementation of the New Urban Agenda Following Habitat III, co-hosted by the U.S. Department of Housing and Urban Development, the Lincoln Institute of Land Policy, the Wilson Center and Citiscope.
Alex Blei, a researcher with New York University's urban expansion initiative, presented data from the Atlas of Urban Expansion, which employs satellite imagery to track urbanization around the world. (The Atlas will soon be updated with other types of data, including information on housing affordability and regulatory regimes.) According to the Atlas, for the years 2000 to 2015, cities have continued to consume land at rates greater than their populations are growing, although the rate of increase in cities in developed countries has slowed. In developing countries, where most urbanization is expected to occur in the future, the rate of urban land consumption has continued to increase.  While the population of cities in less developed countries doubled between 1990 and 2015, their urban extents increased by a factor of 3.5. Much of this development has been unplanned and informal, lacking services and infrastructure. The analytical methods used in the Atlas will be useful in monitoring urbanization after Habitat III, but will need to be complemented with other data, Blei said. 
The financial condition of local governments will be critical to their ability to provide basic goods and services to their growing populations, said the Lincoln Institute's Lourdes German, an expert on municipal finance. German presented a preview of the Lincoln Institute's Municipal Fiscal Health Dashboard, a forthcoming tool could further help monitor implementation of the New Urban Agenda. The dashboard will provide data visualizations for more than 120 categories of revenues, expenditures, debt, and assets for 150 U.S. cities (the Institute is also collaborating separately with UN-Habitat on a global fiscal database). These databases are part of the Lincoln Institute's campaign to promote municipal fiscal health and build the capacity of local governments.
"People forget that municipal finance pays for everything," German said. "It pays for your road, it pays for your child's school."
Blei and German were joined by a panel of experts including Amy Liu of the Brookings Institution, Solomon Greene of the Urban Institute, Carey Biron of Citiscope, Frank Shafroth of George Mason University and Armando Carbonell, chair of the Lincoln Institute's Department of Planning and Urban Form. Lincoln Institute President and CEO George W. "Mac" McCarthy and HUD Deputy Assistant Secretary Salin Geevarghese introduced and concluded the roundtable.
"How we urbanize – and whether we urbanize well – is going to determine whether or not we find a way to achieve sustainable life on this planet," McCarthy said.