Buy-in for Buyouts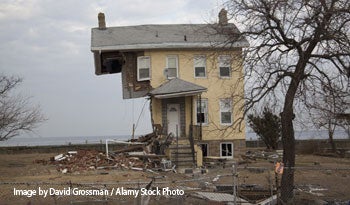 In the face of rising sea levels, more frequent and severe storms, and other climate change risks, flood-prone communities need to give greater consideration to managed retreat through buyouts, as a way to remove development from vulnerable areas, according to new research published by the Lincoln Institute of Land Policy in collaboration with the Regional Plan Association.
In Buy-In for Buyouts: The Case for Managed Retreat from Flood Zones, authors Robert Freudenberg, Ellis Calvin, Laura Tolkoff, and Dare Brawley demystify the mechanics of buyout programs and how they have been implemented in the U.S., with a focus on communities in the New York metropolitan region — Oakwood Beach, Staten Island, New York; Mastic Beach, Long Island, New York; Wayne Township, New Jersey; Sayreville, New Jersey; and Milford, Connecticut — that suffered damage from Hurricanes Irene and Sandy. They provide a roadmap for making programs more effective and more likely to garner the support of local governments and communities.
Buyout programs can help break a cycle in which homeowners are incentivized to live in disaster-prone areas by federally subsidized flood insurance, which effectively shifts financial risks to the public. Under the 2012 Biggert-Waters Flood Insurance Reform Act many of these subsidies will be phased out, which is expected to raise premiums sharply for some residents and increase the need for alternative solutions such as buyouts.
The fiscal impact of buyout programs is one of the biggest factors weighed by local governments in embracing or resisting buyout programs, according to the report. Incorporating financial considerations into the reuse of acquired properties and the relocation of residents is critical. For example, well designed parks can make nearby property more desirable, and open space projects can deliver water supply and flood prevention benefits, thereby increasing land values.
Asking residents or entire neighborhoods to uproot is "is laden with social and political difficulties," the authors write, which is why many communities have dismissed managed retreat as a strategy. However, the unavoidable impacts of climate change will require adding retreat to the adaptation toolbox, and the report will help communities craft the most effective and equitable programs before the next storm hits. Read the full story here, and also our essay posted at Medium.
On to Habitat III
Representatives from nearly 200 nations, as well as an array of non-governmental organizations and foundations including the Lincoln Institute, are gearing up for Habitat III in Quito, Ecuador next month. Important steps will be taken there, including the adoption of the New Urban Agenda, a global framework for urbanization for the next 20 years. Yet the real test will come after everybody packs up and goes home from the nearly two-mile high Ecuadorean capital.
So writes Lincoln Institute president George W. "Mac" McCarthy in Devex, the media platform for the global development community. And a key factor in the implementation of the New Urban Agenda will be monitoring — to make sure cities are on the right track. Unlike the Paris agreement on climate change, the New Urban Agenda can't rely on straightforward metrics, such as tons of carbon. But by building on the Sustainable Development Goals adopted last year, the guiding document offers the opportunity to look at the common characteristics that make cities work.
Among the aspects of cities that require monitoring, two are especially critical, McCarthy writes: fiscal systems and spatial planning. Fiscal conditions will be critical in the face of the need to invest more than $3 trillion per year in infrastructure, just to support expected rates of growth, according to McKinsey and Co. The world's cities will also need a way to monitor the quantity and quality of growth, as they tackle the challenge of unplanned development that lacks adequate services and infrastructure; the Atlas of Urban Expansion, our project with partners New York University and UN-Habitat, can help.
Read the entire essay — as well as a sidebar on the five key takeaways in the implementation of policies post-Habitat III — here.
A better framework for community investing
Whether the task is economic development, affordable housing, environmental sustainability, or healthier places, investing meaningfully in communities requires a mix of public, philanthropic, and for-profit investment. But many communities lack an environment and the institutions that can help channel funding to the right places.
Enter Robin Hacke, Senior Fellow at the Kresge Foundation and David Wood of Harvard's Initiative for Responsible Investment. For the past few years, they have been working to understand and improve what they call the "capital absorption capacity of places," a community's ability to harness investment to address local priorities. In a recent panel discussion at the Lincoln Institute, they described pilot projects in Los Angeles, the San Francisco Bay Area, and Denver to make communities more investable. They were joined by Christopher Goett of the California Community Foundation, who oversees the work in Los Angeles.
In the absence of robust investment systems, investors may default to the most safe, traditional projects without consideration for a community's most urgent needs. Individuals sometimes succeed in advancing good projects, but only by navigating byzantine processes and cobbling together numerous sources of funding in ways that can't be replicated on a large scale. It shouldn't be that hard, and Hacke hopes to make it easier. The goal is to align public, private and philanthropic capital, and match it up with the priorities of communities, she said.
Read the full story here. To view the event in its entirety, watch the video here.
Odds & Ends
You may have noticed our new look for our website. We're finishing up a few transition tasks, and we'll have more to say about it soon, but in the meantime let us know what you think ... Our panel at the International Association of Assessing Officers conference last month tackled the subject of TIFs ... Why property taxes vary across cities ... Tijuana's new bus line presents value capture opportunities ... The decline of density in America ... The challenges of regional coordination ... Big-box stores' "dark store" strategy threatens cities' tax base ... This month's highlighted Working Paper: Zoning for Affordability, by Vicky Chau and Jessica Yager.
— ANTHONY FLINT & WILL JASON, Lincoln Institute of Land Policy