Book maps out zoning reform
Every community across the land can and should revise their zoning and subdivision regulations — a move that will build sustainability and resilience, increase affordability, and improve quality of life, say the authors of a new book published by the Lincoln Institute of Land Policy.
In Reinventing Development Regulations (Paperback / $35.00 / 213 pages / ISBN 978-1-55844-372-3) two well-known experts — urban designer Jonathan Barnett and real-estate lawyer Brian W. Blaesser — argue for major adjustments to land use regulations that are within existing legal frameworks and respectful of property rights, making the politics of the necessary changes much more manageable. Their recommendations include integrating development with natural ecosystems and using regulations to manage climate change locally — particularly urgent for communities confronting wildfires, floods, and volatile weather, which will become even more serious problems as global warming continues.
"This is an eminently practical guide to transforming development rules to deal with some of the most pressing challenges faced by communities today," said Armando Carbonell, senior fellow and chair of the Department of Planning and Urban Form at the Lincoln Institute. The work spells out "a robust set of measures that can be implemented primarily at the local level."
Development regulations determine the urban form of our cities, suburbs, and towns, and have a huge impact on the natural environment, influencing how, when, and where real estate development occurs. Development regulations can help solve pressing land use and environmental problems. But current regulations have structural deficiencies and biases that must be corrected to achieve public objectives for land use and development in balance with market realities. 
Most zoning maps show only zones, roads, and property boundaries — omitting buildings, topography, streams, flood plains, and other natural features. Changing official zoning maps so they incorporate these elements of a living ecosystem and pinpoint locations of existing buildings will make it easier to develop sustainably and adapt to the effects of climate change, the authors argue. Most current zoning regulations and subdivision regulations also encourage undesirable growth patterns — such as the ubiquitous suburban corridors along highways with narrow strips of commercial buildings surrounded by parking lots, and housing tracts with hundreds or even thousands of similar houses on same-sized lots. Instead, the authors say, walkable neighborhoods with a mix of different housing types and compact, mixed-use business centers could be built today, if the regulations that stand in their way are modified.
While some advocate jettisoning outdated zoning and starting over, Barnett and Blaesser lay out strategies to amend existing regulations to promote better land use without disrupting the basic governance frameworks and real estate markets of cities, towns, and suburbs. The right regulations can help cities, towns, and suburbs preserve the natural environment, create desirable civic places, conserve historic buildings, reduce housing inequality, ease the pressures for urban sprawl and deal with floods, erosion, and wildfire­­­, without infringing upon fundamental property rights.
Relate development to the natural environment. Current regulations recognize land as a commodity, but not a living ecosystem. The authors show how to incorporate modern environmental information into a regulatory framework that, up to now, has been largely blind to it.
 
Manage climate change locally. The consequences of a changing climate, particularly flooding and wildfire, have an increasing effect on land use and development. While the problem is global, there is a significant role for local governments in both mitigating climate change and adapting to it through changes to the way development regulations are written and implemented.
 
Encourage walking by mixing land uses and housing types. Walking is the most efficient form of transportation for distances of a quarter of a mile, and very competitive with buses and even taxis for up to half a mile. Walking is also important for maintaining health.  Current regulations make it difficult to develop walkable neighborhoods and business centers.
 
Preserve historic landmarks and districts. Much of the success of historic preservation has been achieved in opposition to zoning and other regulations that are designed to facilitate new development. There are ways to bring designated historic buildings and districts into harmony with regulations where permitted development creates an incentive to tear down a historic structure.
 
Create more affordable housing and promote environmental justice. Zoning and subdivision regulations have been used as a way to exclude low-income people from some communities, and the location of industry and infrastructure has had a disproportionately negative effect on low-income communities. The book addresses how to mitigate these biases in the existing regulatory system.
 
Establish design principles and standards for public spaces and buildings. Zoning and subdivision regulations have been written to prevent the worst development, not to encourage the best. Regulations can be used to foster better design for the places most important to the public.
 
Implement regulations while safeguarding private property interests. Any overhaul must be informed by an understanding of fundamental legal principles essential to safeguarding private property interests in the formulation and implementation of regulations, and in government decision-making on proposed development projects.
Reinventing Development Regulations made its debut at the 18th annual Big City Planning Directors Institute in Cambridge, Massachusetts. The gathering of city planning directors from the U.S. and around the world, many of whom say their cities are overhauling zoning, is a partnership of the Lincoln Institute, the American Planning Association, and Harvard University's Graduate School of Design.
Christopher B. Leinberger, author at the George Washington University School of Business and The Brookings Institution, described Reinventing Development Regulations as "readable … technically and legally rigorous," and a comprehensive look at "how we invest society's wealth in where live, work, and build."
New data on cities' slow recovery
For the first time since the end of the Great Recession, revenues increased in many of the largest U.S. cities in 2015, but they had not yet recovered to pre-recession levels, according to new data added to the Lincoln Institute's Fiscally Standardized Cities (FiSC) database.
In the 150 cities in the database, per capita revenues were still 3.6 percent lower in 2015 than before the Great Recession after adjusting for inflation according to an analysis of new data from the U.S. Census Bureau. And spending in many categories remained far below pre-recession levels, particularly capital outlays, which includes the construction of infrastructure, buildings and other assets.
Created in 2013 and updated annually, the FiSC database provided the country's first meaningful comparison of local government finances at the city level by untangling the complex web of governments within each city. The database breaks apart data from counties, independent school districts and special districts, among other governmental entities, to provide an overview of revenues raised from city residents and businesses and spent on their behalf, from 1977 to the present.
The database tracks revenues from all sources, including the property tax, other local taxes, user charges, and state and federal aid. Revenues from the property tax and from state aid, the two most important sources of city revenues, grew between 2014 and 2015, but neither source of revenue has returned to its pre-recession level.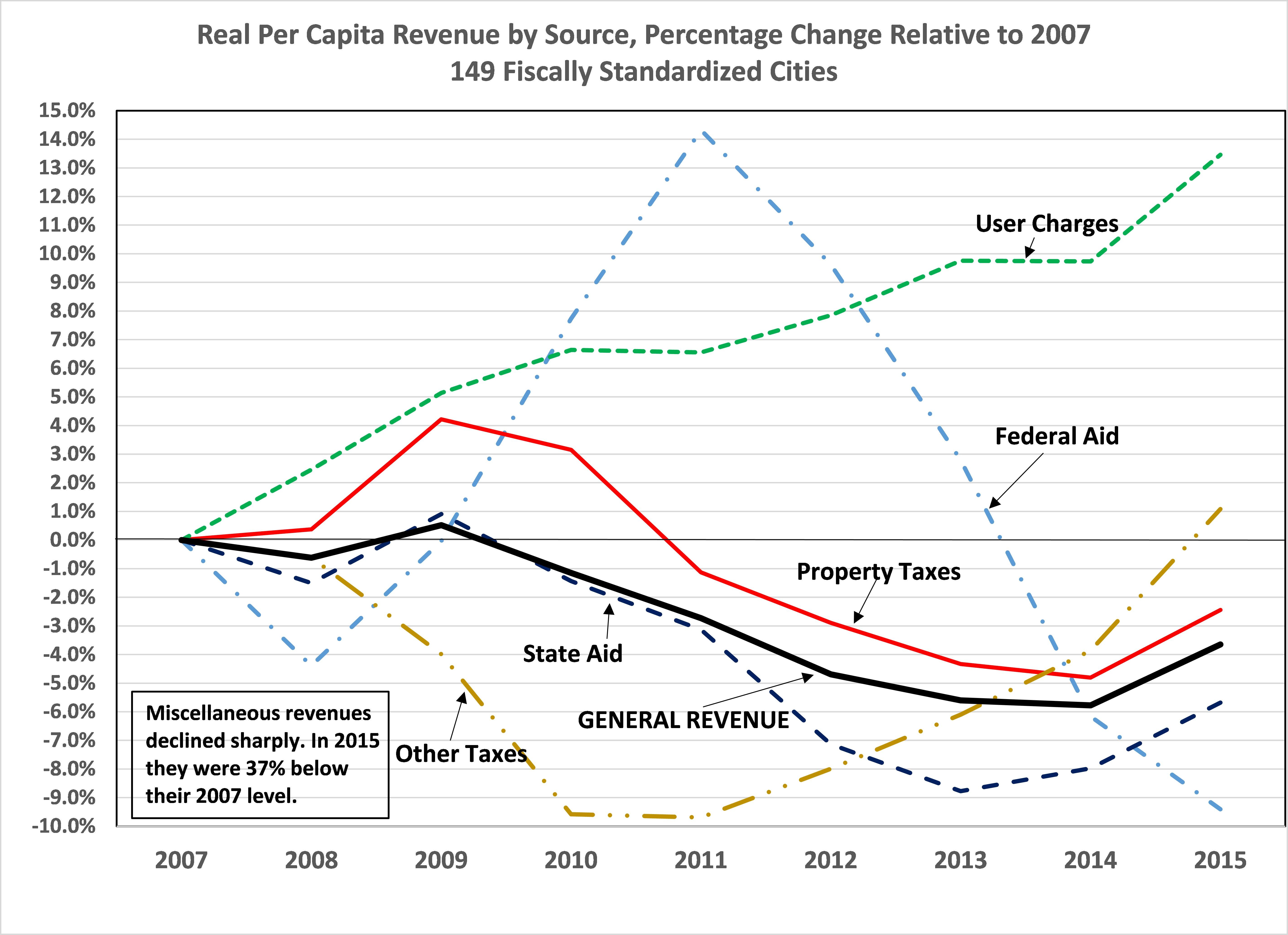 The database tracks spending for capital outlays and for current operating expenses for a wide array of services including education, public safety, transportation, health and social services, and natural resources, parks, solid waste and sewage. Despite small increases in 2014 and 2015, overall per-capita spending in 2015 was still two percentage points lower in the average city than in 2007, after adjusting for inflation. Capital outlays were nearly 15 percent below 2007 levels, reflecting continued underinvestment in public infrastructure.
Nationwide study looks at inclusionary housing
The Lincoln Institute of Land Policy unveiled the largest study to date of inclusionary housing – the policy where developers reserve a portion of new development as affordable – at Intersections 2017, the annual affordable housing conference of the Grounded Solutions Network, in Oakland, California.
Inclusionary housing is gaining attention as a bulwark against displacement amid soaring housing costs. In the Working Paper Inclusionary Housing in the United States: Prevalence, Impact, and Practices, authors Emily Thaden and Ruoniu (Vince) Wang, of Grounded Solutions, survey the landscape of inclusionary housing in the United States, identifying 886 jurisdictions in 25 states that have enacted the policy. The paper documents nearly 200,000 affordable housing units that have been created and nearly $2 billion in fees paid by developers in lieu of building affordable units – likely underestimates because of missing data.
The paper also breaks down policies by different characteristics, including whether they are mandatory or voluntary, whether they create for-sale or rental units, and crucially, the length of time for which they require units to remain affordable. The paper finds that least 90 percent of inclusionary housing programs require that units remain affordable for 30 years or longer.
"This trend in local inclusionary housing programs differs from the relatively short-term affordability requirements in federal housing programs, which range from five to 30 years," Thaden and Wang conclude. "The embrace of long-term and lasting affordability requirements by local governments illustrates their commitment to preserve the affordable housing stock in their communities as well as the more prudent use of public and private investment in affordable housing."
As the authors point out, successful inclusionary housing policy depends on management and stewardship to ensure compliance and upkeep of units.
The paper, available for download on the Lincoln Institute website, builds on a body of work on affordable housing, gentrification, and displacement. The 2015 report Inclusionary Housing: Creating and Maintaining Equitable Communities, by Rick Jacobus, offers solutions for overcoming the major political, technical, legal and practical barriers to the adoption of inclusionary housing, as described in media coverage from Portland, Maine, to San Francisco, and in outlets such as Planetizen. The 2014 Working Paper Achieving Lasting Affordability through Inclusionary Housing by Thaden, Robert Hickey, and Lisa Sturtevant, provides a case study analysis of 20 programs.
The Lincoln Institute has done extensive research on community land trusts, a mechanism for providing permanent affordable housing that can be used on its own or in conjunction with inclusionary housing. According to data released in 2009, homeowners in community land trusts are much less likely to lose their homes to foreclosure than owners of market-rate homes, a finding further explored in a 2010 Land Lines magazine article, Outperforming the Market. In addition, The Community Land Trust Reader, a collection of 46 essays, brings together the seminal texts that inspired and defined community land trusts, and the report The City-CLT Partnership (also available at Intersections 2017) outlines how cities can provide investment and support to community land trusts.
UPDATE: Read coverage of the report by Curbed and Next City.
Case study competition opens
The Lincoln Institute of Land Policy, in partnership with the Association of Collegiate Schools of Planning, will hold a competition for the development of innovative curricula and case studies focused on local government finance, urban poverty and spatial inequality, climate change, and related land policy issues.
The competition will open October 14 at the Association of Collegiate Schools of Planning's annual conference in Denver. Winning projects will receive financial support and become part of the Lincoln Institute's forthcoming digital case library – a platform for sharing land policy knowledge in compelling ways across different cities, regions and countries.
The competition includes two awards. The Curriculum Innovation Award will recognize three educators who develop and implement courses to help prepare future planners to solve economic, social, and environmental challenges facing communities worldwide, with measurable student success; each award is $10,000.
The Case Study Award will go to 10 graduate students or faculty members who write compelling case studies; each award is $1,000. Case studies need to follow one of two templates: a descriptive case, which presents essential facts of a situation and expert interpretation of it, or an inquiry case, which includes facts of a situation but shifts the responsibility of interpreting case content to the reader and provides them with practice applying what they know to a real-world situation.
Both awards are part of a new Lincoln Institute initiative to build a digital library of learning resources that are freely available to anyone. The library will include teaching methods, case studies and other materials that can help spread land policy ideas among students and researchers, as well as policy makers and practitioners.
"We look forward to collaborating with planning students, faculty and others to help spread innovative land policy ideas more widely," Lincoln Institute President and CEO George W. "Mac" McCarthy said. "The digital library will respond to two questions we often get when we present new policy ideas – where has this worked, and how did it work?"
For more detailed information on the awards and how to apply, visit the competition web page.
Ten years in Beijing
The Lincoln Institute on October 14 marked the 10th anniversary of the Peking University-Lincoln Institute Center for Urban Development and Land Policy in Beijing, a dynamic hub of research and dialogue providing practical applications to housing, tax policy, urbanization, and environmental sustainability in China.
"This is a significant milestone for us," said Zhi Liu, director of the Lincoln Institute's China program, and executive director of the Center, located on the campus of Peking University in Beijing. "Taking the opportunity of celebrating the 10th anniversary, we organized an international symposium on China's urban development and land policy. We invite those who have worked with us over the last 10 years to reflect on what China has accomplished in land policy reform, and what the Center has accomplished over the last 10 years – and to discuss the prospects of urbanization and land policy and the directions of the Center in the next 10 years."
At the 10th anniversary celebration and banquet October 14 in Beijing, Lincoln Institute President George W. "Mac" McCarthy presented keynote remarks, "From Henry George to Jane Jacobs: Planning and Financing the New Urban Agenda," along with Baoxing Qiu, Advisor to The State Council, President of the Chinese Society for Urban Studies, and former Vice Minister of Housing and Urban and Rural Development, who presented "Towards the Better Quality of Urbanization." They were introduced by Canfei He, Dean of the College of Urban and Environmental Sciences at Peking University, and Associate Director of the Peking University-Lincoln Institute Center for Urban Development and Land Policy.
Jianhua Lin, President of Peking University, and Lincoln Institute Board Chair and Chief Investment Officer Kathryn J. Lincoln opened the gathering, which included remarks and presentations by Xiuwen Liu, Vice Chair of the Budget Affairs Commission, Standing Committee of the National People's Congress; Shanda Xu, President of the SEEC Research Institute, and former Vice Minister, State Administration of Taxation; Kegu Liu, Vice Chairman, Academic Committee, China Center for International Economic Exchange, and former Vice President, China Development Bank; Shouzhi Wang, Advisor at the Advisory Center of the Ministry of Land and Resources and former Director General, Department of Policy and Regulation; and Joyce Ma, Chief Representative of The Nature Conservancy, China.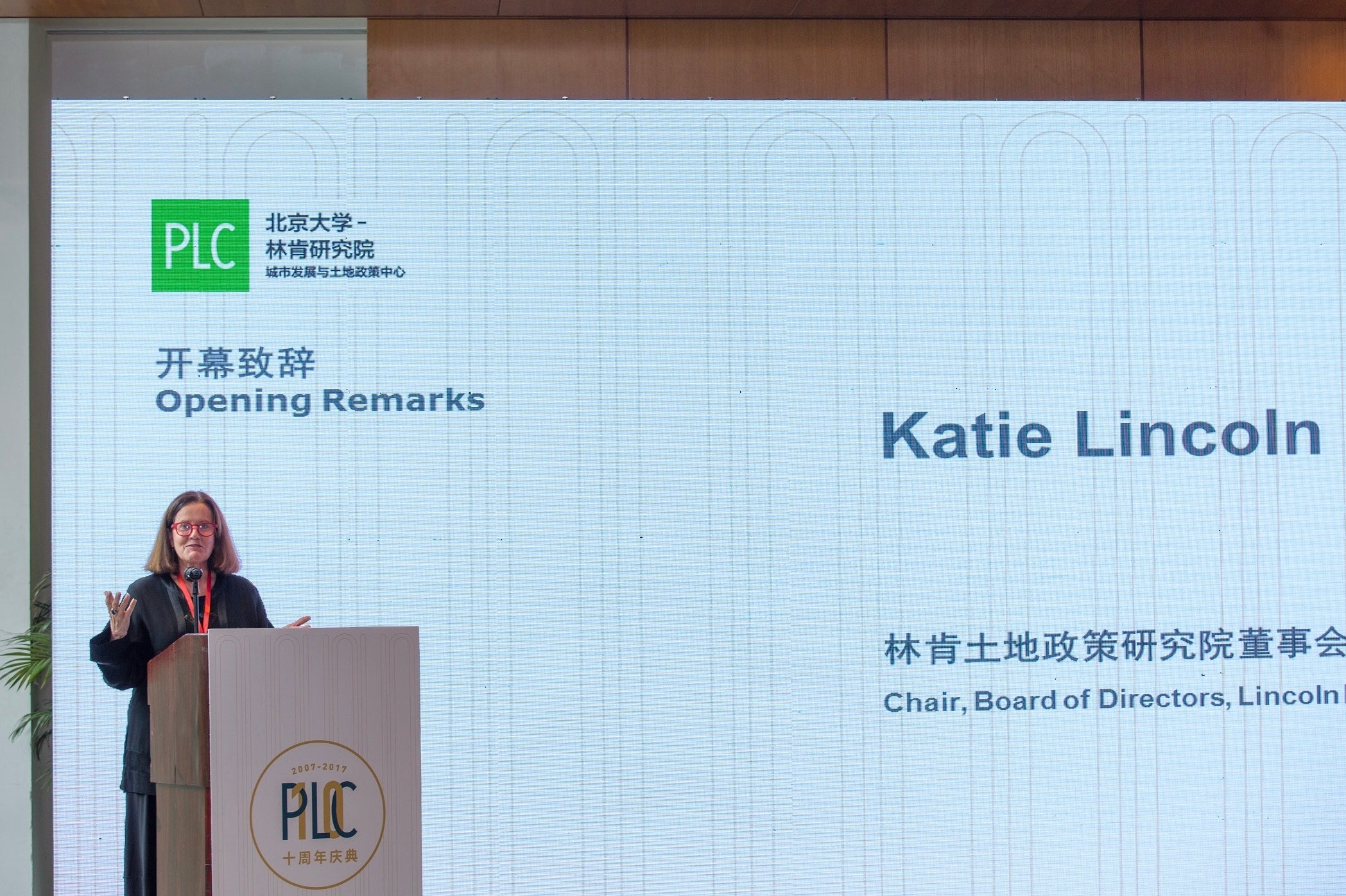 Following the formal establishment of the China program in 2003, the Peking University-Lincoln Institute Center for Urban Development and Land Policy in Beijing was established in 2007, with a mission to develop institutional capacity in China to address the many challenges of rapid growth. The goal was to strengthen expertise in land policy and planning for urban development, through education and training, academic research, and policy advisory and pilot programs. The activities have ranged from research on the role of a property tax system to support the delivery of services in China's fast-growing cities, to land conservation and resilience by integrating natural systems in urban settings.
"The Lincoln Institute of Land Policy is tremendously proud of the work of the PLC," McCarthy wrote in his Message from the President in the October 2017 special issue of the Lincoln Institute's quarterly magazine Land Lines, devoted to a range of land policy issues in China. "The enormous role that land and land policy have played in China's unprecedented transformation over the last decade has fascinated, daunted, challenged, and sometimes overwhelmed us. We are honored and humbled to have the opportunity to work with Peking University and its visionary leadership. We look forward to future decades of collective efforts to find the answers to some of our most vexing social, economic, and environmental problems in land."
Gregory K. Ingram, former president of the Lincoln Institute, who established the Center and nurtured its early years, also wrote in Land Lines that the Center "has done a very credible job in meeting its original objectives and it has proven to be a sustainable institution, enduring through the many changes in China and the world that have occurred since its founding," adding that "land-related issues in China have proven to be extremely challenging, not amenable to simple and quick solutions, and often linked to other policy issues."
Ingram and Joyce Man, the original executive director of the Center, both participated in panels at the October 14 event. Other presentations included "Land Reform in China: What has been Accomplished, and What Needs to be Done," by Shouying Liu, Professor, Renmin University of China; "Myths and Puzzles of China's Urban Development and Land Management," by George Lin, Professor, University of Hong Kong; and "Urban Debt Financing: A Global Perspective," by Lourdes German, Director of International and Institute-Wide Initiatives at the Lincoln Institute.
The event concluded with two dialogues. The first was the "Future Direction of Urban and Land Policy Reforms," moderated by Joyce Man, now a professor at Peking University Graduate School in Shenzhen, with Peiyong Gao, Director General, Institute of Economics, Chinese Academy of Social Sciences; Kang Jia, Member of China's National Political Consultative Committee, and former President, China Academy of Fiscal Science, Ministry of Finance; Kegu Liu, Vice Chairman, Academic Committee, China Center for International Economic Exchange; and Shouzhi Wang, Adviser to the Ministry of Land and Resources. That panel was followed by "Future Directions of Academic Research on Urban Development and Land Policy," with Changchun Feng, Professor, College of Urban and Environmental Sciences, Peking University; Jiabin Lin, Inspector and Research Fellow, Development Research Center of the State Council; former Lincoln Institute President Gregory K. Ingram; Lincoln Institute Fellow Andrew Reschovsky; and Tao Ran, Professor at the Renmin University of China.
A premiere screening of two original short videos, produced for the 10th anniversary, was also part of the celebration.  One featured the work of the Center, and the other featured a number of interviews about the Center. The special issue of Land Lines was available – translated, for the occasion, to Mandarin. Land Lines is available in English and Spanish.
Champion Mayors convene in Seoul
The Lincoln Institute of Land Policy is joining the Organization for Economic Cooperation and Development (OECD) and mayors from across the globe this week to adopt the Seoul Implementation Agenda, a framework for cities to foster inclusive growth and respond to the challenges of climate change.
The framework, adopted at the Third Meeting of the OECD Champion Mayors for Inclusive Growth on Oct. 19 in Seoul, South Korea, is the latest in a series of international agreements to promote sustainable urbanization in the coming decades, including the Sustainable Development Goals adopted by United Nations member states in 2015, and the New Urban Agenda adopted at the Habitat III conference in 2016. The Lincoln Institute has been engaged in these efforts to help promote municipal fiscal health and better land use practices.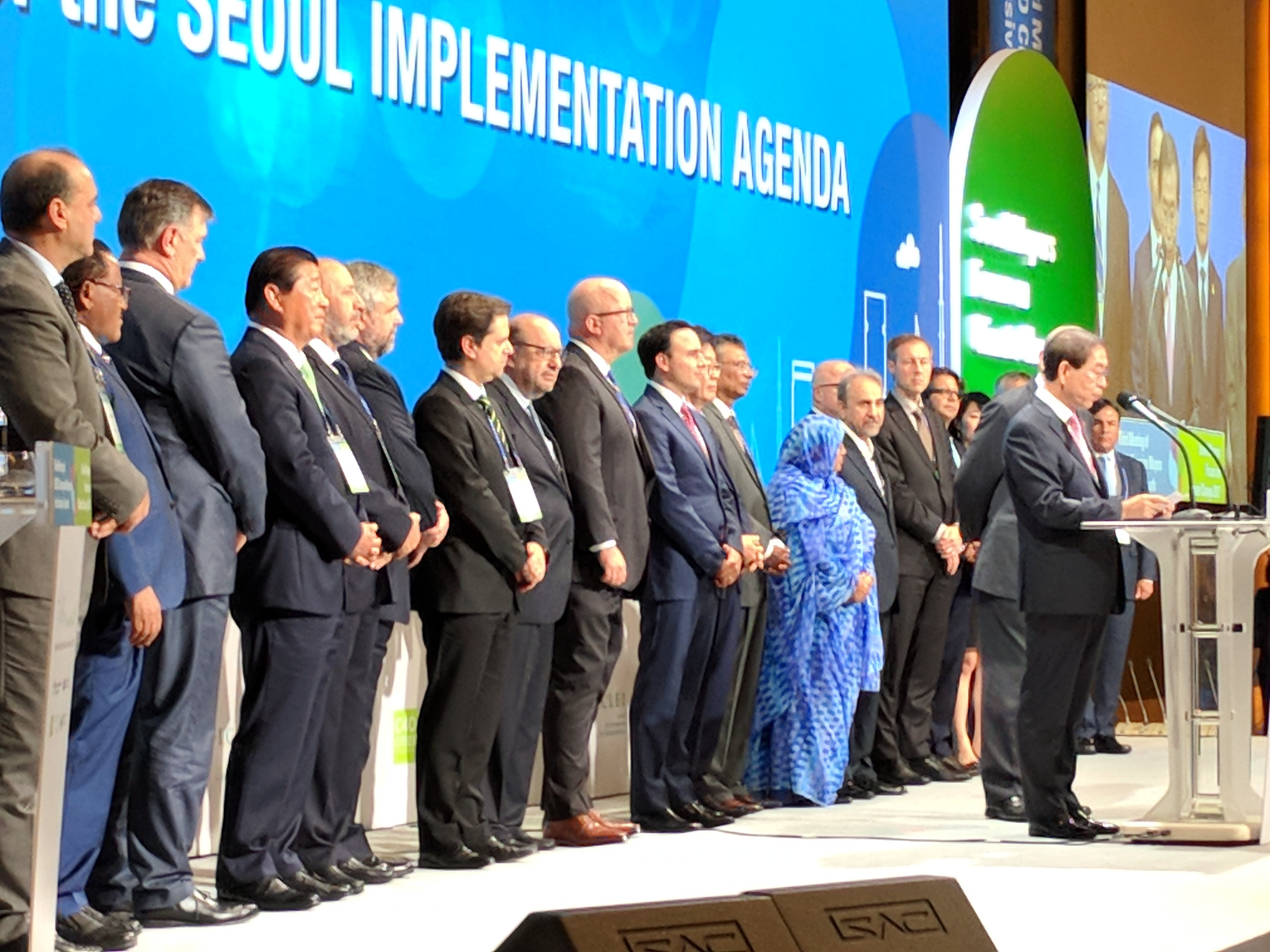 The OECD's Champion Mayors for Inclusive Growth Initiative, in which the Lincoln Institute is a partner,  was launched as part of the broader OECD Inclusive Growth initiative. The Champion Mayor's initiative is an effort to tackle inequalities and promote inclusive growth policies in cities. In 2016, more than 40 global mayors signed on to the New York Proposal for Inclusive Growth in Cities, laying out policy priorities to achieve the initiative's goals, and the Paris Action Plan for Inclusive Growth in Cities, a more detailed agreement focused on addressing inequality in education, the labor market, housing and the urban environment, and infrastructure and public services.
The Lincoln Institute is one of several civil society partners including the Ford Foundation, the Brookings Institution, the Cities Alliance, the C40 Cities Climate Leadership Group, ICLEI – Local Governments for Sustainability (formerly the International Council for Local Environmental Initiatives), the National League of Cities, United Cities and Local Governments, and United Way Worldwide.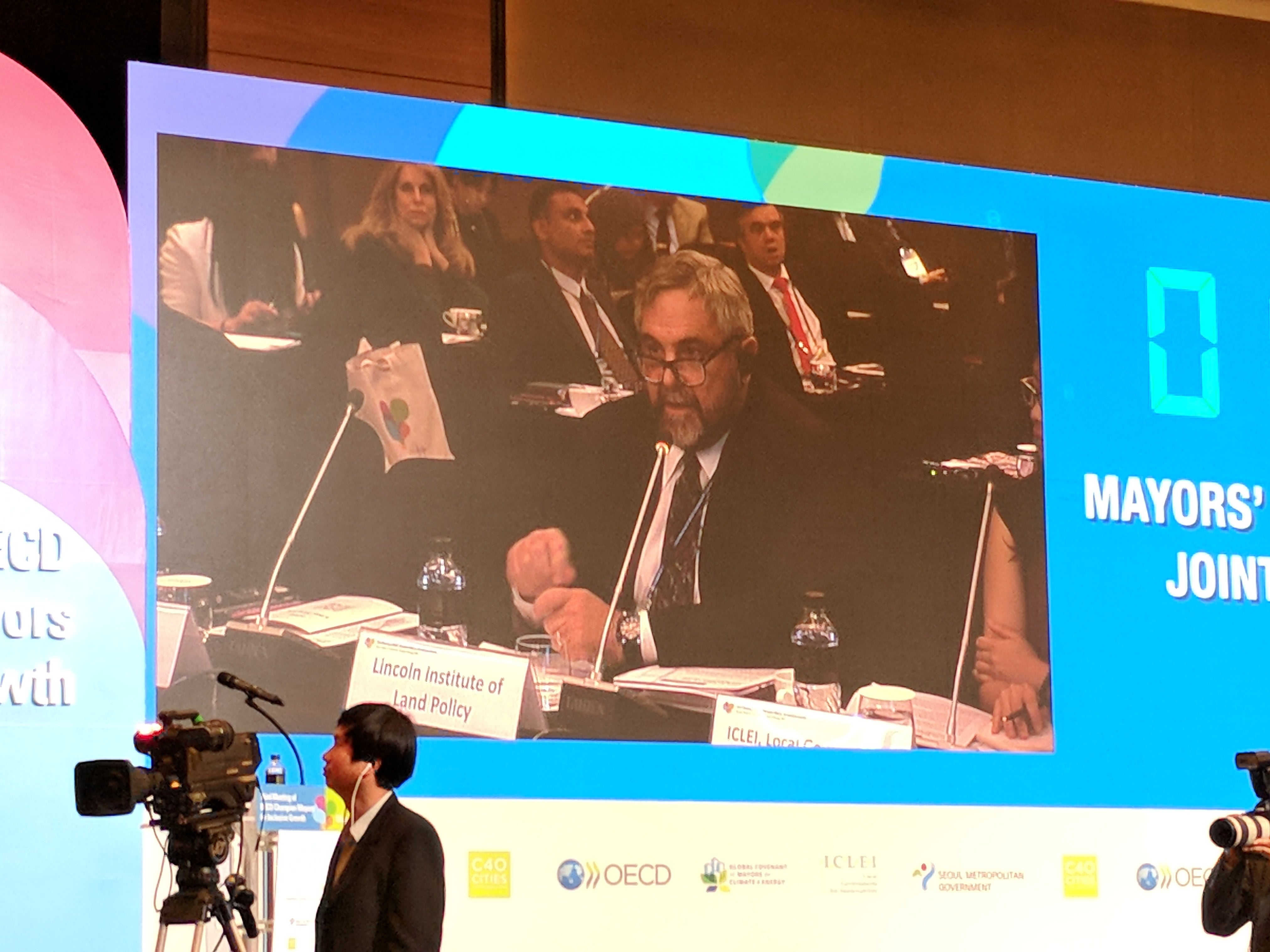 The Champion Mayors initiative is part of an ongoing Lincoln Institute-OECD collaboration, focused on land use governance, land value capture, climate change, urban planning for resiliency, green finance, and other land policy issues.
As part of the partnership with OECD, Policy Analyst Sena Segbedzi of the Lincoln Institute's International and Institute-Wide Initiatives team is working with the OECD at the organization's headquarters in Paris on the Champion Mayors initiative and other sustainable development projects. Segbedzi is a former program manager for the Ford Foundation, where she helped promote housing, transportation, and employment opportunities in U.S. cities including Detroit. She has extensive international experience including designing an emergency management plan for Lyon, France, assessing waste management systems in Senegal, and analyzing domestic violence advocacy programs in Ghana.
Land Matters
Congratulations to Kate Orff, a contributor to our book Nature and Cities, on becoming a 2017 MacArthur Foundation Fellow … We look forward to Meeting of the Minds 2017 and the debut of our latest digital tool in Cleveland … Our Center for Community Investment has named the first class of Fulcrum Fellows – twelve rising leaders in public health, climate resilience, community development, urban planning, and community investment, who will collaborate and build skills to solve major challenges in their communities ... We have selected 22 journalists from throughout Latin America to attend our land policy course next month at the Latin American Conference on Investigative Journalism in Buenos Aires, Argentina, in partnership with the Institute on the Press and Society and the Argentinian Journalism Forum  … More than 30 big city planning directors from the U.S. as well as Argentina, Brazil and South Africa joined us earlier this week for a productive discussion of the challenges facing cities …  Washington D.C. turns to community land trusts for affordable housing … Our senior fellow Armando Carbonell and Great Ohio Policy Center's Torey Hollingsworth on building civic capacity in legacy cities … Taxing vacant land: lessons from Vancouver. This month's highlighted working paper: Institutional Innovation and Rural Land Reform in China: The Case of Chengdu, by Raul P. Lejano and Hongping Lian.
--ANTHONY FLINT & WILL JASON
Image by Wallace, Roberts & Todd: Image from Omaha by Design, a project that includes many of the principles explained in Reinventing Development Regulations.