Cuba, on the Horizon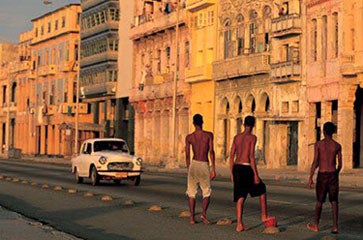 As a nation in transition, Cuba represents a unique opportunity for knowledge-sharing on land policy, which will be a foundational component of a more open economy. The Lincoln Institute, which has done work in the island nation for many years, is rekindling collaboration on key areas in land management and land-based financing, in parallel with the ongoing historic thaw in US-Cuban relations.
"With the opening of private property markets and the new role of the foreign investor, Cuba is faced with a number of new challenges, as well as unprecedented opportunities to learn from the experiences of other nations in Latin America and beyond," said Martim Smolka, director of the Lincoln Institute's Program on Latin America and the Caribbean.
Smolka recently returned from Havana, where he met with Cuban officials under the auspices of the United Nations Development Programme, and presented at a well-attended panel on land-based financing tools at the 15th International Convention on Land Use and Urban Planning.
The future of property and land in Cuba - and how the country can develop in an equitable and balanced way - is one of the biggest issues facing the country. A very limited yet vibrant housing market has existed for many years, based on housing swaps, known as permutas, the indirect participation of foreign parties through Cuban family members or associates, and a lively informal land and housing market.
Now, as Cuba transitions toward a more expansive property market, much work needs to be done to track titles and the ownership of land and property - essentially a new official land register and cadaster. The legal status of post-revolution properties needs clarification. "The landscape needs to be more legible," Smolka said.
An updated land registry and legal infrastructure is not only crucial for a well-functioning property market, but also for the establishment of a property tax and other land-based financing mechanisms.
The redevelopment of Havana Harbor provides a special opportunity to capture the increase in private land values generated by rezoning or public investment, and use it for the benefit of the public. Value capture tools can help in the ongoing building-by-building rehabilitation in the Old Havana historical center as well, in keeping with an effort to protect residents from displacement. The Historian's Office of Havana (Oficina del Historiador de la Ciudad de La Habana), responsible for the regeneration of the historic center of Havana, has designed an innovative value capture scheme to help fund the rehabilitation of buildings and overhaul of deteriorated urban infrastructure.
The Lincoln Institute revisits Cuba with an open mind, Smolka said, but brings expertise and experience in Latin America and other parts of the world in transition, such as the potential establishment of a property tax in China, and administrative systems related to private land markets in Eastern Europe. Among the many publications to date in connection with our engagement in Cuba are the working paper, Urban Land as a Factor in Economic and Social Inclusion, a case study of Havana; and the Land Lines article, Using Land Value to Promote Development in Cuba, exploring the concept of value capture in a framework of land-based financing tools to promote equitable economic development.
Fixing Detroit's property tax
Having emerged last year from the largest municipal bankruptcy in U.S. history, Detroit is still hindered in its recovery by structural flaws in its property tax system, according to a new report published by the Lincoln Institute. Detroit's high property tax rates, delinquency problem, inaccurate assessments and overuse of tax breaks, coupled with limitations imposed by the Michigan constitution and state statutes, continue to expose the city to fiscal stress.
"Property tax reform is just one of several challenges facing Detroit and its residents, but tackling it could have a real impact on the city's economy and quality of life, and could serve as an example for other cities struggling with population and job losses and a shrinking tax base," said Gary Sands, professor emeritus of urban planning at Wayne State University and co-author, with visiting fellow and Michigan State University economics professor Mark Skidmore, of Detroit and the Property Tax: Strategies to Improve Equity and Enhance Revenue.
The report suggests several reforms to help strengthen Detroit's property tax, including:
Continue to improve assessments: Vastly over-assessed properties have contributed to Detroit's historically high property tax delinquency rate, which has been improved but is still about 30 percent, or 10 times the median rate for major cities in the U.S.
Improve the targeting of tax abatements: Detroit has granted property tax breaks to about 11,400 properties, or 3.5 percent of all taxable private properties. Research shows that the fiscal benefits of abatements are often outweighed by the costs, suggesting this tool should be used more judiciously.
Implement a land-based tax: A land-based tax is based purely on the value or size of a piece of land, with no additional tax for new development or improvements. This approach is favored over the traditional property tax by many economists because it discourages holding property vacant or underutilizing land (e.g. a community garden on a prime piece of downtown property), and encourages development.
Eliminate the state's taxable-value cap: Imposed by voters as part of Proposal A in 1994, the taxable-value cap restricts the growth of the tax base as the real estate market recovers. It also gives preferential treatment to longtime homeowners, locking in low effective tax rates at the expense of new buyers.
Reduce statutory tax rates: Detroit has the highest tax rate of any major U.S. city, more than double the average rate for neighboring cities. Lowering the rate could reduce delinquency and help increase property values, and could help offset increased tax burdens that may otherwise result from reducing abatements or eliminating the taxable-value cap.
The property tax and other land-based financing mechanisms are a key component of the Lincoln Institute's Municipal Fiscal Health campaign, a multi-year effort to help restore the capacity for local governments to provide basic services and plan for the future. Over the past few years, the Lincoln Institute has been engaged in research on several aspects of municipal fiscal health in Detroit, including papers on land value, tax delinquency and Michigan's assessment growth limit. The Detroit News covered the release of the report here.
Innovation in scenario planning
As part of a growing effort to harness technology for better long term planning, the Lincoln Institute, in partnership with PlaceMatters, is presenting the 6th Annual Open Planning Tools Symposium at the University of Texas at Austin.
The symposium is the nation's top gathering for developers of applications known as scenario planning tools, which help government agencies and the public make decisions about land-use, transportation and other issues that require thinking about the factors that will shape an uncertain future.
"In the face of climate change, population growth and rapidly changing land use, the availability of technology to help us plan for an uncertain future is more important than ever," said Armando Carbonell, senior fellow and chairman of the Department of Planning and Urban Form at the Lincoln Institute.
Communities have for many years used software in "visioning" exercises, but scenario planning tools have yet to be widely adopted across cities, counties, metropolitan planning organizations and other agencies that engage in long term planning.
In 2012, the Lincoln Institute published a report, Opening Access to Scenario Planning Tools, recommending several actions to help expand the use of these tools, including establishing better data standards, providing for public education and technical training, creating a model scenario planning process, and improving interoperability between platforms through the use of open-source software development practices.
The report coincided with the launch of an online clearinghouse, ScenarioPlanningTools.org, to bring researchers, planners, and software developers together under the banner of the Open Planning Tools Group.
As one example of how this group is helping to advance planning tools and technology, software developers have added several new tools to Envision Tomorrow, which lets planners and the public test different strategies for shaping the ideal urban community. New features include real-time feasibility modeling for redevelopment, a fiscal impact tool, and cloud-based scenario creation.
The Lincoln Institute has announced it will support four new proposals to further develop and improve scenario planning tools:
From Social Vulnerability and Neighborhood Effects to Planning Knowledge: Tools for Considering Social Equity in Scenario Planning: This project, led by Robert Goodspeed of the University of Michigan, will create tools to investigate which populations might be vulnerable to planned change, the demographic profile and anticipated well-being of residents for each scenario, and what effects a given scenario will have on the residents of surrounding areas.
Alpaca: An Economic Evaluation Plug-In for Scenario Planning Tools: This project, led by Colby Brown of Manhan Group LLC, will create an open software library that will calculate property prices and values as a result of the interaction between competing consumers in the real estate market, enabling the computation of more robust economic indicators to address topics such as housing affordability, fiscal effects, income inequality, and gentrification.
Open Vulnerability Mapper: This project, led by Bev Wilson and Arnab Chakraborty of the University of Illinois at Urbana-Champaign, will support better planning for climate change through an open source tool to map where the most vulnerable people live and where the most hazardous places are. The mapper will be developed for the Chicago area, with a toolkit for adapting it to other places.
Scenario Tools for Equitable Corridor Reinvestment and Affordable Housing Preservation: This project, led by Elizabeth Mueller of the University of Texas at Austin and Jennifer Minner of Cornell University, will build on a metric developed for Austin, Texas, which helps cities identify areas most vulnerable to displacement from infill development, where preservation is urgent. It is intended to help replicate this tool in other fast-growing cities, with integration into a widely used scenario planning tool known as ET+.
These projects support the Lincoln Institute's goal of fostering better planning practices to address major social challenges such as climate adaptation, housing affordability and inequality. In the coming months and years, the Lincoln Institute will mobilize new research and development to further advance tools that address these challenges and others, such as water resource allocation.
Odds & Ends
Senior Fellow Armando Carbonell and report author Rick Jacobus extol the virtues of inclusionary housing ... Senior Research Associate Enrique Silva helped inform the United Nations Habitat III agenda in Cuenca, Ecuador ... Daphne Kenyon, Sally Powers, Richard England, and Adam Langley presented at the annual conference of the International Association of Assessing Officers in Indianapolis, on topics ranging from use value assessment to the homestead exemption to caps on the property tax ... How Boston's new frontier, the Seaport, falls short of being a true (and affordable) neighborhood ... A video of George W. "Mac" McCarthy on using value capture to finance badly needed urban infrastructure, at Meeting of the Minds last month; also from that convening, the view from space ... From our current issue of Land Lines: The Super Ditch: Can Water Become a Cash Crop in the West? ... This month's highlighted Working Paper: Transboundary Conservation Governance by Matthew McKinney.
— ANTHONY FLINT, Lincoln Institute of Land Policy