Monitoring Urban Expansion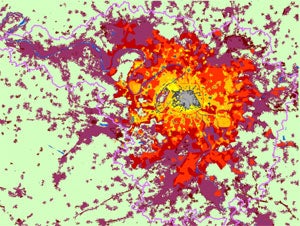 Preliminary findings of a multi-year initiative to monitor urban expansion worldwide, shared at a global cities summit at the Venice Biennale earlier this month, reveal that unplanned human settlement is consuming land at an alarming rate. The expanding footprint of sprawling cities, primarily informal shantytowns at the outer fringe, is characterized by a lack of arterial grids, unwieldy block sizes, and inadequate open space.
The analysis was part of a preview of the revised and expanded Atlas of Urban Expansion, a partnership of UN-Habitat, the New York University Urban Expansion Program, and the Lincoln Institute of Land Policy. The research project will provide extensive information about the world's fast-growing cities through satellite imagery, complemented by survey analysis of the quantity and quality of urban growth, housing affordability, and the impact of regulations.
The aim is to establish a scientific understanding of how the world's cities are growing, and to measure performance and identify trends in the implementation of the New Urban Agenda following the Habitat III global cities summit in Quito, Ecuador this October.
In a presentation titled "The Case for Planning" at the Urban Age Shaping Cities conference at the Biennale, UN-Habitat executive director Joan Clos said that a preliminary analysis of a representative sample of 200 cities showed a pervasive lack of urban planning in fast-growing metropolitan areas struggling to accommodate millions of mostly poor rural migrants. The unplanned and unfettered growth is bad for the environment, increases the cost of delivering basic services, and hinders economic activity and food security, he said.
Shlomo "Solly" Angel, a professor and senior research scholar at NYU, said that cities are growing upwards and outwards, and the amount of outward expansion, or "urban extent," is typically underestimated. For example, in 2000, the built-up area of Zhengzhou, China was 286 square kilometers, and the master plan approved in 2009 called for its built-up area to reach 400 square kilometers by 2020. But in fact, the city reached 612 square kilometers by 2015.
The Atlas of Urban Expansion will be an open-source online resource with maps, images, and data on spatial changes that have taken place in cities of the world during the last 25 years with the aim of helping cities make realistic plans in preparing for their future expansion.
The centerpiece will be the global sample of 200 cities, showing growth from 1990 and 2015, a period when the area occupied by cities in more developed countries increased by a factor of 1.8, and in less developed countries increased by a factor of 3.5. If that rate continues, the total amount of land taken over by urban land use would be equivalent to the entire country of India.
The sample represents the universe of all 4,231 cities and metropolitan areas that had 100,000 people or more in 2010.
In the weeks leading to Habitat III in Quito, UN-Habitat, NYU, and the Lincoln Institute plan to release additional analysis, including an examination of the pervasive shortage of safe, decent, and affordable housing, and the impact of regulatory regimes in shaping the observed patterns of urban growth. The goal is to have the new Atlas of Urban Expansion become an evolving, open-source tool to monitor global urbanization for many years to come. Read the full story here.
Implementing the New Urban Agenda
The Atlas of Urban Expansion was also at center stage at a roundtable organized by the Lincoln Institute – After Quito: Implementation of the New Urban Agenda Following Habitat III – at the U.S. Department of Housing and Urban Development in Washington, D.C. July 11. The analytical methods used in the Atlas will be useful in monitoring urbanization after Habitat III, but will need to be complemented with other data, said Alex Blei from NYU, who presented on the project.
Also at the event, the Lincoln Institute's Lourdes Germán showed how another forthcoming tool, the Municipal Fiscal Health Dashboard, could help monitor implementation of the New Urban Agenda, by keeping tabs on the financial condition of local governments and their ability to provide infrastructure and basic goods and services to growing populations. The dashboard will provide data visualizations for more than 120 categories of revenues, expenditures, debt, and assets for 150 U.S. cities (the Institute is also collaborating separately with UN-Habitat on a global fiscal database). These databases are part of the Lincoln Institute's campaign to promote municipal fiscal health and build the capacity of local governments.
"People forget that municipal finance pays for everything," Germán said. "It pays for your road, it pays for your child's school."
Blei and Germán were joined by a panel of experts including Amy Liu of the Brookings Institution, Solomon Greene of the Urban Institute, Carey Biron of Citiscope, Frank Shafroth of George Mason University and Armando Carbonell, chair of the Lincoln Institute's Department of Planning and Urban Form. Lincoln Institute President and CEO George W. "Mac" McCarthy and HUD Deputy Assistant Secretary Salin Geevarghese introduced and concluded the roundtable.
"How we urbanize – and whether we urbanize well – is going to determine whether or not we find a way to achieve sustainable life on this planet," McCarthy said. The final dialogue in the run-up to Habitat III was co-hosted by the Wilson Center and Citiscope. Read the full story here.
Dealing with Disaster
New research published by the Lincoln Institute shows how metropolitan regions can rebuild for greater resilience after major disasters, whether earthquakes, tsunamis, hurricanes, or terrorists attacks. After Great Disasters: How Six Countries Managed Community Recovery, by Laurie Johnson and Robert Olshansky, draws on the authors' unrivaled experience chasing disasters around the world, playing an advisory role in recovery efforts, and learning how to plan for natural disasters so the recovery process leaves communities in better condition than they were before disaster struck.
The report identifies lessons from six countries recovering from major disasters: the 2008 Wenchuan earthquake in China; the 2010 and 2011 Canterbury earthquakes in New Zealand; the 1995 Kobe earthquake and 2011 Tohoku earthquake and tsunami in Japan; the 2001 Gujarat earthquake in India; the 2004 Sumatra earthquake and tsunami in Indonesia; and the September 11, 2001 terrorist attack in lower Manhattan, 2005 Hurricanes Katrina and Rita, and 2012 Hurricane Sandy in the United States. Each of these governments faced considerable uncertainty and had to balance the tensions between speed and deliberation, and between restoration and betterment.
The need to adjust disaster recovery protocols has long been apparent, and was highlighted recently by former Homeland Security assistant secretary Juliette Kayyem in this op-ed essay in The Boston Globe.
Over the years, Johnson and Olshansky have coauthored several publications, including Opportunity in Chaos: Rebuilding After the 1994 Northridge and 1995 Kobe Earthquakes and Clear as Mud: Planning for the Rebuilding of New Orleans. They were interviewed for this faculty profile in the April 2016 issue of Land Lines.
After Great Disasters: How Six Countries Managed Community Recovery is part of a series of publications focused on planning for and recovering from extreme weather events induced by climate change: Lessons from Sandy, Resilient Coastal City Regions, a report set to be released next month, Buy-in for Buyouts, and the related forthcoming book Nature and Cities: The Ecological Imperative in Urban Planning and Design. Read the full story here.
Odds & Ends
We were delighted to be part of the New York Times Cities for Tomorrow conference last week ... Senior research associate Enrique Silva is in Surayaba, Indonesia for PrepCom3, the final convening before Habitat III in Ecuador in October ... Property values and transit are inextricably linked ... The first set of videos produced by the Program on Latin American and the Caribbean, Informational Series on Urban Land Policy (Serie de tutoriales sobre políticas de suelo urbano), is available for viewing ... This month's highlighted Working Paper: The Political Economy of Voter Support for School Property Taxation, by Lindsay Amiel, Jared Knowles, and Andrew Reschovsky.
— ANTHONY FLINT & WILL JASON, Lincoln Institute of Land Policy