Cities on the brink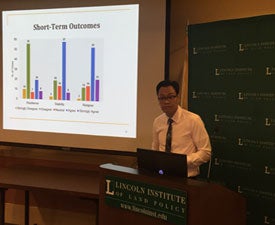 Long after the end of the Great Recession, most cities say they are still on the brink of crisis and are relying on cutting expenditures over revenue-raising approaches to make ends meet, according to the results of an ambitious customized survey of cities shared recently at Lincoln House by Northeastern University political science professor Benedict S. Jimenez.
Faced with limited data on city finances – Comprehensive Annual Financial Reports (CAFRs) require a Freedom of Information Act request, and even then they are not standardized - Jimenez created his survey to measure cities' fiscal conditions and response to fiscal stress. Targeting appointed managers and budget or finance directors in 674 cities with a population of 50,000 or more, he received 268 responses.
The results paint a harsh picture of city finances: 42% reported that spending is growing faster than revenues; 36% reported increasing spending for current benefits; 35% cited dependence on fewer resources; 34% noted the further constraint of tax limits; and 29% were dealing with increased spending on post-employment benefits.
Most cities are relying on piecemeal strategies to stay away from insolvency; almost two-thirds of respondents said they were leaving vacant positions unfilled, freezing hiring or salaries, and cutting professional development and almost one-third reported deferring capital projects and maintenance projects. On the revenue side, cities are relying on increased user fees – something Lincoln Institute researchers have also found, analyzing budgets in the Fiscally Standardized Cities database. Much less common was trying to increase the property tax rate and expand the property tax base, or increase the sales tax.
While economic cycles, and the Great Recession in particular, have great impact, cities report long-term structural issues that make fiscal stress the "new normal" for most. Overall, 7 out of 10 cities reported that they are on the precipice of another budget crisis – and don't expect that feeling to change in the next five years.
This lecture was the first in the 2015-2016 series as part of the campaign of the Lincoln Institute to promote municipal fiscal health. (Among many other initiatives, we're working on a new dashboard that will allow cities to share and compare data on local public finance). The lecture can be viewed in its entirety here.
Twitter's promise in planning
With the rapid adoption of social media, some researchers see a new opportunity to measure public sentiment and well-being in a more rapid, cost-effective, and targeted way.
In a new Lincoln Institute working paper, authors Justin Hollander of Tufts University and Henry Renski of the University of Massachusetts use Twitter data and the AFINN sentiment dictionary to compare public attitudes in 50 shrinking, mostly postindustrial cities with those in 50 stable, growing cities. They found no significant difference in the attitudes of resident in shrinking cities and growing cities.
"The research has important implications for public policy," Hollander and Renski write in the paper, Measuring Urban Attitudes Using Twitter: An Exploratory Study. "It suggests that population decline itself may not contribute to lower overall sentiment levels, which means local, state, and federal agencies ought to better explore how decline does impact neighborhoods and overall community well-being."
This type of research comes with caveats, such as the difficulty of distilling human language down to numerical scores, and the skewed sample represented by Twitter users, who are more likely to be young and male, with greater access to smartphones and computers. But more traditional data also has limitations.
Social media also has its advantages, from the timeliness and sheer quantity of the data – unmatched by even the most thorough surveys – to the availability of precise geographic targeting.
The authors plan to continue their research, partnering with a linguist to refine their interpretation of language. Next up is a study for the New York City Department of Design and Construction to explore the sentiments of people who live and work near public buildings and plazas.
Financing sustainable urban development
With cities poised to absorb all of the world's population growth in the next few decades, sustainable urban development will only be possible with more robust systems for generating, spending and managing local government funds.
That's the message of a new United Nations policy framework, drafted by the Lincoln Institute in partnership with the World Bank and 19 international experts.
The Draft Policy Paper Framework for Municipal Finance and Local Fiscal Systems lays out challenges, priorities and strategies for strengthening local government finances. Its recommendations include increasing collaboration between multiple levels of government, establishing and strengthening local revenue sources, reforming government grant processes, building the capacity of local governments to carry out sound financial management, and laying the regulatory and institutional groundwork needed to expand access to capital markets.
As part of a campaign to promote municipal fiscal health, the Lincoln Institute is working closely with the United Nations and stakeholders in preparation for Habitat III, a UN conference in October in Quito, Ecuador, where member states will adopt a New Urban Agenda for sustainable urban development.
The Lincoln Institute and World Bank are working this week to fine-tune the municipal finance framework, which will be transformed into a policy paper that will inform the New Urban Agenda.
The Lincoln Institute is co-leading a group of experts focused on municipal finance – one of ten "policy units" organized around different issues – and contributing to the Urban Spatial Strategies policy unit. The Institute also plays a leading role in the General Assembly of Partners, a platform for non-governmental engagement, and has engaged in many other Habitat III activities, including the second UN Preparatory Committee meeting in Nairobi, Kenya the Urban Thinkers Campus and Urban Journalism Academy in New York City, the Thematic Conference on Intermediate Cities in Cuenca, Ecuador, and expert group meetings on Land Based Finance and New Legal Frameworks in Barcelona, Spain.
Odds & Ends
Greg LeRoy of Good Jobs First will talk about tax breaks at Lincoln House as incentives for the relocation of General Electric to Boston remain in the news (Adam Langley cautions against precedent) ... Bernie Sanders championed affordable housing through community land trusts, reports Slate, citing our study of CLTs ... Ten years after Boston's Big Dig, a reflection and conversation about costs, benefits and missed opportunities ... Flint's water crisis reveals what can happen without proper stewardship of basic infrastructure and services ... The video of our TED talk on value capture is out ... Fellow Lourdes Germán was named by Massachusetts Governor Charlie Baker to be chair of the State Finance and Governance Board ... This month's highlighted Working Paper: Do Inclusionary Housing Policies Promote Housing Affordability? Evidence from the Palmer Decision in California by Ann Hollingshead.
— ANTHONY FLINT, Lincoln Institute of Land Policy