Infusion on infrastructure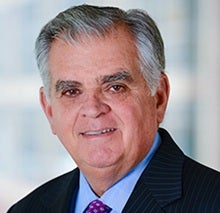 From Former US Transportation Secretary Ray LaHood, a leading advocate for infrastructure investment as co-chair of Building America's Future, and Mimi Brown, until last year the Commissioner of Rating and Valuation for the Government of Hong Kong, have joined the Board of Directors for the Lincoln Institute of Land Policy.
"We welcome Ray LaHood and applaud his leadership in transportation and infrastructure, which are critical components of our work in global urbanization, sustainable cities, and land policy," said Kathryn J. Lincoln, chair of the board and chief investment officer for the Lincoln Institute. "Mimi Brown's expertise and experience in the property tax and valuation will further enhance our global reach."
President Obama cited the need to better plan and finance in infrastructure earlier this week in the State of the Union address.
LaHood, who served from 1995-2009 in the U.S. House of Representatives from the 18th District of Illinois, was transportation secretary from 2009 to 2013 under President Obama, overseeing an agency with more than 55,000 employees and a $70 billion budget in charge of air, maritime and surface transportation. His tenure as secretary was marked by landmark efforts to improve safety in every mode of transportation, new fuel efficiency requirements, and improvements to America's infrastructure, including building or replacing 350,000 miles of highway, repairing 20,000 bridges, and renewing or constructing 6,000 miles of rail track.
As a lifelong Republican, LaHood worked across party lines and frequently reminded partisans that, "there is no such thing as a Democratic road or a Republican bridge." He joined Building America's Future - a bipartisan coalition of elected officials dedicated to bringing about a new era of U.S. investment in infrastructure - as a co-chair in January of 2014. Founded by former Governor Edward Rendell of Pennsylvania, former Governor Arnold Schwarzenegger of California and former Mayor Michael Bloomberg of New York, BAF boasts a politically diverse membership of state and local elected officials from across the nation. BAF is currently co-chaired by LaHood, Bloomberg, and Rendell. LaHood is also a senior policy advisor at the global law firm DLA Piper.
Mimi Brown qualified as a Chartered Surveyor in 1979. She is a member of the Royal Institution of Chartered Surveyors and is a Fellow of the Hong Kong Institute of Surveyors, which she helped form nearly 30 years ago. She is a member of the Board of Advisors of the International Property Tax Institute and a member of the International Association of Assessing Officers Special Committee on International Outreach.
She began her career at Gerald Eve & Co. in London and joined the Hong Kong government in 1977. Throughout her career with the Hong Kong SAR Government, she amassed extensive experience not only in the field of rating and valuation work but also in public policy formulation and administration. From 1995 to 2000, she worked in the Government Property Agency and was responsible for the portfolio management of all non-specialized government properties situated locally and overseas. She retired in 2014 from her post as the Commissioner of Rating and Valuation.
The other members of the Lincoln Institute board include former Interior secretary and Arizona governor Bruce Babbitt; Roy Bahl, Regents Professor of Economics, Emeritus, at Georgia State University; Carolina Barco, former ambassador of Colombia to the United States; Thomas M. Becker, president of The Chautauqua Institution; Raphael Bostic, director of the Bedrosian Center on Governance and the Public Enterprise at the University of Southern California; Anthony Coyne, president of Mansour, Gavin, LPA in Cleveland; Alberto Harth, president of Civitas in San Salvador, El Salvador; George W. McCarthy, president and CEO of the Lincoln Institute of Land Policy; Bruce Lincoln, president of Innervizion Surf Company in Chandler, Arizona; David C. Lincoln, president of VIKA Corp. and chairman of the Lincoln Laser Company; John G. Lincoln III, former senior engineer at CH2M-Hill in Boise, Idaho; Johannes F. Linn, a resident senior scholar at the Emerging Markets Forum in Washington, D.C.; Thomas Nechyba, professor of economics and public policy studies at Duke University; Kenneth T.W. Pang, adjunct professor at the Hong Kong Polytechnic University; Jill Schurtz, Executive Director, St. Paul Teachers' Retirement Fund Association, in St. Paul, Minn., and Andrea L. Taylor, former director of citizenship and public affairs, North America, Microsoft Corporation.
The Lincoln Institute of Land Policy is the leading resource for key issues concerning the use, regulation, and taxation of land. Providing high-quality education and research, the Institute strives to improve public dialogue and decisions about land policy.
Joining the World Urban Campaign
The Lincoln Institute has joined the World Urban Campaign, the advocacy and partnership platform for cities in the twenty first century, as an associate partner. The goal of the World Urban Campaign, coordinated by UN-Habitat and driven by a large number of committed partners from around the world, is to place the urban agenda at the highest level in development policies. The engagement of the Lincoln Institute comes as part of the run-up to the United Nations Conference on Housing and Sustainable Urban Development (Habitat III), to be held in Quito, Ecuador in 2016.
Habitat III will take place 40 years after the first conference on human settlements, Habitat I, was held in Vancouver, and the world's urban and housing challenges were first internationally recognized. Twenty years later, in 1996 in Istanbul, Habitat II served as the place of negotiation on future policies for sustainable urban development. The Habitat III conference will address sustainable urbanization and the future of urban spaces. It also will serve as an opportunity to assess the state of global cities, to develop solutions, and to revisit our shared urban future.
The Lincoln Institute, an active participant over the last several years in UN-HABITAT's World Urban Forum, brings to the conversation several critical components of the agenda, including the tracking of real-time growth in metropolitan areas in the updated Atlas of Urban Expansion; the importance of land policy in the many challenges posed by irregular or informal settlement; best practices and available policies and tools including value capture, to support municipal fiscal health and finance urban infrastructure; and current strategies in permanently affordable housing including inclusionary housing and community land trusts. The Lincoln Institute is also active in facilitating the coverage of global urban issues through the Journalists Academy and other efforts, and is organizing a pre-summit gathering later this year of affiliated academic and research organizations.
Habitat III is in keeping with the view that while cities are at the heart of today's global crisis, they are also the source of solutions for a sustainable future. The World Urban Campaign is guided by seven key principles:
Accessible and pro-poor land, infrastructure, services, mobility and housing;
Socially inclusive, gender sensitive, healthy and safe development;Environmentally sound and carbon-efficient built environment;
Participatory planning and decision making;
Vibrant and competitive local economies promoting decent work and livelihoods;
Assurance of non-discrimination and equal rights to the city; and
Empowering cities and communities to plan for and effectively manage adversity and change.
The World Urban Campaign also includes the advocacy initiative titled "I'm a City Changer", aimed at raising awareness about positive urban change by engaging citizens in voicing issues and solutions to change their urban communities, and to achieve green, productive, safe, healthy, inclusive, and well-planned cities.
Rethinking tax breaks
Property tax incentives are used by local governments around the country to try to attract new business investment to their communities. The incentives can reduce property taxes flowing to local governments by millions of dollars, but there is often very little - if any - public disclosure of the terms of these deals. That lack of transparency could soon change in a major way, if a proposal by the Governmental Accounting Standards Board is adopted.
GASB's proposed guidelines would require state and local governments to disclose information on the number of tax abatement agreements they have in place and the total dollar amount of taxes abated in the current year. The guidelines would not require disclosure of the names of recipients.
Publicly available information on tax abatements would bring much needed transparency to the debate about property tax incentives. One of the main recommendations in the Lincoln Institute Policy Focus Report Rethinking Property Tax Incentives for Business is for state and local governments to publish information on incentives and conduct assessments. To date, very few governments have actually provided this information, so the GASB guidelines could be a game-changer. Good Jobs First has put together a massive database called the Subsidy Tracker, with information on over 250,000 business incentives, yet still the database is not comprehensive. The breadth of information that would result from the GASB guidelines would make it much easier for researchers to evaluate the effectiveness of property tax incentives to determine whether they are achieving their objective.
"We believe the data resulting from this new rule will create vast new bodies of scholarship in state and local finance, tax policy, government transparency, economic development, regionalism and sprawl, public education finance, and campaign finance," says Good Jobs First director Greg LeRoy.
Rethinking Property Tax Incentives for Business identified five types of property tax incentives: general property tax abatement programs, firm-specific tax abatements, tax increment financing (TIF), enterprise zones, and payments in lieu of taxes for business (PILOTs). The GASB guidelines might not extend to cover all five types of property tax incentives. In contrast, the Lincoln Institute report recommended improved disclosure for all types of property tax incentives, including TIF and especially PILOTs since they are the type of incentive for which there is the least data.
The campaign for transparency was covered recently by Next City. Instructions for those interested in commenting to the GASB now through January 30 are here.
Odds & Ends
Legislators and think tank executives from around New England are coming together beginning today at the Lincoln Institute for Economic Perspectives, put on each year to consider the landscape of state and local taxes ... Next week it's on to Baltimore for New Partners for Smart Growth, where Alan Mallach, co-author of the report Regenerating America's Legacy Cities, senior fellow Armando Carbonell and others will address equity in revitalization ... Lincoln Institute in the news: Joan Youngman provided context about the dynamics of assessments and the property tax in this Associated Press dispatch out of North Carolina; our work on payments in lieu of taxes was cited in this unflinching explainer of PILOTs; Lincoln Institute President George W. McCarthy was quoted in an analysis of Baltimore's inclusionary housing policy implementation in The Baltimore Sun; and our perspective was sought in a preview of Boston's planning and development agency under new leadership in the Boston Globe ... Arizona's Latino community is especially vulnerable to climate change impacts, according to new research by our partners at the Sonoran Institute ... This month's highlighted working paper: Community Land Trusts and Limited Equity Cooperatives: A Marriage of Affordable Homeownership Models? by Meagan M. Ehlenz.
— ANTHONY FLINT, Lincoln Institute of Land Policy