Enhancing the ebook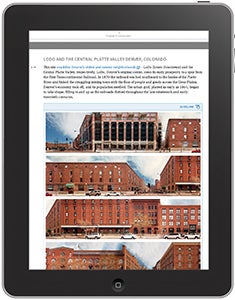 In a continuing effort at the frontier of electronic publishing, the Lincoln Institute is now offering its bestselling title, Made for Walking: Density and Neighborhood Form, as an enhanced ebook on the Inkling platform. A sample chapter is available for free viewing here.
Inkling is renowned for uniting the latest enhanced ebook technology with the most fluid design in the medium, which is particularly compelling for the subjects of urban planning and urban design, said Maureen Clarke, director of Publications at the Lincoln Institute of Land Policy.
"Made for Walking has been especially popular with students and other millennial generation readers, who eschew cars and prefer to live in compact, walkable environments. We hope to compel more of them in the digital space with this state-of-the-art product in epub3, which renders beautifully across a wide range of mobile devices and browsers," said Clarke.
Through self-guided tours, peel-away scale maps, scrollable panoramas, and photo slideshows, readers can explore walkable neighborhoods and other elements of cities where residents can live comfortably without a car. The ebook also includes a five-minute educational video about urban walkability as exemplified by Davis Square in Somerville, Massachusetts.
Made for Walking: Density and Neighborhood Form, by landscape architect and urban designer Julie Campoli, is ideal for coursework, and Inkling content is search-enabled and shareable via social media. Using Twitter or Facebook, readers can raise questions and exchange notes in the virtual margins and share interactive segments with anyone in their social networks.
"The interactive Inkling format affords users a more immersive experience of the walkable neighborhoods captured by Campoli's street-level photographs and panoramas," said Clarke.
The Made for Walking Inkling edition is available for iPad, iPhone, as well as other mobile devices, Macs and PCs via the Web reader. A free sample includes the video and a portion of chapter 4, which showcases 12 walkable neighborhoods in the U.S. and Canada. Most web browsers allow direct access to the sample, but for the best experience on mobile, users should create an Inkling log-in to download and explore the free content on their phones or tablets. Users can purchase the book or individual chapters through a link on the Lincoln Institute website.
Made for Walking became the Lincoln Institute's bestselling title after its publication in December 2012. The book is a guide to the essential ingredients of walkable districts, examining how urban form influences travel behavior and neighborhood vitality. Julie Campoli builds on the "five Ds" of transit-oriented, mixed-use, pedestrian-friendly urban areas: Together with the element of parking, the Ds have evolved into a handy device for defining and measuring compact form and its influence on travel and vehicle miles traveled (VMT).
Julie Campoli, principal at Terra Firma Design in Burlington, Vermont, looked at 12 pedestrian-friendly urban neighborhoods in the United States and Canada, from Green Point in Brooklyn, New York to LoDo and the Central Platte Valley in Denver, Colorado.
At New Partners for Smart Growth
Some 1,100 planners, elected officials and others braved winter weather across the country and gathered in Denver last week for the 13th annual New Partners for Smart Growth conference. The first two days included sessions on topics that the Lincoln Institute has been immersed in of late: Legacy Cities and zombie subdivisions. The use of technology in planning and citizen engagement was a highlight as well.
Alan Mallach, co-author with Lavea Brachman of the Policy Focus Report Regenerating America's Legacy Cities, presented on the challenges facing Baltimore, Camden, Flint, Detroit, and Youngstown, among many other urban areas once referred to as "shrinking cities," due to massive population loss accompanying disappearing manufacturing base. Amid the many grim scenarios and vast acres of vacant lots and abandoned buildings, Mallach said, there are almost as many success stories. He singled out the Over-the-Rhine neighborhood in Cincinnati and Washington Avenue in St. Louis, where historic garment district buildings have been renovated and re-used, and underscored the importance of making the most of existing urban fabric in downtowns. So-called "eds and meds" - colleges and medical centers - continue to be vital economic engines and job providers in many Legacy Cities, he said. The critical question is whether all residents can share in economic regeneration, beyond neighborhoods that are improving or gentrifying. A roundtable on Legacy Cities with a number of presented and former mayors is planned for May at the Lincoln Institute.
Jim Holway, lead author of Arrested Developments: Combating Zombie Subdivisions and Other Excess Entitlements, led a workshop detailing the different methods communities can use to reconfigure vast acres of incomplete -and in many cases, largely empty -residential developments. The session, which included co-authors Anna Trentadue, program director of Valley Advocates for Responsible Development, and Don Elliot, Denver-based director of Clarion Associates, focused on strategies to reconfigure zombie subdivisions and prevent the phenomenon from occurring so intensely in the future. In trying to "kill, prevent or reincarnate"these subdivisions, local planners can reconfigure, replat, and even vacate subdivisions, and in the future put time limits on development agreements, require realistic market feasibility studies, infrastructure up front, and building in phases. Communities faced with extensive tracts of land where there are empty streets and vacant lots -12 to 66 percent of all lots in eight states in the Intermountain West, the report found -are concerned that "this is going to happen again,"said Linda Dannenberger, planning director for Mesa County, Colorado. The temptation for quick profits, seen in the run-up to the 2008 housing bust, "is just human nature," she said.
Another big event at New Partners was the announcement of winners of the inaugural Innovation Awards put on by the Open Planning Tools Group, the network of innovators originally convened by the Lincoln Institute in association with the publication of the report, Opening Access to Scenario Planning Tools. The awards, designed as a way to recognize significant contributions in planning tools technology, went to Forest Planner by Ecotrust, where forest managers can map properties, prepare forest management scenarios, and evaluate the results based on key indicators of forest production and health. Forest Planner connects science to decision-making using a system developed in collaboration with Oregon State University Extension foresters. Previously, analytics of this type were available only through the use of expensive and complicated software. Forest Planner's web-based interface makes complex data accessible to land owners and other decision-makers. Using open source software further opens up the access to this tool to new audiences, brings together years of forest and conservation modeling with tool development in the open source Madrona framework.
The other winner was the Metropolitan Area Planning Council's Massachusetts Priority Mapping Protocol, which creates a framework for using civic engagement and data-driven technology to identify priority areas for housing and economic development in Massachusetts. It exemplifies the Open Planning Tool Group's linked goals of advancing the use of open access and open source tools to improve planning decisions through engagement with the public, providing improved analytics and information to decision makers, and supporting the use of scenario planning practices in policy development. In the two projects where it has been used, 80 public meetings allowed participants learn about the complex factors that shape their community, and more importantly to share information with and learn from each other. The innovative use of geospatial tools like Community Viz allowed technical staff to gather public feedback that provides significantly more precise, and thus useful, guidance for future policy decisions. The Priority Mapping Protocol was implemented in collaboration with the State's Executive Office of Housing and Economic Development and the South East Regional Planning and Economic Development District; the tools developed to support the protocol are available to any region in Massachusetts and include a library of supporting data and guidance for the inclusion of locally sourced information.
Conservation around the globe
Land conservation is catching on all around the world, but remarkably, most international non-governmental organizations are working without the advantage of the financial and tax incentives that have powered the American land trust movement. So says Peter Stein, principal at The Lyme Timber Co. and a Kingsbury Browne Fellow at the Lincoln Institute, who kicked off the 2014 spring lecture series earlier this month.
In a wide-ranging survey of international conservation efforts, Stein shared research on private land conserving efforts across the globe and highlighted select examples of individual NGO action and networked associations. Stein looked at activity in more than 35 countries, many of them relying on growing information networks of NGO practitioners, from New Zealand to Chile. He also reflected on his personal experience as one of the many architects of the U.S. land trust movement over the past 35 years, and the potential for establishing an international network.
Beginning in Massachusetts with the Trustees of Reservations in 1891 and continuing with the Audubon Society in 1896, permanent land protection on a regional basis by non-profit organizations got a big boost in the second half of the 20th century with the advent of tax-deductible conservation easements. As transactions increased, Boston attorney Kingsbury Browne first had the idea of coordination at the national overview. He convened a group of conservation specialists in 1981 at the Lincoln Institute, which ultimately turned into the Land Trust Alliance. Today there are more than 1,700 local and regional land trusts in the U.S. as well as two dozen national organizations, that have collectively protected more than 47 million acres of land.
Worldwide, 74 countries have NGOs dealing in some way with private land conservation, Stein said. But the notion of permanent land protection is quite different in most other countries, outside of the United Kingdom and Australia, he said. More common are stewardship agreements, short-term leases, as well as some easements, though they tend not to be permanent. "In many countries, nobody is allowed to own land in perpetuity,"not just a land trust, he said.
Following up on the lecture as a respondent, Laura Johnson, immediate past president of the Mass Audubon, noted that easements "changed the game"in terms of common property law in the U.S., and that conservation unquestionably accelerated thanks to favorable tax treatment.
Also this month on the subject, a working paper by Harvey Jacobs has been posted, Conservation Easements in the U.S.and Abroad.
Detroit's bankruptcy and the property tax
Anyone concerned about cities is closely following Detroit's struggle to emerge from bankruptcy. Civic leaders unveiled a path to solvency last week. While there are many causes and circumstances that have contributed to dire fiscal conditions in Detroit, the erosion of the property tax base is and will continue to be critical. A number of factors have led to significant tax base erosion: regional economic decline, policies, tax delinquency and tax foreclosure.
Mark Skidmore, professor of economics at Michigan State University and a visiting fellow at the Lincoln Institute, will address recent developments in Detroit, in Detroit Bankruptcy and the Eroding Property Tax Base, the next in the Lincoln Institute's spring lecture series. Skidmore, who researches urban and regional economics, state and local government tax policy, intergovernmental relations, the interrelationship between public sector decisions and economic activity, and the economics of natural disasters, will consider important changes that could improve Detroit's overall economic and fiscal health as the city emerges from bankruptcy. An interview with Skidmore, who is also co-editor of the Journal of Urban Affairs, appears in the January issue of Land Lines.
Odds & Ends
Cities lead the way in C40 climate action, says Michael Bloomberg ... New York has become too expensive, even for David Byrne ... In tussle over TIFs, Lincoln Institute-affiliated researchers cited ... Washington Avenue in St. Louis becomes a corridor of regeneration ... Rethinking the parking garage in Long Island ... This month's highlighted working paper: Metropolitan Land Values and Housing Productivity, by David Albouy and Gabriel Ehrlich.
— ANTHONY FLINT, Lincoln Institute of Land Policy