For journalists, confronting equity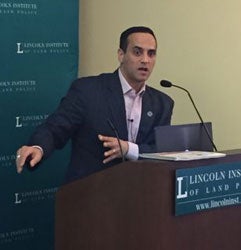 The growing problem of inequality in cities was the central theme of the annual Journalists Forum on Land and the Built Environment, held last month at the Lincoln Institute of Land Policy, Harvard University's Graduate School of Design, and the Nieman Foundation for Journalism at Harvard University. Some 40 leading writers and editors and Nieman Fellows gathered for the two-day forum.
Cities in the U.S. and all around the world are confronting gentrification and the widening gap between rich and poor, and mobilizing to bring greater equity through better policies in jobs, affordable housing, transportation infrastructure, parks and public space, and more meaningful civic engagement.
The extent of the problem was illustrated vividly by Edward G. Goetz, professor at the Humphrey School of Public Affairs at the University of Minnesota, who shared research on "Racially Concentrated Areas of Affluence," where segments of the population in metropolitan areas are more than 90 percent white, with incomes four times the poverty level. The concentration of wealth showed up as polycentric swaths of red on maps of cities from San Francisco to Boston – the flip side of the American urban inequality narrative highlighting disadvantaged neighborhoods. These areas are effectively being subsidized - at an astonishing rate up to three times greater than in poor neighborhoods - by such policies as the home mortgage interest deduction, Goetz said. Coverage of the findings appeared in The Atlantic, Next City, and The Washington Post.
Social equity presents special challenges for political leadership, and four speakers at the forefront led probing conversations with the journalists. Joseph Curtatone, the mayor of Somerville – described as the "Brooklyn of Boston" due to rising prices - called for a more regional approach to planning and economic development to "unwind the mistakes of the past and plan for the future." More balanced growth can be achieved through value capture, affordable housing policies, and community benefit agreements, especially at transit-oriented development at the stations along the planned extension of the Green Line. But he said the city is also "embracing density," in industrial areas transitioning to mixed-use development.
Mitchell Silver, the New York City parks commissioner, said the community parks initiative emphasized fairness and equity in the distribution of capital investments in what he argued was a vital component of infrastructure in any city. The parks department is also trying to work smarter and more efficiently, he said, with mobile maintenance crews and money-saving innovations in playground design.
As a researcher and legal activist, Stephanie Pollack agitated for a public transportation system that better served the low-income people who needed it most. Then newly elected Massachusetts Governor Charlie Baker appointed her secretary of transportation – just in time for a crippling winter that exposed the many shortcomings of the MBTA. When the T was forced to shut down, "that was the day employers found out how their workers got to work," she said. While the financing of the system remains a priority, Pollack said she was open to cost-effective solutions wherever they may be. For late night service, the T spends $7.50 per trip. "I could give people cash to take Uber home," she said. "If Bridge and Uber can get more people where they need to go – and affordably – then we absolutely should be embracing that conversation."
Finally, Christine Quinn, former speaker of the New York City Council and now a fellow at the Kennedy School, shared her rough-and-tumble experiences trying to bring balance to New York's red-hot real estate development market, at the evening assembly at the Nieman Foundation's Walter Lippmann House.
In analyzing "the most unequal society we've had since the last gilded age," Chris Benner, professor at the University of California at Davis and a collaborator with Manuel Pastor at Just Growth, said places with more income equality and racial inclusion have a better quality of economic growth, and more stability through boom-and-bust. Growth spells tend to be shorter in metropolitan regions with more political fragmentation, racial segregation, and income inequality, Benner said, citing a recent study he had conducted.
As models for more inclusive growth he cited the Salt Lake City area, Oklahoma City, and Seattle – the latter represented at the Forum by Tony To, executive director of Homesight, whose focus has been "communities of opportunity" bolstered by job training and digital literacy. Deborah Scott from Georgia Stand-Up similarly shared experiences in fighting displacement next to the Atlanta Falcons stadium and otherwise fostering inclusion in major economic development projects.
Monetizing conservation will provide opportunities for land management agencies to pursue conservation options. All state trusts carry the mandate to fund beneficiaries in perpetuity, indicating the need for sustainable land management practices.
Calvin Gladney of Mosaic Urban Partners analyzed the dizzying forces of gentrification in Washington D.C., in the U Street and H Street neighborhoods. "We talk about gentrification as the moment when a white person moves into a black person's house," though income and education level are more clearly identified in shifting demographics.
Mitigating displacement can be achieved through affordable housing requirements and education and assistance, he said, citing the success of Ben's Chili Bowl in adapting retail strategies. "Gentrification harder to survive than the riots," he said. "At the end of the day, it's about participation in this upgrading."
Displacement is a "process of dispossession ... the traumatic stress reaction to loss of part or all of one's emotional ecosystem," said Mindy Fullilove, professor of Clinical Psychiatry and Clinical Sociomedical Sciences at Columbia University, and author of Root Shock. Whether in urban renewal or gentrification, she said, there are few more vivid expressions of inequality than residents of minority communities losing a home – and seeing others thrive in their place.
Addressing design in social equity, Michael Murphy, Mass Design Group, demonstrated how the construction of hospitals can be healthy in every sense, particularly in places like Haiti and Rwanda – good for the local economy in terms of workers and materials, and better for patients with abundant windows and natural ventilation that speeds recovery. "The process of building is being under-leveraged in terms of community health and wellness," he said.
True inclusion requires genuinely listening to a community, said Georgeen Theodore of Interboro Partners, citing effective outreach in the West Market Neighborhood Plan and the Holding Pattern project at MoMA's PS1 courtyard – a collection of recyclable and moveable amenities, from cubes to trees to chess tables, requested by taxi drivers, the elderly, kids, and Teamsters with an office across the street. "Community engagement isn't a checklist – it's an opportunity to tap into the needs of hopes of different people," she said. A similar survey of residents' attitudes towards public space is currently being tested by the J. Max Bond Center on Design for the Just City, led by Toni Griffin. Equity performance measures include feelings of safety, stewardship, and connection.
A resurgence in the locally crafted maker economy and small-scale manufacturing is helping many struggling cities move on from the days of a single large company dominating the economy, said Ilana Preuss, founder of Recast City. Municipalities that set zoning and otherwise support smaller-scale manufacturing at sites such as Greenpoint Manufacturing and Design Center and FirstBuild – sharing space, equipment, tools, and back-end functions – enjoy greater economic diversity and resilience.
On the critical topic of housing, home ownership remains a positive force for household stability, holding a job, getting access to good education, and civic participation, said Roberto G. Quercia, chairman of the Department of City and Regional Planning at the University of North Carolina. But the nation's housing policies are simply "not working," said Emily P. Thaden, Research & Policy Development Manager at the National Community Land Trust Network. Limited-equity housing cooperatives, shared-equity Community Land Trusts, and deed restrictions through inclusionary housing can all achieve more lasting affordability, she said.
New technology has vastly improved the information that can be conveyed through mapping of social vulnerability, said Loyola University professor Robert R.M. Verchick, scholar at the Center for Progressive Reform. From farm workers being affected by drought to low-income residents in the path of hurricanes, the most vulnerable face a future that is "hotter, wetter, drier, and weirder," he said.
Lincoln Institute President George W. "Mac" McCarthy and Omar Blaik, partner at U3 Ventures, pointed out the challenges of implementation as anchor institutions – colleges and universities and medical centers – in theory can be powerful forces for balanced prosperity in cities. They are big employers – in some cities, the biggest – and purchasers of goods and services; but they can be creatures of habit and risk-averse. The Affordable Care Act requires hospitals to do more for the communities where they are located, McCarthy said. Case studies included the University of Pennsylvania in West Philadelphia, Midtown Detroit, and College Park, Maryland.
Looking at the law of urban equity, there are those that both diminish and promote equity, said GSD professor Jerold Kayden. The latter includes the Housing Act of 1949, so-called "right to the city" laws internationally, inclusionary zoning, linkage, affordable housing mandates such as those stemming from the Mount Laurel court decision in New Jersey and Chapter 40-B in Massachusetts, rent control, and living wage laws. Those that diminish equity include exclusionary zoning, minimum lot sizes, and construction requirements that make it harder to build multifamily housing.
In the "Practicing the Craft" sessions, Alex Jones, director of the Shorenstein Center for Media, Politics and Public Policy at Harvard's Kennedy School, said that the problem of inequity has been stubborn in the culture, compared to more rapidly changing attitudes about gay rights, for example. Public awareness of poverty would be helped by greater empathy – including on the part of the generally highly educated media. "The poor live in a different place. They have different lives," he said. Jim Brady, founder of the Philadelphia-based local news site BillyPenn, said that millennials yearn for civic engagement, and want to follow up on major themes in the news, whether about gentrification or charter schools or the death penalty. "They want to be in real, physical conversations," he said.
In the concluding roundtable discussion, the journalists grappled with the challenge of writing about the rich and poor. "I feel like we are on a strange path where we are "othering" poverty," said Jennifer Reut, associate editor at Landscape Architecture. "An us and them, versus, this is a problem for all of us."
Planners converge on Seattle
Affordability and equity, preparing for the impacts of climate change, regeneration in Legacy Cities, and the expanding use of scenario planning tools were hot topics as 6,300 planners, elected officials and others descended on Seattle for the American Planning Association's National Planning Conference last week.
Planning directors from two coastal cities with white-hot real estate markets - San Francisco's John Rahaim and Purnima Kapur from New York City – led a standing-room only tour of affordable housing policies, most prominently inclusionary zoning. Big City Planning Directors on Affordable Housing and Equity, the reporting-out session from the fall convening of city planners organized by the Lincoln Institute in partnership with APA, was written up at The Atlantic's CityLab. As per tradition, Lincoln Institute fellow Peter Pollock led the session What's Up with Seattle-Area Planning Directors, including planners from Seattle, Vancouver, Hillsboro, Ore., and other smaller cities.
As part of the Lincoln Institute-sponsored Planning and Climate Change Symposium, which aimed to take stock of initiatives in cities and states in addressing increased hazards and preparation for the impacts of climate change, disaster recovery and building resilience, senior fellow Armando Carbonell led the conversation, Planning and Climate Change in Context, with Peter Calthorpe, principal at Calthorpe Associates, and Harriet Tregoning, recently appointed to be Principal Deputy Assistant Secretary at the Office of Community Planning and Development, and previously Director of the Office of Economic Resilience at the U.S. Department of Housing and Urban Development. Lincoln Institute president George W. "Mac" McCarthy moderated Addressing Climate Impacts in Vulnerable Communities with Ana Baptista from The New School for Public Engagement, Jacqui Patterson at the NAACP Environmental and Climate Justice Program, and Sharon Harlan, Arizona State University, School of Human Evolution and Social Change.
Lavea Brachman, executive director of the Greater Ohio Policy Center and co-author of the Lincoln Institute report Regenerating America's Legacy Cities, and Jason Segedy, director of the Akron Metropolitan Area Transportation Study, detailed regional approaches, challenges, and success stories in Rust Belt post-industrial cities in Building New Economies in Legacy Cities. Placematters CEO Ken Snyder and Ray Quay, one of the contributors to the Lincoln Institute report and initiative Opening Access to Scenario Planning Tools and the Open Planning Tools Group, led a workshop, Thinking About the Future with Scenario Tools, and Tushar Kansal from partner the Consensus Building Institute was part of a session, Oil and Gas Development, Local Responses, on the land use implications of resource extraction, including fracking.
The Lincoln Institute's latest book, Planning for States and Nation-States in the U.S. and Europe, edited by Armando Carbonell, Gerrit-Jan Knaap, and Zorica Nedovic-Budic, was also launched at the National Planning Conference. The research surveys higher-level planning initiatives in five U.S. states - Oregon, California, Delaware, Maryland, and New Jersey – and spatial planning structures in five western European nations: The Netherlands, Denmark, France, U.K., and Ireland. Though planning at the state and national level leads to more efficient investments in infrastructure, better resilience in the face of climate change, and greater equity in economic development, most land use planning continues to be done at the local level.
"In the U.S., where few states engage in planning and an aversion to national planning persists, the love affair with 'localism' handicaps our ability to deal with challenges like climate change, growing economic disparity, and inadequate infrastructure," said Armando Carbonell, chairman of the Department of Planning and Urban Form.
New look, approach for Land Lines
Land Lines, the quarterly magazine of the Lincoln Institute of Land Policy, has been redesigned to include new features and articles written by a broader range of contributors.
"As we elevate the dialogue about the importance of land policy in the built and natural environments, the new and improved Land Lines will blend compelling journalism and scholarly articles of the highest quality," said George W. "Mac" McCarthy, president and CEO of the Lincoln Institute.
"By linking our research to the lives of real people, we hope to elevate the general understanding of what we do, deepen and broaden demand for our expertise, and ultimately inform more equitable, effective, and resilient land policy," wrote Maureen Clarke, senior editor and director of publications, in an Editor's Note in the April 2015 Land Lines, published today.
For 26 years, academic experts wrote Land Lines articles, commissioned as part of larger research programs ultimately by the Lincoln Institute's three departments: Valuation and Taxation, Planning and Urban Form, and International Studies, which includes programs on Latin America and China.
While the magazine will continue to reflect their work, Clarke said, the magazine has "begun commissioning journalists-carefully chosen for their experience, expertise, and locations-to write narratives that draw on the Institute's research and demonstrate how effective and creative land policies help to solve vexing social and economic challenges."
Moving forward, Clarke said, "Land Lines writers will interview our researchers as well as the citizens and leaders whose problems would be solved by smarter planning, municipal finance, and land-related taxation."
In the April issue, veteran Detroit Free Press journalist and author John Gallagher writes about Detroit's visionary strategic planning framework; and Ryan Dubé, a contributor to The Wall Street Journal and The Globe & Mail, examines the role of property titles in addressing informal settlement in Peru.
A new column, City Tech, will highlight advances in the use of technology in land policy, authored by Rob Walker, a contributor to The New York Times, Design Observer, and Yahoo Tech. The debut column looks at a new app called BlightStatus, developed by Code for America, that serves as a critical tool for rebuilding and redevelopment."
Adam H. Langley, senior research analyst at the Lincoln Institute, authored another major feature on property tax relief. Additional well-established features-such as the Message from the President, the Faculty Profile, and announcements of new publications, events, and fellowship opportunities-will continue to be a prominent part of every quarterly issue.
Odds & Ends
The focus is on municipal fiscal health at the City Fiscal Leadership Summit yesterday and today, organized by the Boston University Initiative on Cities; Daphne Kenyon, Andy Reschovsky, and Anthony Flint are presenting ... What cities seeking revenue are being held back by states ... Why housing should be more like Legos ... This month's highlighted working paper: Estimating Tax Savings from Homestead Exemptions and Property Tax Credits, by Adam H. Langley.
— ANTHONY FLINT, Lincoln Institute of Land Policy