Established in 2020, the Center for Geospatial Solutions works to ensure that organizations of all sizes have access to data and advanced technologies to improve decision-making for land and water conservation, climate action, and other work to promote social equity. We extract better insights from data through a combination of geographic information systems (GIS), earth observations, artificial intelligence, machine learning, and advanced analytics. We deliver products and services that support decision making, track impacts and tell powerful stories.
"The Center for Geospatial Solutions is moving the global environmental field forward to meet ambitious goals set forth by scientists to save and restore our planet."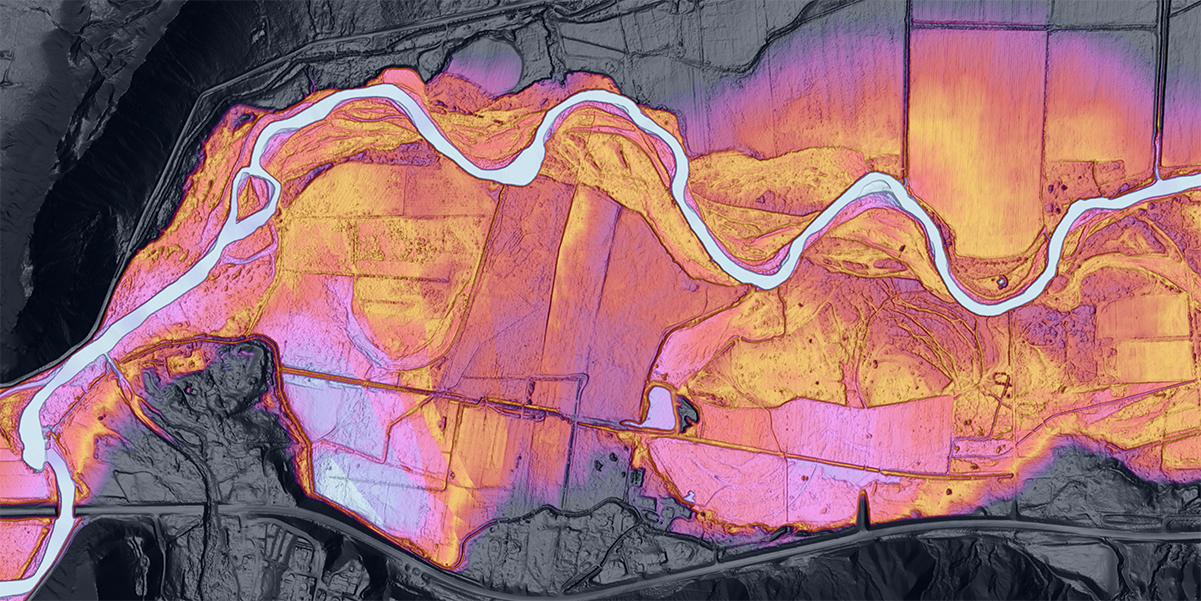 Our Work
Geospatial technology enables users to combine and analyze data sets to understand complex interactions and decide where and how to act. Adjacent to the core technologies of GIS and Remote Sensing are a variety of other technologies, such as artificial intelligence, field data collection tools, and advanced analytics that can all help people to extract more and better insights from data.
Our experience is that many people and organizations still cannot access complete or consistent data or use advanced data sets and analytic capabilities where these may be needed. The Center for Geospatial Solutions was founded to overcome this barrier.
Our team will support your organization to frame the relevant questions, gain a more holistic understanding of the issues you face, and make an action plan to address them. We will ensure that you have ready access to the highest quality data and tools that you need going forward.
Internet of Water Initiative
In March 2022, the Lincoln Institute launched the Internet of Water Initiative at CGS to help modernize and connect water-related data in the United States from thousands of different sources to enable better decisions, ultimately making communities more sustainable and resilient. The Internet of Water Initiative will significantly expand the suite of tools being developed by CGS.
The initiative continues a project that began in 2018 at Duke University's Nicholas Institute of Environmental Policy Solutions, which will continue to play a key role as a partner in the new Internet of Water Coalition.
In its next phase, the initiative will focus on further developing novel, open-source technology that will enable users to discover and access water data in a new way. Also, the initiative will focus on two specific uses of the Internet of Water: improving community access to data about sustainable hydropower opportunities and improving access to utility information to improve water quality and water equity outcomes.
Case Study: Nature Conservancy Canada
The Nature Conservancy of Canada (NCC) is the leading land conservation organization in Canada. Since 1962, the non-profit organization and its partners have helped to protect more than 35 million acres (14 million hectares) across Canada. NCC is working with us to develop a long-term technology strategy that streamlines data collection and management across the organization and allows all of its programs to leverage the latest technology to improve conservation prioritization, securement, and management. This strategy is helping to reduce the amount of staff time it takes to effectively manage their properties and communicate key metrics to outside partners and funders. Greater access to technology is also making it easier for NCC to effectively leverage new revenue sources, such as carbon offsets, by quantifying and capitalizing on the ecological benefits that land conservation provides.
Work with Us
We are here to serve nonprofit, foundation, government, and business partners through fee-for-service contracts, cooperative agreements or grants. Our partners have found that insights generated from geospatial data can be particularly helpful in these areas:
Strategy development and scenario analysis. We can inform strategic choices, identifying the potential impacts of each choice.
Data development, management, and interpretation. We can build and manage tailored data sets for you and interpret them to address your specific questions and objectives.
Impact evaluation. We can create a fact-based view of changes over time.
Stewardship. We can track protected natural resources, helping you to make strategic land and water restoration, protection and management decisions.
Everything we do seeks to advance social and climate justice. With an open mindset to learn, we want to fully realize equity and inclusion through our partnerships, our work, and our organization. We believe that when these values are applied, data, science, and technology are powerful tools, enabling everyone to act effectively and with equal responsibility to all stakeholders.
Advisory Council
Nick Dilks, Managing Partner, Ecosystem Investment Officers
Mei-Po Kwan, Choh-Ming Li Professor of Geography and Resource Management and Director of the Institute of Space and Earth Information Science, The Chinese University of Hong Kong
Bonnie Lei, Head of Global Strategic Partnerships, AI for Earth at Microsoft
Kathryn Lincoln, Board Chair and Chief Investment Officer, Lincoln Institute
George McCarthy, President and Chief Exective Officer, Lincoln Institute
Peter Stein, Managing Director, Lyme Timber
Holt Thrasher, Founder and Managing Director, Synovia Capital
Dawn Wright, Chief Scientist, Environmental Systems Research Institute (Esri)