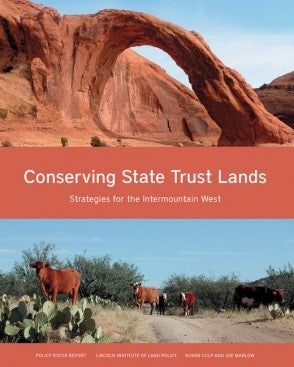 Conserving State Trust Lands
Strategies for the Intermountain West
States are obligated to generate income from state trust lands to fund public institutions, through mining, grazing, agriculture, or logging. However, this report—a product of Western Lands and Communities, a joint program of the Lincoln Institute and the Sonoran Institute—shows how conservation can be an equally robust source of revenue.
From the mid-1700s to the late 1950s, state trust lands were granted to states upon their entrance into the Union for the sole purpose of supporting public institutions, primarily K–12 public schools. Eighty-five percent of the remaining 46 million acres of state trust lands are concentrated in the West. This report explores current and recommended strategies to conserve state trust lands with ecological and environmental value, while maintaining the trust obligation to earn revenue for K–12 schools and other beneficiaries.
Building on the Lincoln Institute's previous report, State Trust Lands in the West: Fiduciary Duty in a Changing Landscape (2006), and a companion website, State Trust Lands (statetrustlands.org), the authors evaluate the pros and cons of the conservation mechanisms that are currently available to state trust land management agencies, including conservation sales and leases through easements or outright fee-simple purchases, contributory value and nonmonetary value, ecosystems services markets, and land tenure and exchange. They also offer recommendations for new methods to realize revenue from conservation activity. Key recommendations are to:
expand the use of conservation sales and leases;
improve the utility of contributory value in the master planning process;
increase access to ecosystem services markets; and
streamline the land tenure adjustment process, which includes reform of the appraisal process.
Monetizing conservation will provide opportunities for land management agencies to pursue conservation options. All state trusts carry the mandate to fund beneficiaries in perpetuity, indicating the need for sustainable land management practices.